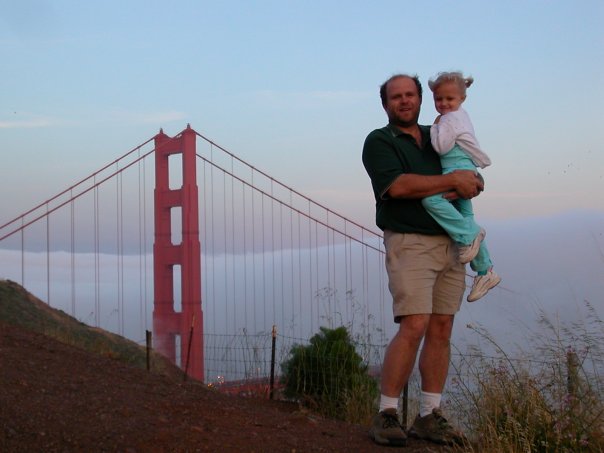 With a new PBS documentary coming on our Mister Rogers, along with a movie starring Tom Hanks as Fred Rogers in the works, it's a good time to look back on this gentle man and what he taught. For a couple of years I had a newspaper column that appeared every four weeks in the Daily Spectrum, a newspaper covering St. George and Cedar City, Utah. This column was written in April 2003,shortly after Mister Roger's death. The photo on the left is of me and my daughter in San Francisco in 2002. 
"Daddy, are you sad Mister Rogers died?"  My five-year-old daughter, with a reassuring voice, played the role of a good neighbor as she expressed concern for my emotional well being.
Daddies don't need to earn the admiration of their daughters.  That aside, I discovered it was worth a few extra points to let my daughter know Mister Rogers, like me, was a Presbyterian minister and that we had both graduated from Pittsburgh Theological Seminary.  In her eyes, that made Mister Rogers a personal friend of mine even though we attended the institution decades apart.  We may not have been friends, but we were residents of the same neighborhood.
To many, Mister Rogers seemed old fashion.  His trademark cardigan sweaters and slippers were often targets of ridicule.  But if image ever bothered Mister Rogers, he didn't let it show.  He reached his audience with his simple caring ways.  His show offered children, including my daughter, relief.  Their worlds are often chaotic.  In contrast, Mister Rogers would walk slowly onto the set, replacing his jacket with a sweater.  He always hung his jacket in the closet.  His entrance provided a welcome change of pace for kids use to parents coming in, throwing their jacket on the back of a chair and collapsing in the recliner.  Rogers' meticulous ways demonstrated a safe and orderly world where adults have time for children and treat them as if they are important.
In times like this, when we are bombarded with images of death and destruction, when terrorists long to destroy much of what we value, and when a virus has people afraid of traveling, our children need to be reassured that we are there for them.  Even though we cannot control the future, they need to know that we have their best interest at heart.
In the carefully choreographed world of Mister Rogers' Neighborhood, children learn there is an alternative to the madness they see around them.  His messages were simple, clear and honest.  Because of this, children trusted this man with his zip-up sweaters to safely explore with them, who they are and how they relate to one another.  From him they learned that honesty and friendship are important and came to understand that their neighborhood is far and wide.  Rogers taught that, in order to "feel the fullness of life," we must have "a sense that we belong to our planet" and "that we belong in other people's lives."  We all need to know "that we are loved, lovable, and capable of loving."
When Jesus was asked, "who is my neighbor?" he surprised his audience by telling the story of the Good Samaritan.  A neighbor is someone who cares.  A neighbor is someone who takes our best interest to heart.  In this world filled with fear and conflict, we need a few more Mister Rogers asking us, "won't you be, won't you please, please won't you be my neighbor?"  "Yes," I told my daughter, "I'm sad about Mister Rogers' death."  We're going to miss him.
###