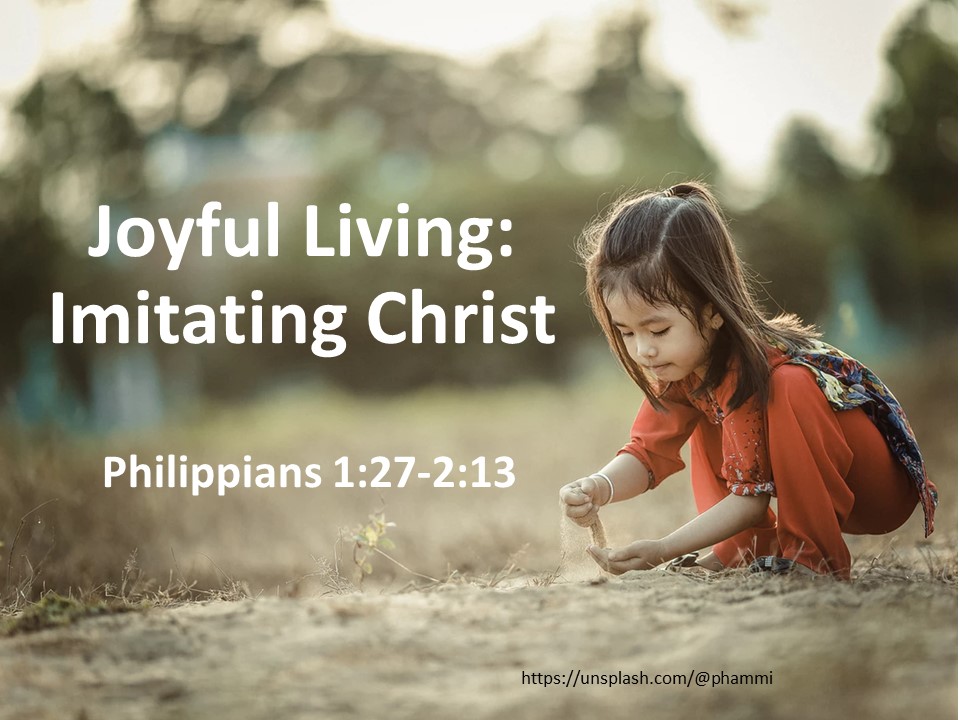 Jeff Garrison
Skidaway Island Presbyterian Church
January 14, 2018
Philippians 1:27-2:10
We're continuing our journey through Philippians. Paul has a special place in his heart for this church. It's in Philippi, on the Sabbath, that Paul, Timothy and Silas meets a group of women down by a river who've gathered to worship. Paul shares the gospel message and one woman, Lydia, is especially moved. She invites Paul and his friends to stay in her home. Paul accepts her invitation and organizes his first church on European soil.[1]
As I've mentioned, Philippi was also where Paul first experienced prison. In the middle of the night, there was an earthquake that broke open the jail. The jailer thought Paul and Silas had escaped and was ready to end his life, but Paul cries out to him and assures him that everyone is all present and counted for even though the bars are opened and the chains broken. This leads to the conversion of the jailer and his family.
Paul is pleased with how his work was blessed in Philippi and, as we saw last week, he keeps them in his prayers. Likewise, the Philippians are also fond of Paul, even sending a gift to relieve his suffering while he's in prison.      As I attempted to stress last week, joy is a theme that appears throughout this letter. This seems odd with Paul being, once again, in prison. In today's reading, we learn that there are some difficulties facing the Philippians. Paul wants to encourage them as he draws upon Christ's example. I am going to begin today's reading at the end of the first chapter, beginning with verse 27.  Read Philippians 1:27-2:13.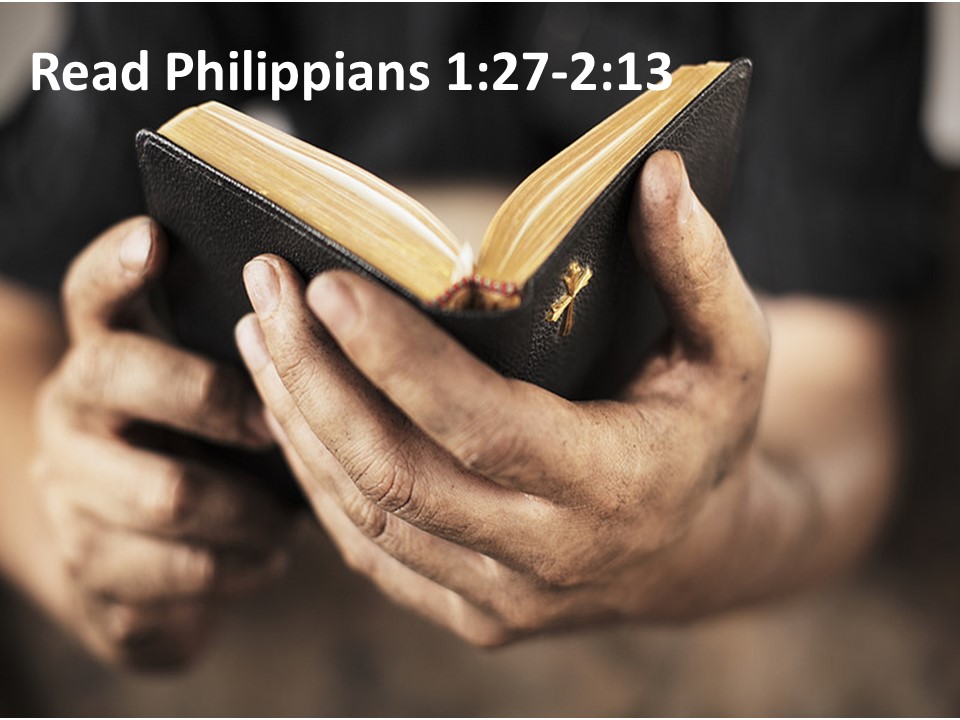 We know how to do this. We might forget sometimes, but we know that when we want to connect with a child, we get down on their level. Or we raise them up to our level. And the same goes with our pets. We get down on the floor and play, or if the pet is small enough, we pick them up and hold them close or place them on our shoulder. And if we're trying to teach someone something, we don't act superior and tell them to come to where we're at, but we began on their level. It's empathy. It's walking a mile in someone else's shoes. Such behavior is foundational if we want to build a good relationship. We might not always do it, but we know we should.
God shows us how this works. It's why Christ came to us as he did, in a way that we can understand and in a manner in which we can related.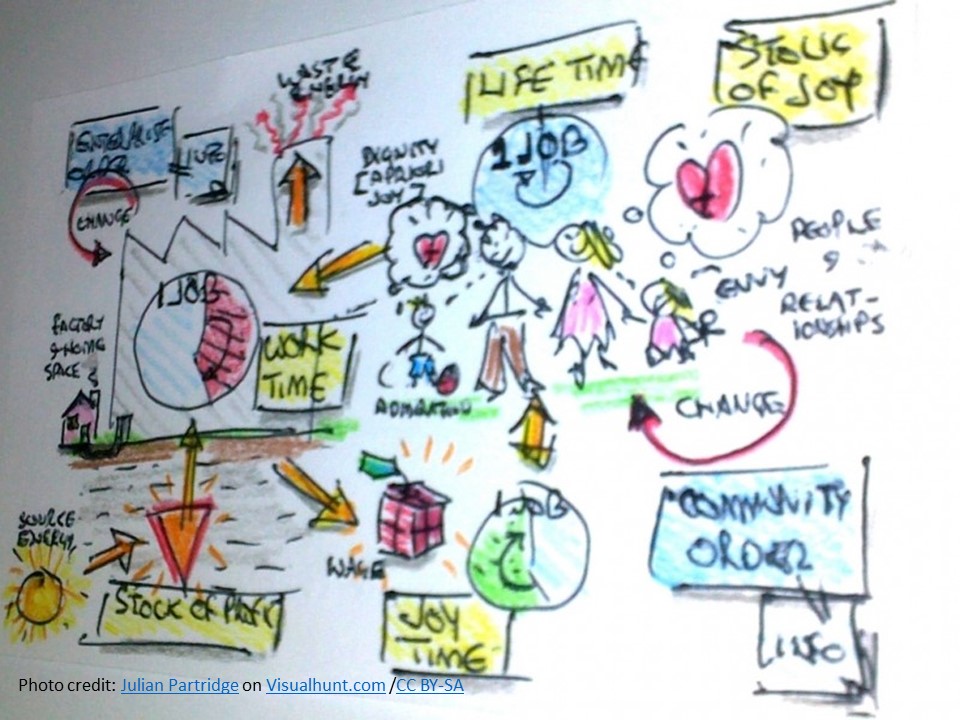 Our reading this morning begins with a plea for those reading the letter to live in manner worthy of the gospel of Jesus Christ. This is a goal we should all strive to meet.  Paul has just given an update on his condition, and so he turns to the situation in Philippi.  He wants the Philippians to stand together, to be of one mind and spirit so they will not be intimidated by their opponents. He even has the audacity to suggest that it is a privilege to suffer with Christ!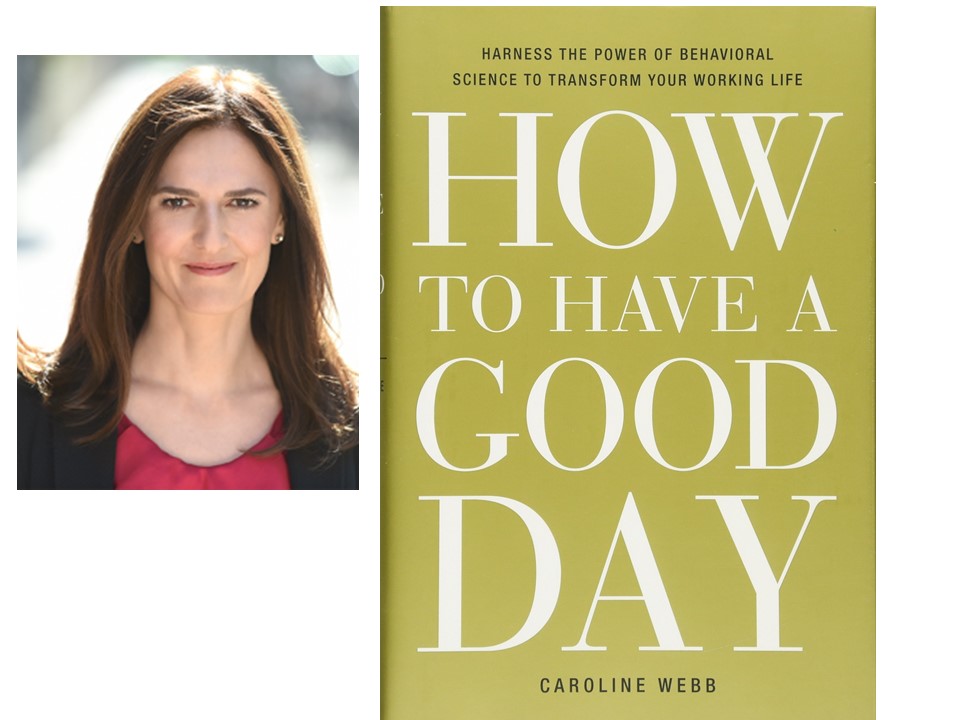 Our speaker at the January Series on Friday was Caroline Webb. She spoke on how to use behavioral science to improve our daily lives. One of the things she suggests is that by looking for the good in everything, our brains will catch on and focus on good. She seems to be echoing a bit of what Paul is saying here to the Philippians.  "Sure, you're suffering, but stand firm and focus on the good for you know God is bringing about your salvation." Focus on the good!
Early in the second chapter, Paul gives some wonderful advice which stands in the tradition of the Golden Rule. If we could only live by this:
Do nothing from selfish ambition or conceit, but in humility regard others as better than yourselves.  Let each look not to your own interests, but to the interest of others.  Let the same mind be in you that was in Christ Jesus.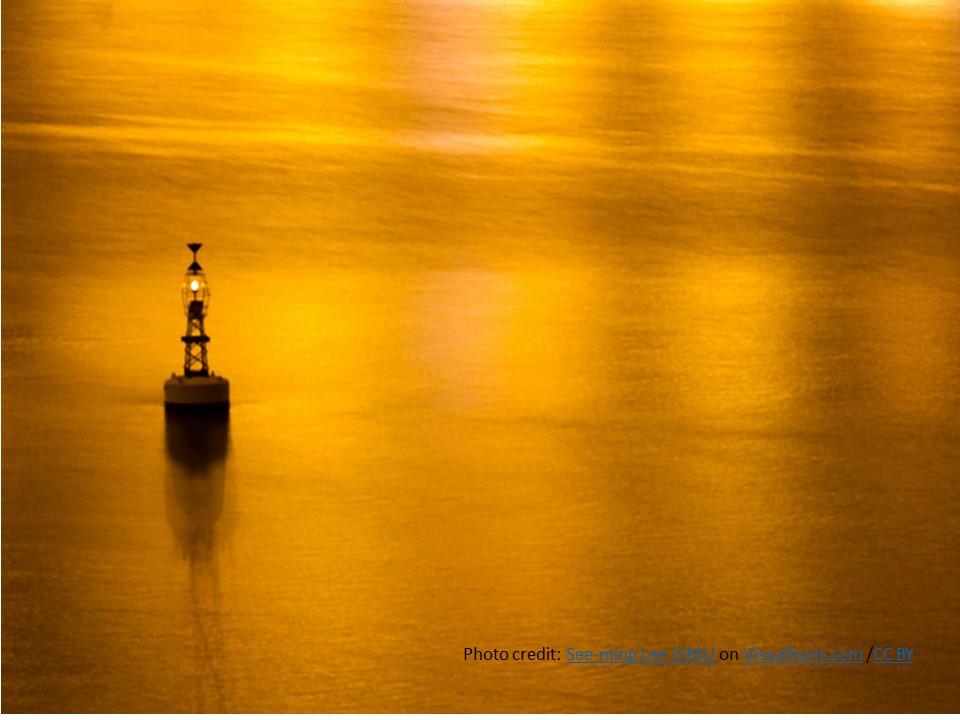 As Christians, we should ponder Paul's counsel and consider what it means for us. The kingdom of God has no place for ambition or conceit. We're called, as disciples, to work for the greater good of God's kingdom, not to build our own little fiefdom. We should regard others better than ourselves which checks our tendency to be overly zealous and to look down on those who do not agree with us.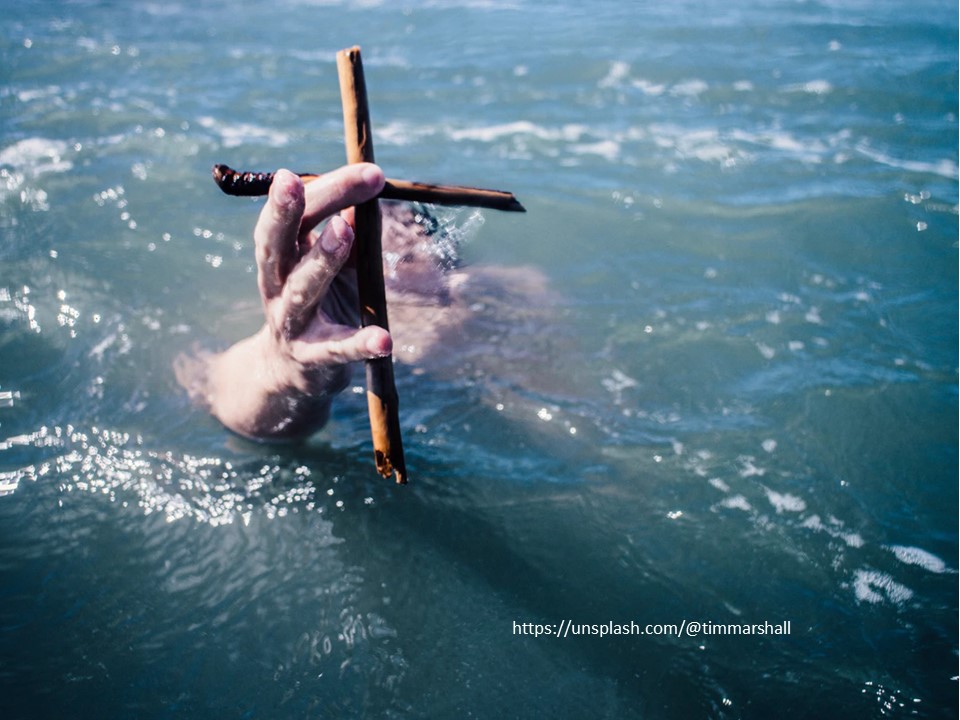 I am often asked about the Christian belief that the only way to God the father is through Jesus Christ. Lots of people have a problem with this exclusive claim, seeing it as not accepting the pluralism that exist within our society. Yes, our belief in Jesus Christ as the way, the truth, and the life, is exclusive.[2] The problem, however, arises when Christians begin to think ourselves, or of churches, as superior to others. Such thoughts cannot be attributed to Jesus or to Paul. Paul, who certainly believed in the exclusive claim of Jesus Christ, tells those in the Philippian church that being a disciple means they must be humble, they must be of the mind Jesus.
Think about what this means. Jesus Christ, if we recall, got along better with the sinners of the day than he did with the faithful. He accepted them. Furthermore, he didn't try to control them. He gave them a choice to follow him or not and didn't beat up those who didn't choose him. The only time he got really angry was when he saw people being an obstacle to worship as when he attacked the money changers at the temple.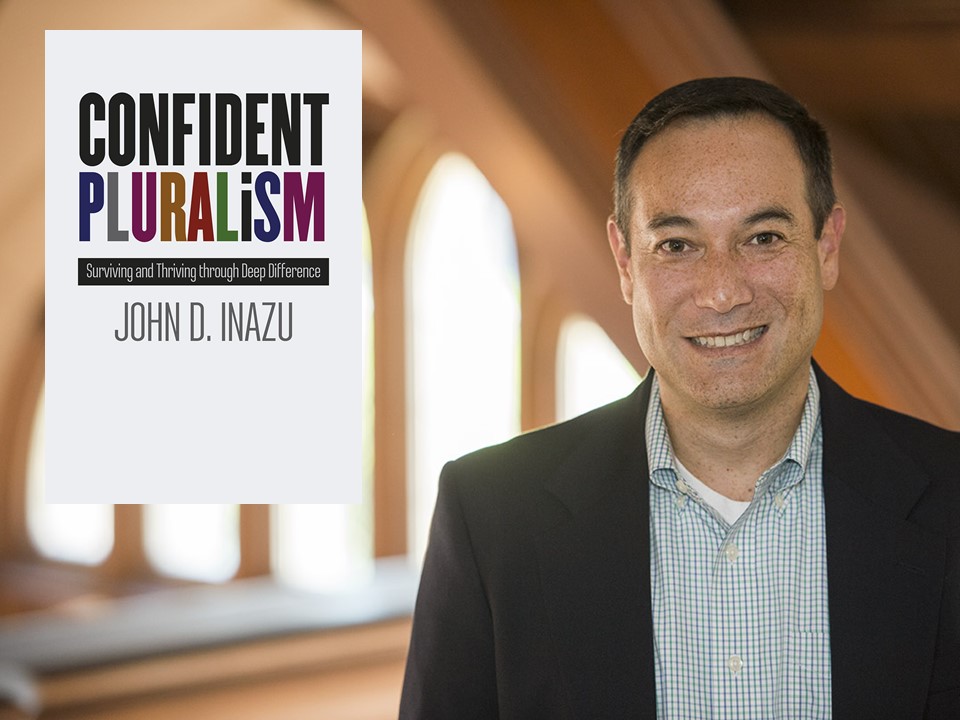 Another of our January Series speakers this week was John Inazu. For those of you who were not here, I hope that by mentioning these two speakers, you get a sense of what you've been missing…  Inazu is a professor of law and religion at Washington University in St. Louis and a fellow in the Institute for Advance Studies in Culture at the University of Virginia. He didn't tell us how about his travel schedule back and forth between Virginia and Missouri, but he did encouraged us to have confidence with our faith. For you see, it's only when we are confident about what we believe that we can take the risk to befriend those who are different. Otherwise, we'll see them as a threat and have a tendency to demonize them. But if we are grounded in our faith in Christ, we should be willing to accept others who are different for we know that they, too, are created in God's image.
It is a heresy, I believe, for the Christian faith to focus on how we might dominate and subdue others. Our focus is to be on Jesus Christ. Christ, as Paul tells us in the beautiful poem that follows this section, emptied himself, humbled himself, and took on the form of the slave so he could reach a broken humanity.
The example I used at the beginning—of us being willing to getting down in the floor with a child—is what God does in Christ. God comes down to our level, which is what the Christmas story is all about.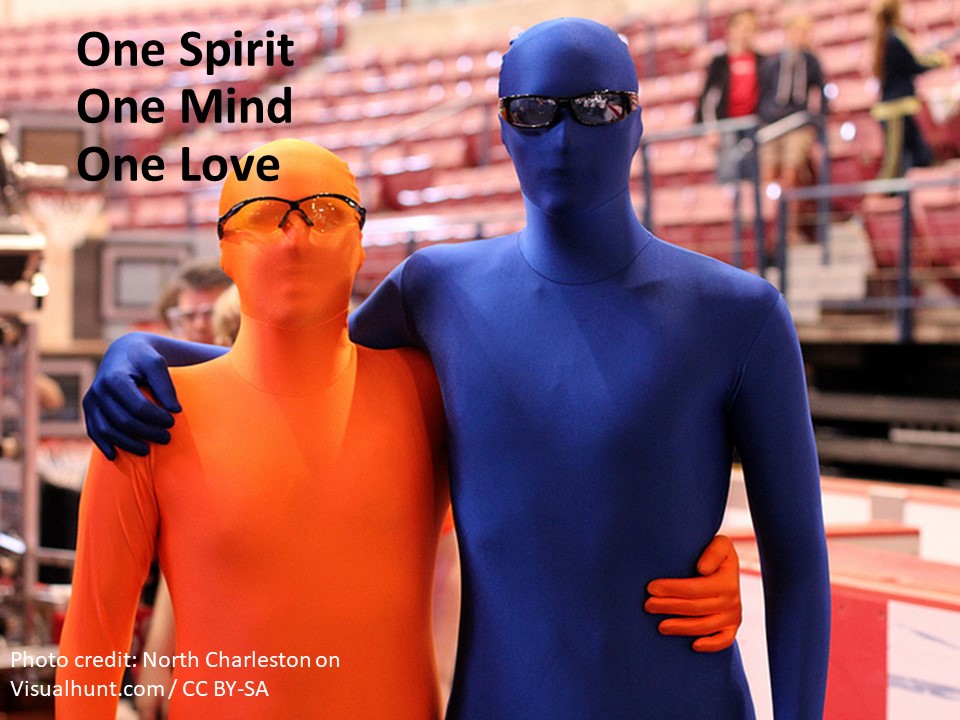 We should apply Paul's principles to our lives. Are we standing firm in one spirit, in one mind, in the same love?  Paul certainly knows there is a need for diversity of thought and he's not after a uniformity of opinion. Instead, he's hoping, as one commentator on this passage wrote, the Philippians will "strive for an inner sentiment for one another that is full of love."[3] That's also my prayer for us. We're not to flaunt or to brag about ourselves, but are to be called into the heart of Jesus Christ and into his service.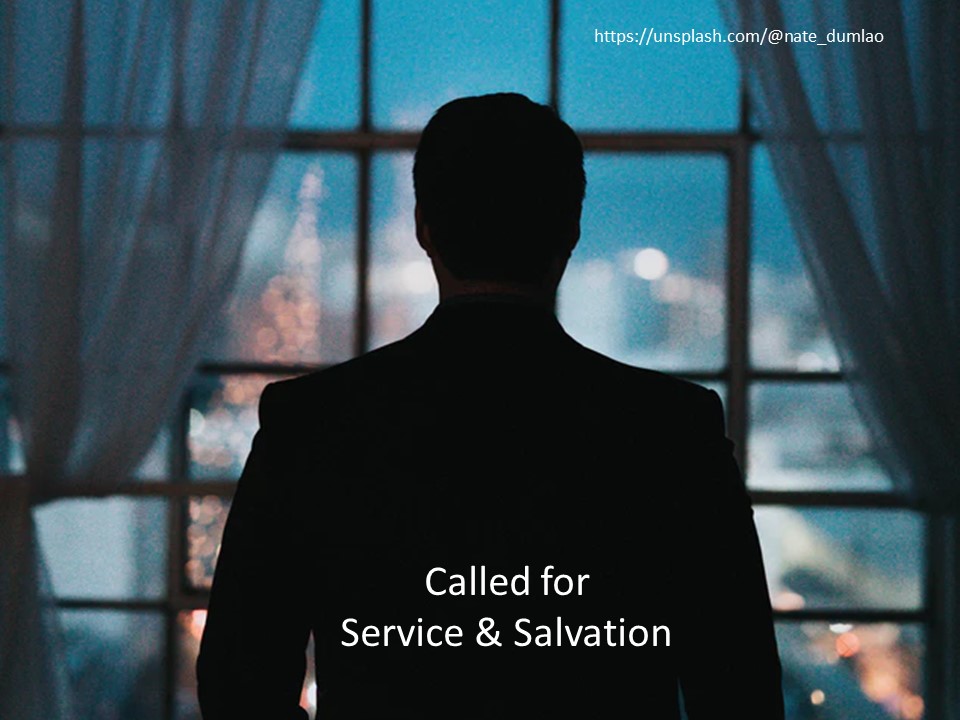 The Reformed understanding of call (and all of us here have been called by Christ) is twofold. We're called for salvation and for service. We can't laud over those outside the kingdom, for we're not called to dominate, but to serve them with love so that, through God Spirit, they might come to know the truth.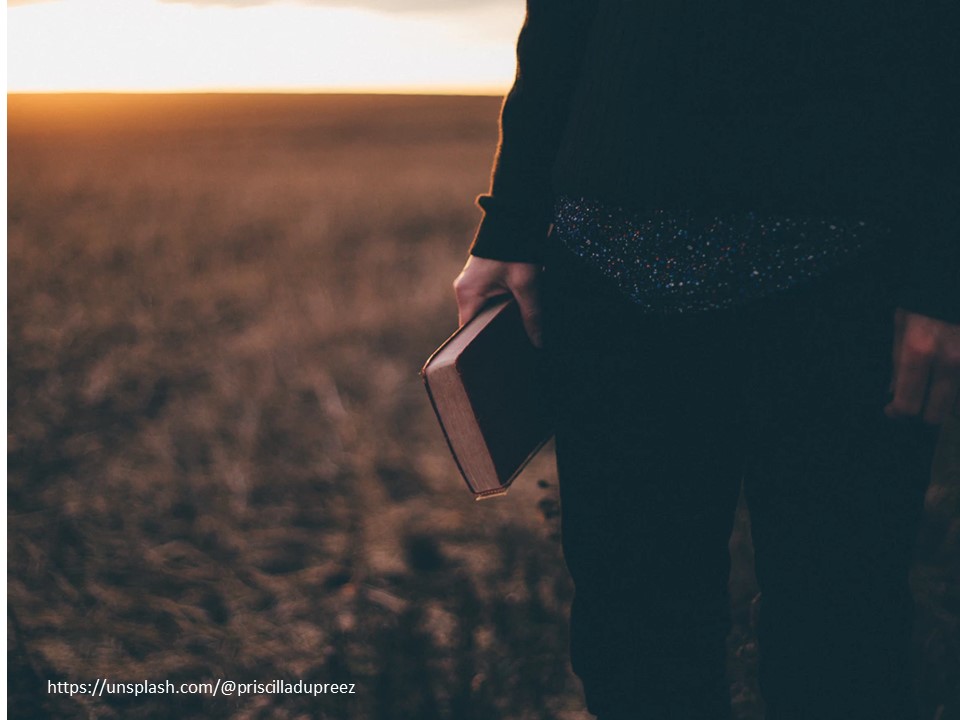 Being a Christian isn't anything special. Being a Christian means we've accepted a position of servanthood.  It means that we don't trust ourselves; we trust Christ and allow him to rule our lives. Are we living our lives, as Paul asks at the beginning of this passage, in a way that's worthy of the gospel. Or, as we say here at SIPC, are we reflecting Jesus' face to the world? If not, what might we do differently? How might we gain the confidence needed in our faith to be bold in befriending the world? Amen.
©2018
[1] Acts 16.
[2] John 14:6.
[3] Gerald F. Hawthorne, Philippians: Word Biblical Commentary (Waco, TX: Word Books, 1983), 71.