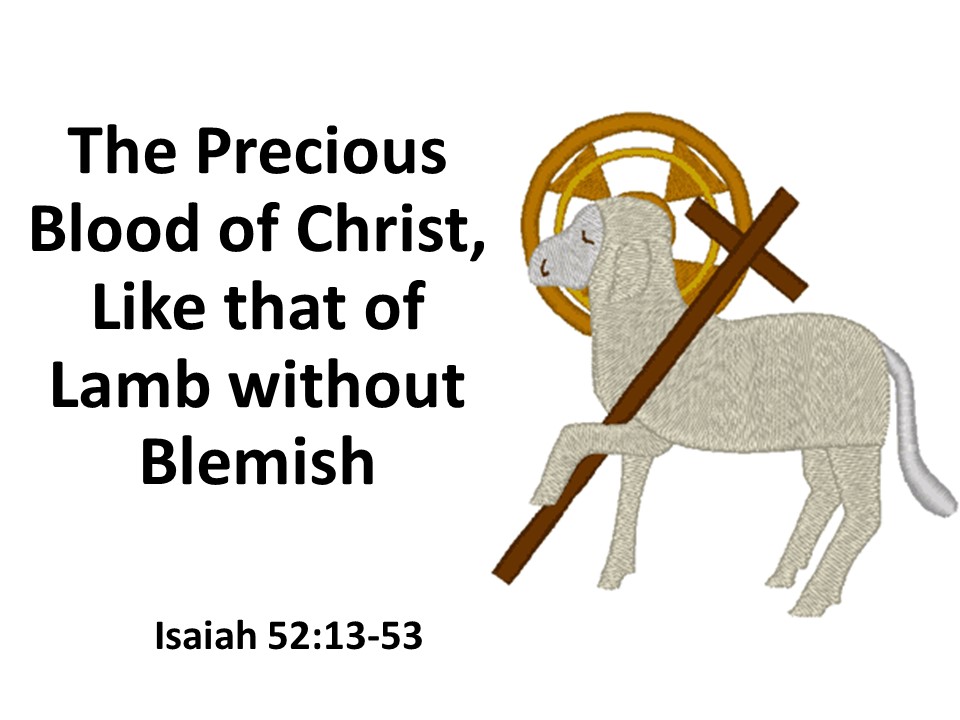 Jeff Garrison
Skidaway Island Presbyterian Church
1 Peter 1:13-25
March 25, 2018
We've done a survey of passages related to the Lamb of God within Scripture during this season of Lent. Starting in the Old Testaments, we saw how God called for and then provided sacrifices. Last week we moved into the New Testament, listening to John the Baptist pointing to Jesus as the sacrifice as he cried out "the Lamb of God who takes away the sin of the world." In the book of Hebrews, the author claims Jesus as the ultimate sacrifice. There is no longer a need for another sacrifice.[1] Our text for today, is from First Peter.  Peter reminds his readers that we've been ransomed from our prison of sin by the precious blood of Christ, who offered himself up as a lamb without defect or blemish.[2]
While our passage today shows, like all the other passages, that God provides the sacrifice, it's also calls us to respond. As with the Hebrew people who were enslaved in Egypt, we are purchased for a price. Redemption isn't cheap. It should cause us to be thankful and to live in a way that pleases God. Israel, once redeemed from slavery, was called to live as God's chosen people. What's our calling? Listen, as I read 1 Peter 1:13-25 in the Message translation. You can look at the text on the screen, but I also suggest you turn your Bible or the one in the pews to this passage so you can refer to it during the sermon.  Text below:  .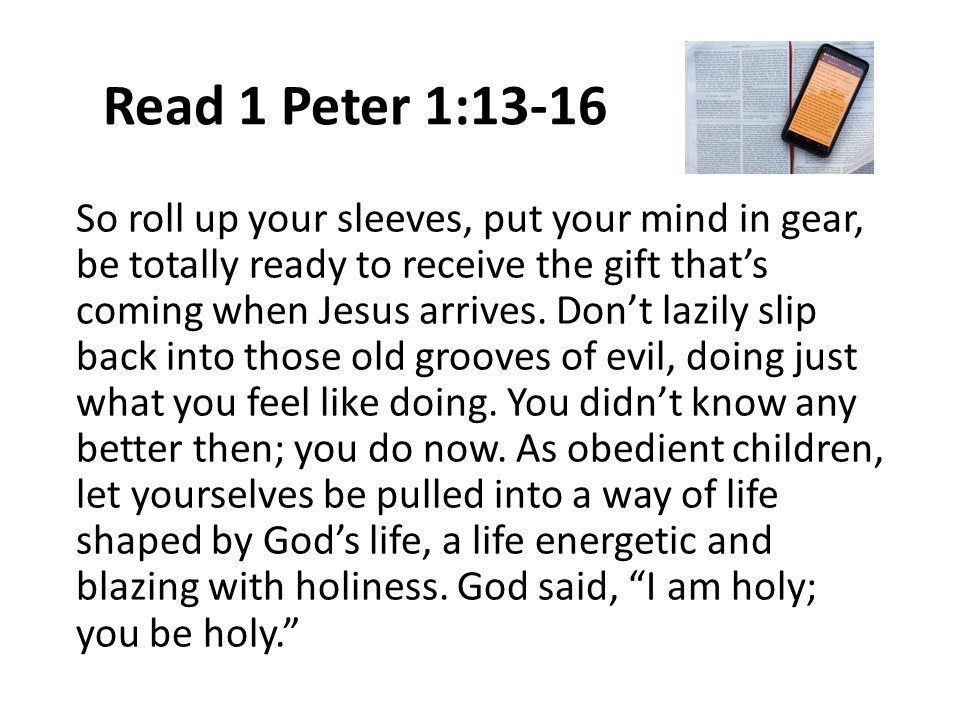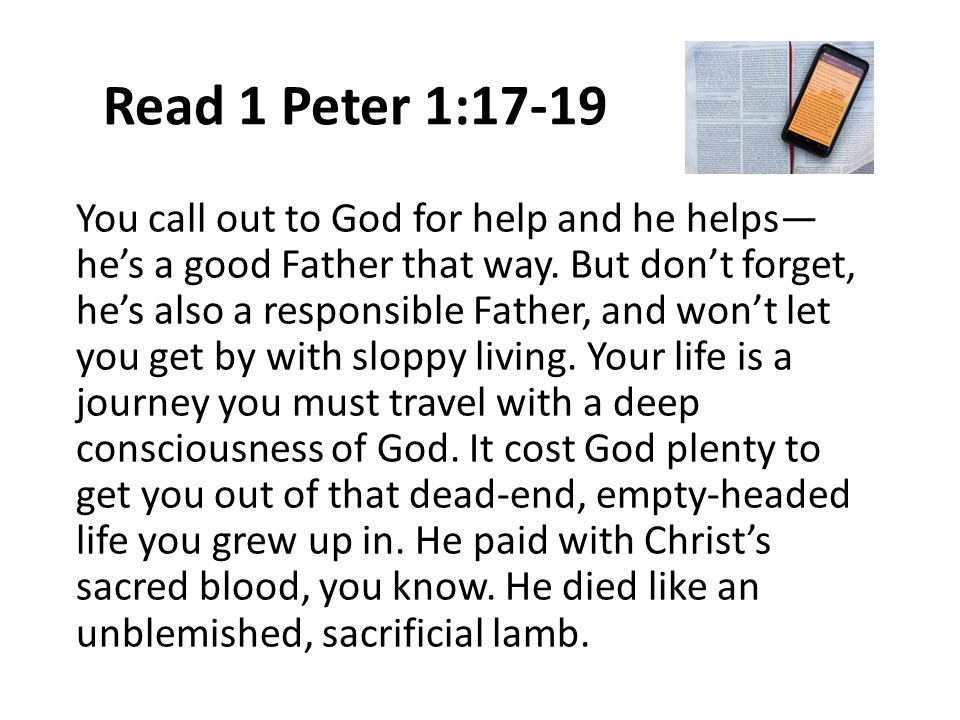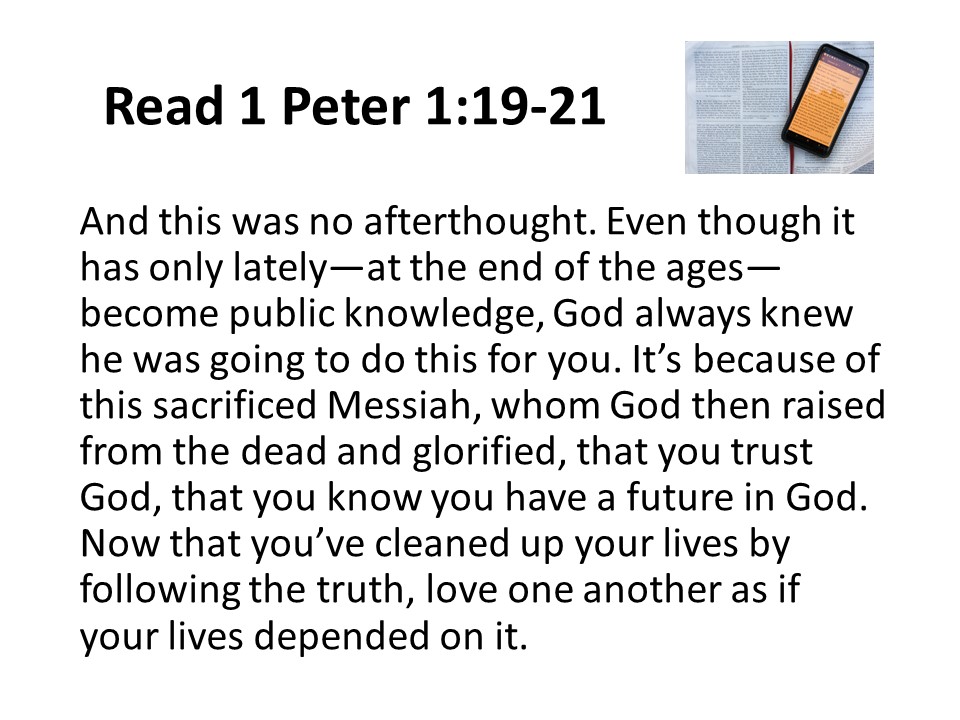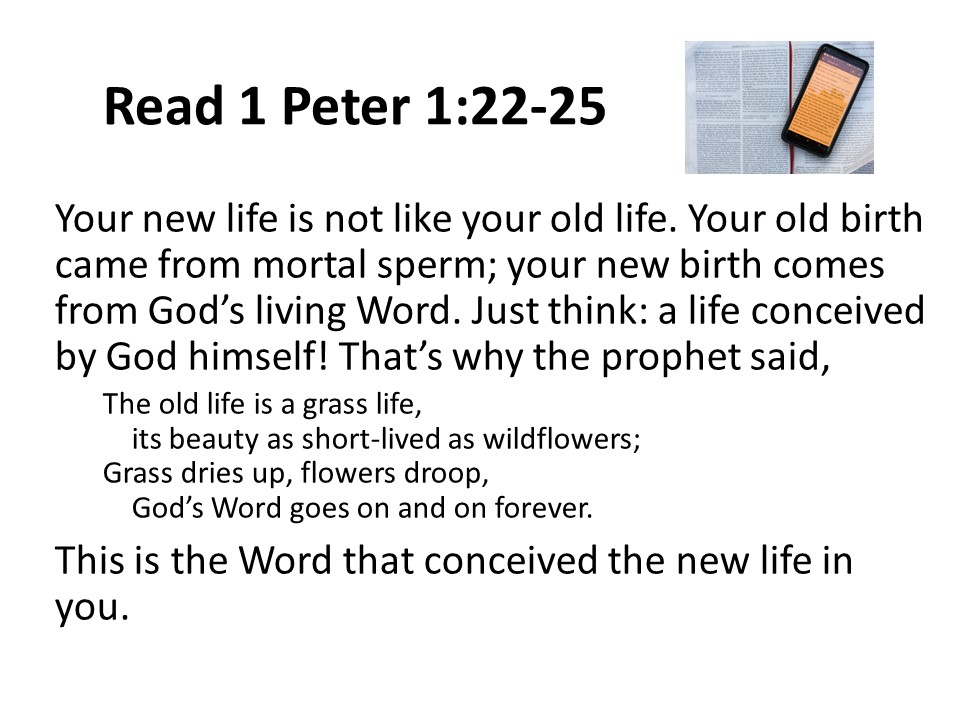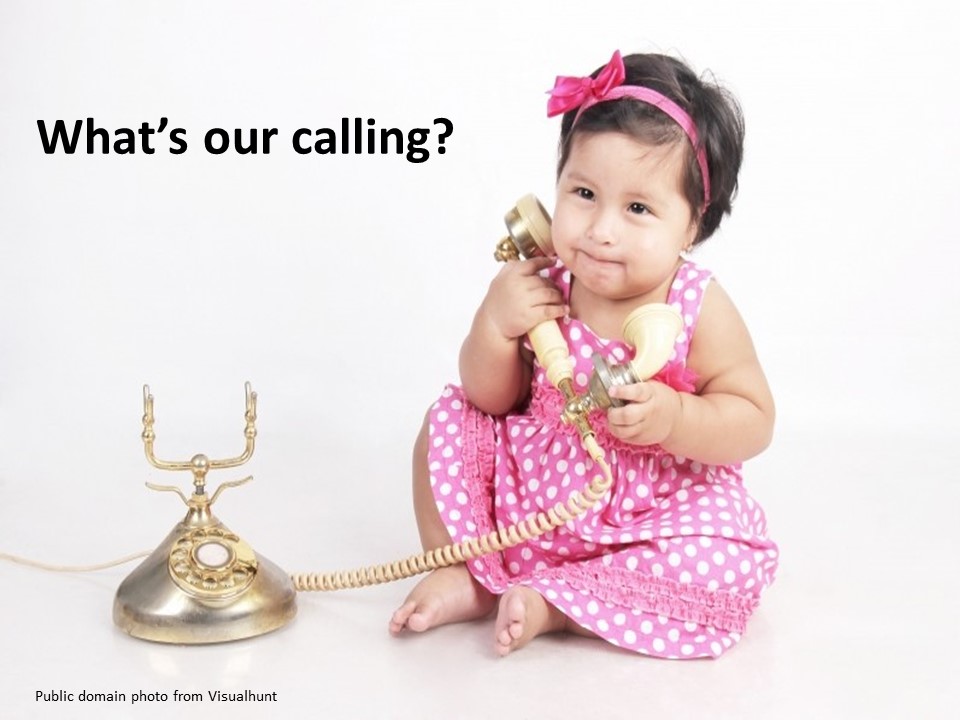 From that which I just read, what is our calling?  Or maybe I should ask this. In verse 16, what does this passage tell us about God? (I am holy). And what does it say about our calling? (We be holy). Of course, when it comes to being holy due to our own efforts, we're a little behind the curve and we're not going to catch up. Thankfully we have Jesus.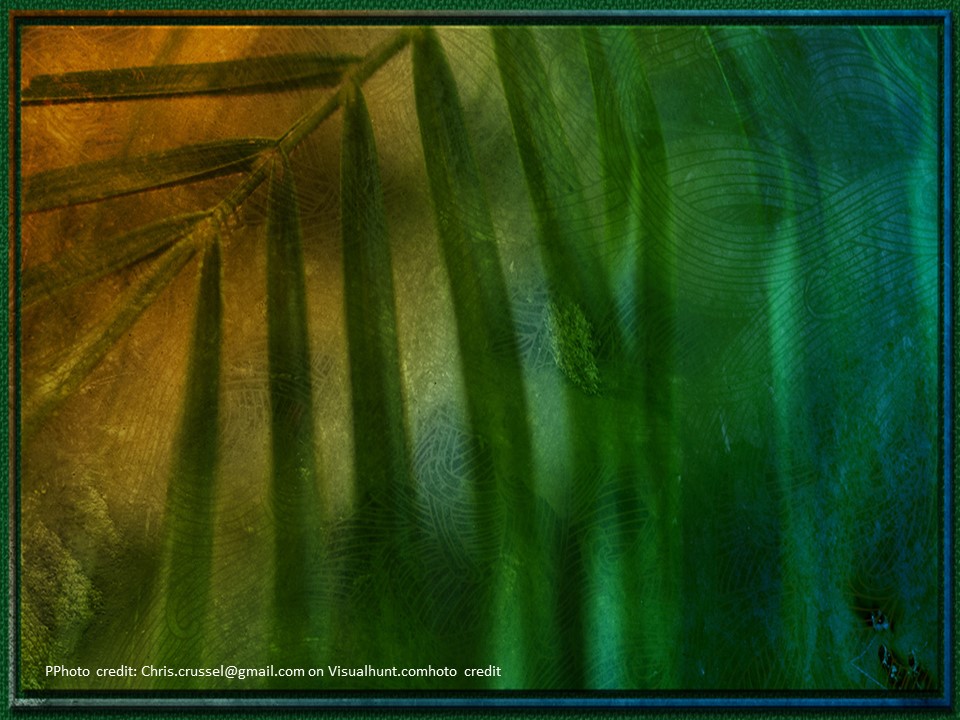 You know, there is always a bit of irony about this day we observe as Palm Sunday. Those who were there when Jesus entered Jerusalem certainly had different ideas about who Jesus was and what he meant. They were ready to crown him king, but when he didn't behave as they liked, they were all too willing to have him crucified. I'm not sure we'd be any different. We like people who support our own ideas about how things should be. When someone deviates from our preset ideas, we react with anger or walk away with indifference. We should remember that we can't control God and if we walk away, we're the ones who lose.
We should remember that there are differences between those of Peter's world and our world. Peter's audience were folks marginalized by the pressures of a pagan world.[4] In describing the precarious existence of Peter's audience, one scholar suggests they understood that "Christians don't have to fear their temporary masters [those here on earth] because they fear God.[5] Jesus says something very similar: "Do not fear those who can kill the body…, rather fear him that can destroy both the body and soul."[6] But we're not to have a nightmare-like fear of the Almighty. God loves us like a father.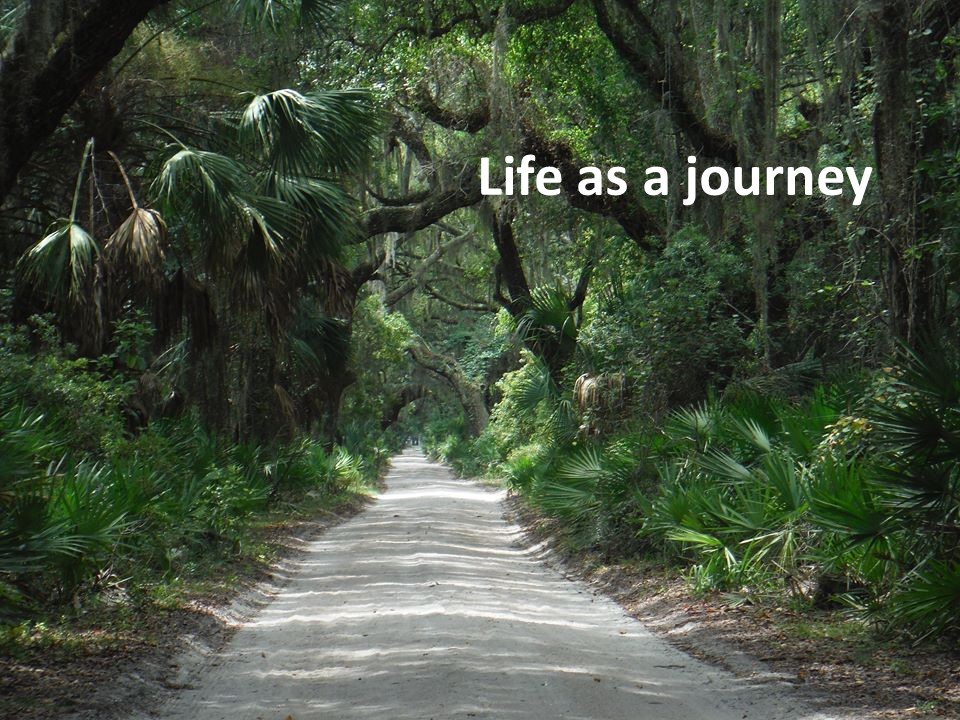 I like how Peter describes our life as a journey, but he reminds us that it must be traveled with a consciousness of God. In other words, we need to keep an eye on Christ. And this day in which we focus on the passion of Jesus, we're remind that Christ might not take us where we want to go. The human Jesus didn't want to go to the cross, as he prays, "Father if it is your will, please take this cup from me."[7] At the end of John's gospel, Peter learns first-hand that if he wants to be faithful, there'll be a point he'll be taken to where he does not wish to go.[8] With God, we can't control the future, instead we trust God to be with us through thick and thin.
Have you ever started out on a trip, only to experience a flat tire or a busted water pump? Or maybe you started a new job with great expectations only to be fired or to experience a medical challenge that kept you for fulfilling your duties. Or you start out with an idea of a long life with a loving spouse only to have him or her prematurely die. We've all experienced such setbacks and disappointments, some more bothersome than others. But they are not reasons for us to give up on the faith. After all, Jesus headed into Jerusalem and, to the disappointment of the crowd, allowed himself to be sacrificed like a lamb. With the crucifixion, many people's dreams died.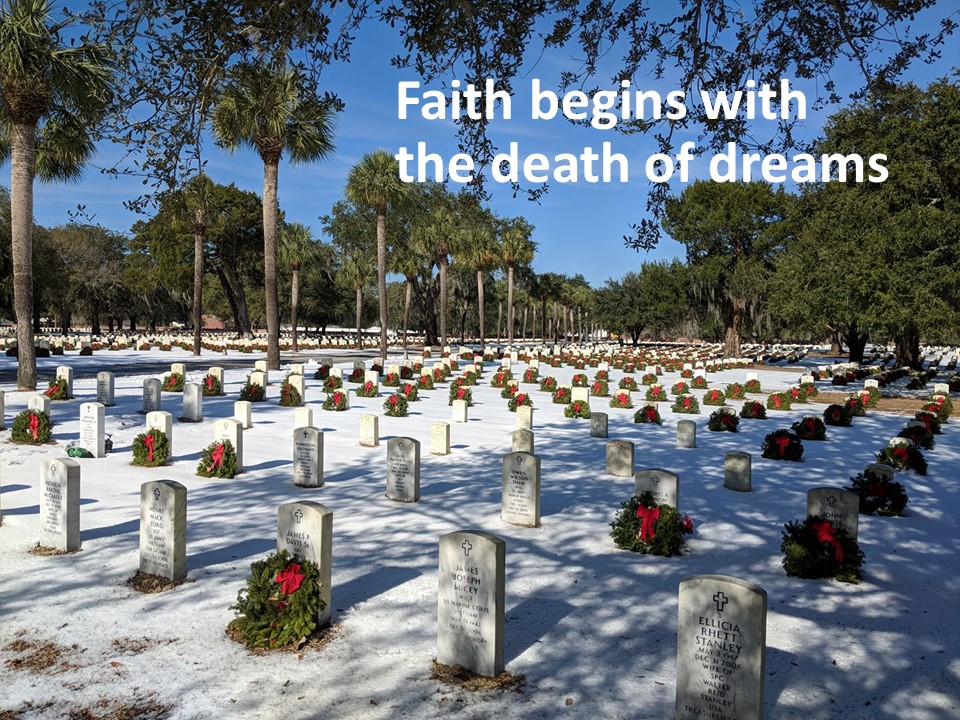 But that's where our faith really begins—with the death of the old dreams. We shouldn't despair for with the resurrection, God shows his power over the forces of evil and death. With the resurrection, we have hope not only in this life but in the life to come. Let's look at this passage.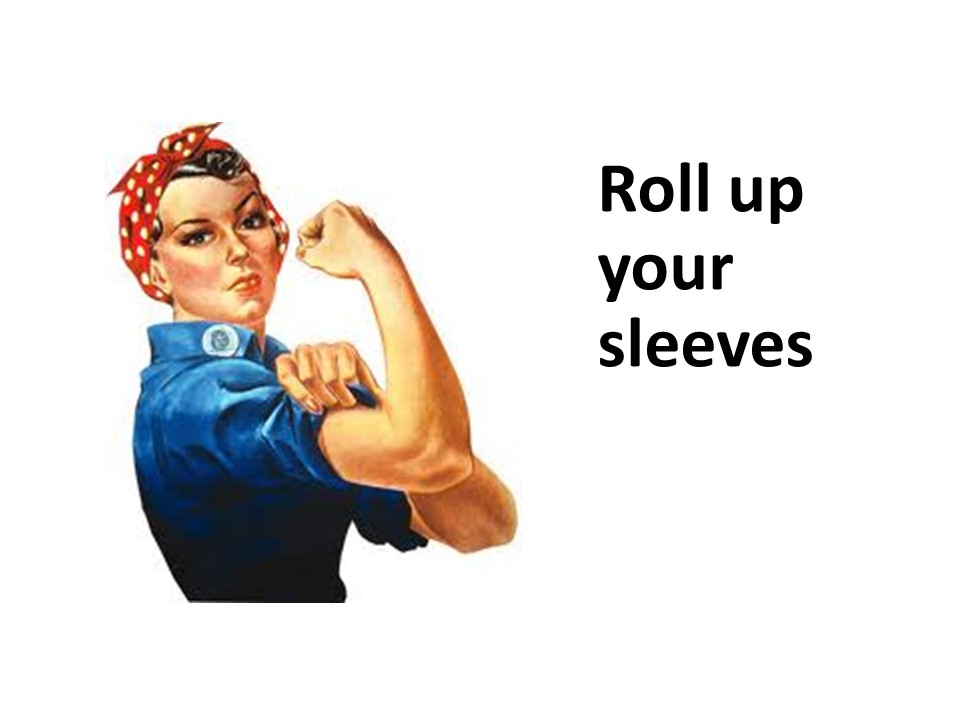 "Roll up your sleeves," our translation begins. We're being issued a call to action. Get ready. Jesus is coming back. Get ready, but I don't think the emphasis should be on Jesus' return as much as it is living the life we're called to live. Get ready, don't be lazy, and pull yourselves out of those evil groves that you were caught in during the past. A more direct translation is "Do not be conformed to the desires you formerly had." We have been called, as I emphasized earlier, by a holy God for the purpose of being holy.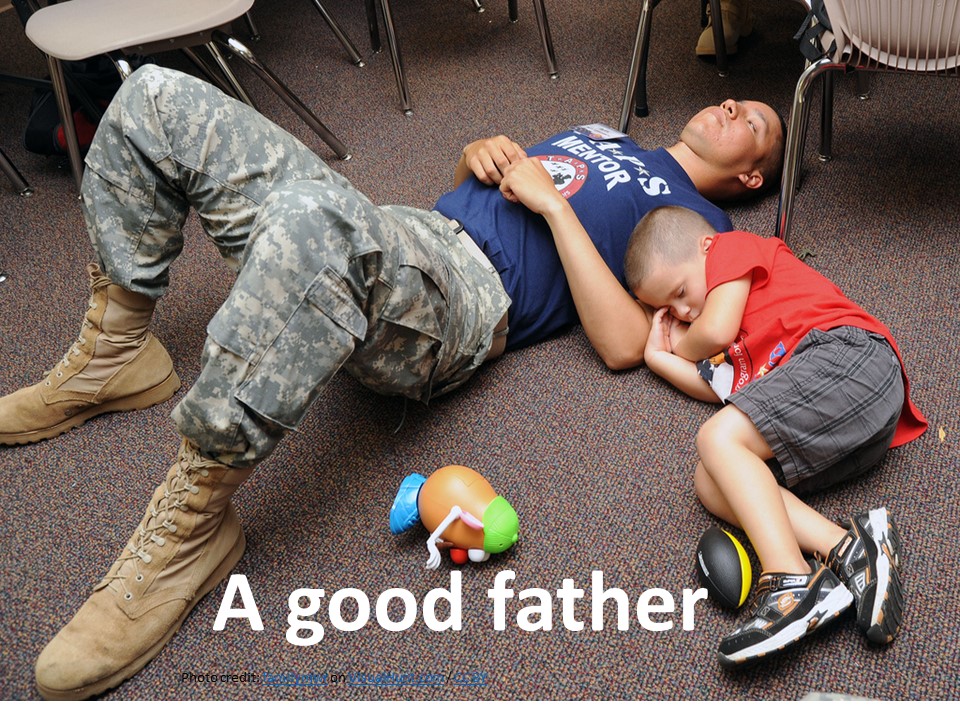 Verse 17 reminds us that we can call upon God and God, as any good father, will help. But like a father, God also sets standards and will be upset when we live in a way that is unbecoming to being a follower of Jesus.
In the next paragraph, we're reminded that God paid the price. There's a consequence to sin, to disobeying our Creator. Back in the garden we're told that disobedience leads to death![9] But we've been redeemed. Christ serves as the sacrificial lamb, his blood paying for our sin. According to Peter, this was a part of God's plan all along. From the beginning, God planned a way for us to escape our bondage to sin and evil. Through the Son, we have a way open to life eternal. Because of what Jesus has done, we have a hopeful future.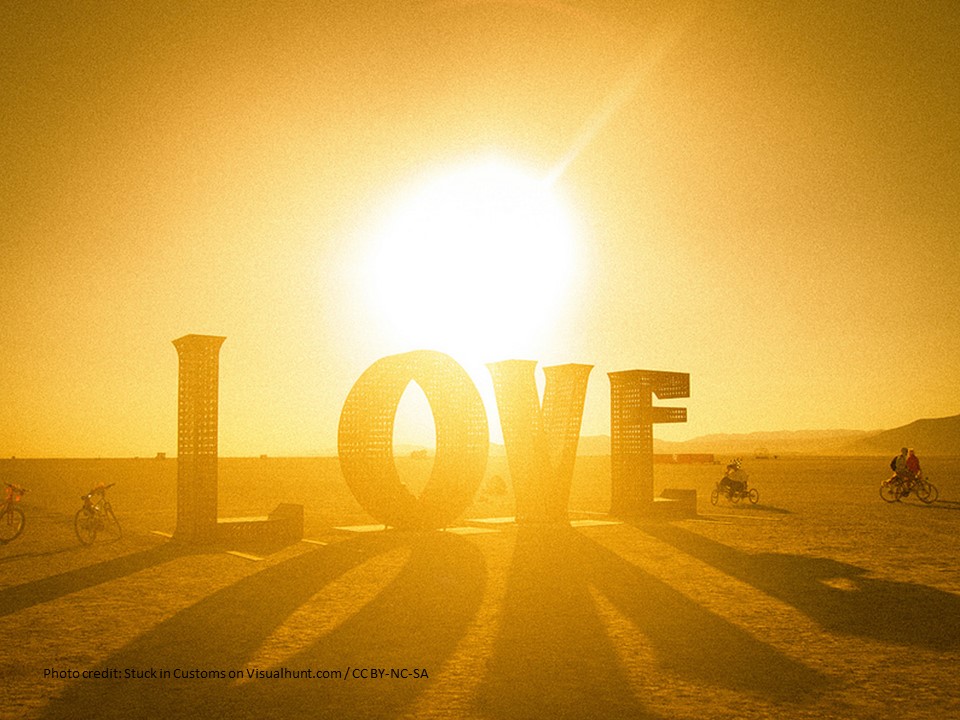 After making the case as to why we have hope, Peter returns to how we should respond. We're to love one another. We should remember that we are no longer living by the old ways, the ways of the world. We have been born again through God's living word. Our new life is conceived by God himself. We're now caught up in God's word which is eternal. Everything else will pass away, as Peter quotes Isaiah, but the Word of God endures forever.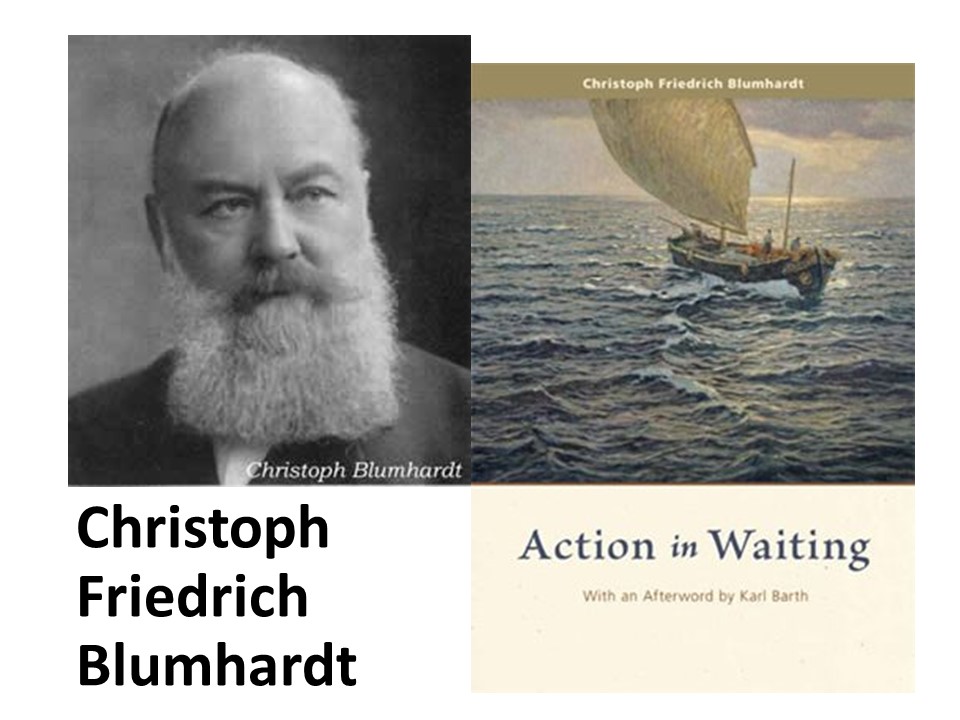 Christoph Friedrich Blumhardt was a German pastor and theologian in the early decades of the twentieth century. He isn't well known, but had a great influence on Dietrich Bonhoeffer and Karl Barth (who are better known). In one of his sermons, which has been collected in a book titled Action in Waiting, he says:
We do not gain much by just accepting that Christ died and rose again. Many people believe this, but nevertheless go to hell. This belief is of no help unless you and I experience Jesus as Lord. It is not the worst if some people are unable to believe that Christ rose from the dead – at least they still regard it as something tremendous, too tremendous to glibly confess. The sad thing is that so many people today claim to believe it, and yet it means so little to them. It has no effect in their lives.[10]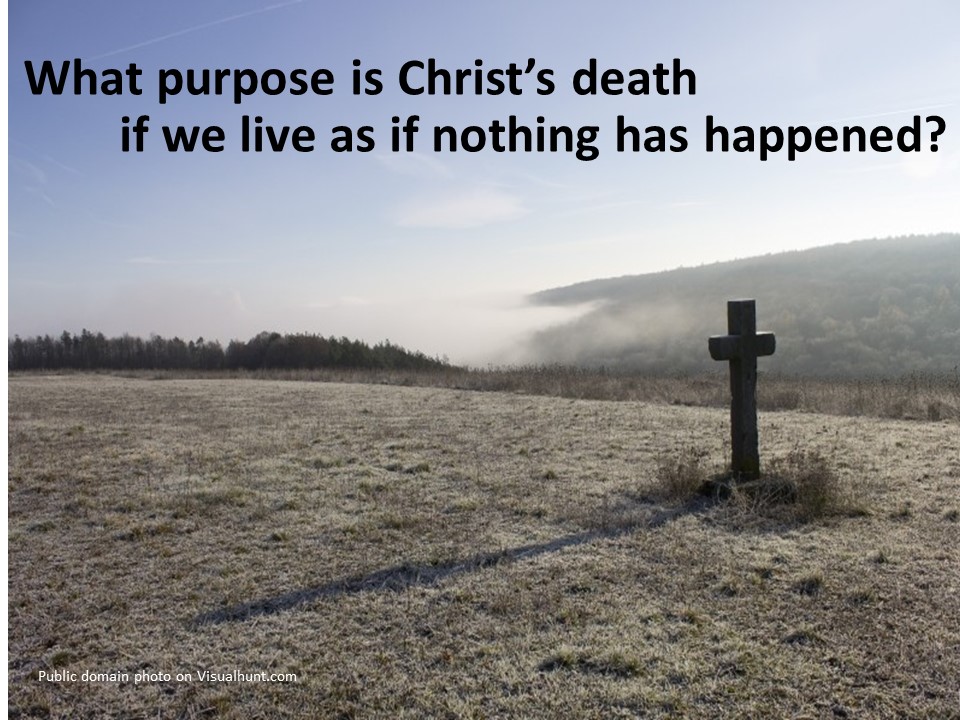 I think Peter would agree with Pastor Blumhardt. What purpose is there in Christ's sacrificial death if we live as if nothing has happened? God loves us as shown in giving of his only Son. This Friday, we should recall such love as we contemplate what our Savior did for us on the cross. It's a wonderful gift that should cause us to respond with gratitude, love, and a new focus in our lives. No longer should we live for ourselves. We now live for our Lord. To him be the glory.
Next Sunday, I hope you join us at dawn and against at 10 AM, to praise the one to whom all glory belongs. Amen.
©2018
[1] Hebrews 10:1-18.
[2] 1 Peter 1:19, New Revised Standard Version.
[3] 1 Peter 1:13-25, The Message.  (note, The Message doesn't number verses).
[4] David L. Tiede, "An Easter Catechesis: The Lesson of 1 Peter," Word & World (St. Paul, MN: Luther Northwest Seminary, 1984), 194.
[5] Tided, 197. Tiede quotes Gerald Krodel, "The First Letter of Peter," Hebrews, James, 1 and 2 Peter, Jude, Revelation by Fuller, Sloyan, Krodel, Danker, & Fiorenza (Philadelphia: Fortress, 1974), 74.
[6] Matthew 10:28.
[7] Luke 22:42.
[8] John 21:18.
[9] Genesis 2:17.
[10] See https://www.plough.com/en/subscriptions/daily-dig/even/march/daily-dig-for-march-23.