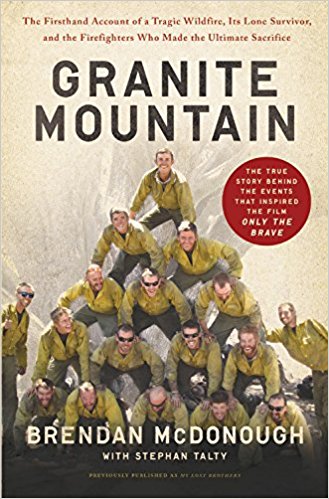 Brendan McDonough with Stephan Talty, Granite Mountain: The Firsthand Account of a Tragic Wildfire, Its Lone Survivor, and the Firefighters Who Made the Ultimate Sacrifice (New York: Hachette Books, 2016), 178 pages plus an insert of 8 pages of prints.
Nineteen firefighters were killed in the 2013 Yarnell, Arizona fire, making it America's most tragic wildfire in the terms of death of firefighters.  Yarnell surpasses the King Mountain, Colorado fire in 1994 and the Mann Gulch, Montana fire in 1948.  Everyone who lives in the American West, especially in non-urban areas, know the danger of wildfires and this fire hit a little too close to home for our family. One of the firefighters killed that June afternoon had, in the mid-1990s, been a member of a youth group at the church I served in Cedar City, Utah. He left behind a wife and two children.  I read this book with Joe in mind.
This book is more about the author, Brendan McDonough, than it is about the fire or even firefighting. While he does covers what happens that afternoon, the whole story is seen through Brendan's eyes. It is a story of redemption as Brendan goes from being a drug dealer and user to a member of an elite fire-fighting team. He is to be commended for having turned his life around and one can easily understand how he was so distraught after losing his "family" in the fire.
On the afternoon of the fire, Brendan was station as the team's lookout. When the fire blew up, his escape route was different than that of the crew who were working below him in an area filled with bushy vegetation. For some reason, the Granite Hotspots didn't take the escape route they'd planned. It was a fatal mistake. They were caught in a canyon filled with shrub. With the fire pushing in on them, they attempted to clear away shrubs and to crawl into their safety blankets in the hope the fire would burn pass them. They all died.
I was disappointed that I didn't learn anything about the kid I once knew. Brendan only discusses a handful of the fellow firefighters who were a part of the Granite Hot Shot team. I would have also learned more about what investigators have discovered about the fire, but this is a personal story. The book does not cover the investigation that followed the incident. However, the story from Brendan's eyes is well told and the book is easy to read.