Jeff Garrison Skidaway Island Presbyterian Church August 24, 2014 Deuteronomy 1:6-8
                   Summer is coming to a close, although you'd never know it by this week's weather.  Schools have resumed and so has high school football.  We're in the season of pep rallies.  Everyone gets excited and cheers on their teams before big games on the grid iron.  In a week or two, the collegiate season will begin and college students and alumni will gather in parking lots to celebrate and pump themselves up for the big games on Saturday afternoon.   There's something within human nature that draws us together to cheer on "our side."  It feels good to be with others who share similar desires and dreams.  You know what?  There are some pep rallies in Scripture and today we'll be looking at one of them… We're beginning this morning a tour of the opening section of the Book of Deuteronomy.  We'll stick with this book for a few weeks, as there are some things we might learn as we come to an end of a transition.  Deuteronomy is the last book of the Jewish Torah, which consist of the first five books of our Old Testament, and provides a basis for community life.  The word Deuteronomy means "Second Law" and there are some overlap with the laws here and that which you find in other books of the Torah.  Deuteronomy and Exodus both contain an identical list of the Ten Commandments[1] and there are many other laws in this book about how the community is to live together as God's chosen people. The Book itself consists of a group of sermons that all take place at the end of the Exodus experience, right before the Hebrew people move into the Promised Land.  The words are attributed to Moses who presides over his final prep rally before the Israelites cross over the Jordan.  Moses himself, who had led the people out of Israel, will not go into the land.[2]  Now is the time to make sure Israel is ready for what's ahead.  As one commentator says, "There is a boundary to cross, a new phase to enter.  Deuteronomy is a book for such times of movement and change."[3]  My reading today is a short one…  Read Deuteronomy 1:6-8.
###
I wake up, again.  It's 4:30 A.M., August 30th, 1987.   At the far end of the three-sided shelter in which I'm camping, Chainsaw and Offshore Steve are talking.  The last time I woke, an hour ago, the shelter's timbers were rattling from the snores that had earned Chainsaw his name.  Dawn is still a ways away.  I sit up, staying in my sleeping bag as the air is cool, and quietly join in the conversation.  We're excited, anticipating the day.  A bit later, I try to go back to sleep, but mostly I just roll from side to side. I begin my morning ritual a little before six, firing up my stove.  When the stove takes off, everything changes.  The roar of the flame, sounding a lot like the launch of a space shuttle, pierces the silence for the last time this summer.   I place the pot of water on it.  As I wait for it to boil, I stuff my sleeping bag and roll up my air mattress.  It only takes a few minutes to boil water, but I've learned not to waste time.  When the water is ready, I dump the remaining bit of my oatmeal into the old margarine tub that has served as my bowl for the summer.  Then, as I have done nearly every morning, I use my Sierra cup to dip out boiling water and mix it into the oatmeal.   Afterward, I again fill my cup and drop a tea bag into the hot water.  Breakfast is served.  As I wait for the others, I jot down a few notes in my journal and read from the Psalms in a Gideon's pocket Bible. Then, in the early light, I head off with Steve, Chainsaw and another guy for the climb up Mount Katahdin, in North Central Maine.  It's not a long hike compared to many of the days of hiking this summer: roughly ten miles round trip hike, but the 4000 feet climb is a killer.  Soon, I'm out in front.  It isn't that I want to go this fast, but something draws me toward the top.  Yet, at the same time, I want to savor the day and find myself, even though not tired, taking frequent breaks.  This far north, the trees are showing the first signs of autumn.  The poplars are turning yellow.  High above me, clouds dance across the peak.  I listen to the birds and the water rushing through crystal clear streams. Walking, even with a pack, is now second nature.  I reflect back on my hikes over the past four years as I've covered the ground from Georgia north.  On that first trip in April 1983, we'd met a few hikers planning on walking the whole trail.  Joking one evening around a campfire, I'd penned a poem for their amusement that began, "Georgia to Maine, you must be insane.  I wondered if I am. Much of Katahdin is above tree line.  The climate and vegetation is arctic-like, but I find myself loving the openness.  The wind seems constant here and I'm mesmerized by the short grasses waving in the breeze.  The trail becomes steeper.  When I arrive at the "Gateway," just a mile below the peak, I stop and wait.  I don't want to summit by myself.  Offshore Steve, whose name comes from his occupation as a fisherman out of Cape Cod, is a good quarter mile behind me and I watch him climb.   We walk together to the top.  When we arrive at the rock cairn with a sign designating it as the northern terminus of the Appalachian Trail, we prepare a drink and take turns having our pictures taken, lifting our cups in a toast.  I find some rocks to shelter me from the wind and sit down to wait for others who are coming behind me.  In my journal, I attempt to capture my feelings.  Then I hear Amazing Grace.  I first wonder if I might be having an "audio-vision" or if someone has brought a tape-player up the mountain, but moments later, from another trail that was much easier than ours, a guy in a kilt appears, blowing into his bagpipe. "Amazing Grace, how sweet the sound…" only with such grace can we accomplish anything.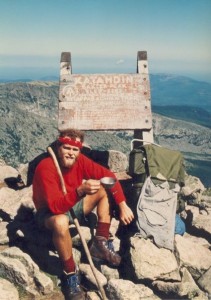 I stay on the summit for a couple of hours, leaving mid-afternoon.  A part of me doesn't want to leave, but I know I have to.  The next day, in Millinocket, Maine, I pick up a package at the post office that includes some clean clothes.  It feels good to put on clothes that aren't ripped, patched, and stained.  My summer is over; it's time to get on with my life.  Although I have seen no burning bushes, the trip changes me.  It was on this hike that I decided to seek ordination as a pastor and a preacher.[4]             Mountaintops are great; the only problem is that you can't live there!  Sooner or later, we have to come down from the heights and this includes not only literal mountaintops but also metaphorical ones.  Our bodies (and our minds) are not designed to live with so much excitement every day and if we try to constantly have that kind of rush; we'll be like a junkie, always looking for our next fix. The Book of Deuteronomy begins at the end of the Exodus experience.  Forty years have passed since the slaves had left Egypt.  During this time, they'd been cared for by God in the wilderness and now they are being sent forth.  The opening of the book contains a speech of Moses recalling what the Hebrew people have endured in the wilderness as God shaped them into a people who will not only occupy the land, but will also serve God.  There's a two-way covenant here.  The Lord will be their God and they will be God's people.  That same covenant is offered to us. Let me tell you something important.  The call of God is always into the future.  God never calls us into the present; with God, we're not to be content with the status quo.  Jesus didn't say to Peter, "Come, follow me, but keep fishing and maybe you should buy some new nets."  Instead, it was, "Come, follow me, I'll teach you how to fish for people!"[5] The call from God always seems to include a new radical vision for the future.  After forty years, the Hebrew people had become comfortable in the wilderness as God took care of them, providing manna and quail and fresh spring water.  One could live relaxed in such a setting.  But we're not necessarily called to be comfortable, to be relaxed; we're called to be God's people in the world and when we hide out in the desert, it's hard to do the work God wanted his people to do.  So God calls them (and us) forth.  To show how grand his designs can be, God suggests Israel's influence will extend far beyond what we know as the Promised Land.[6]  Even at its height of power under David and Solomon, Israel's boundaries never fulfilled the description given here.  Perhaps this is because God's vision is always more grand than our own, or maybe because Israel's influence was far greater than the territory she controlled.  There's truth in both suggestions. Like the Israelites at the mountain, we should be reminded that we don't get a free pass!  The Hebrew people were led out of Egypt, out of bondage, for purpose.  They were to be a light to the nations[7]—a task they sometimes did better than others.  And we'll probably be that way, sometimes being faithful and other times lagging in our faithfulness.  But God is always faithful and as God has given us much. Where do we go from here?  I have a sense that there are changes coming…  But before we rush off into change, we need to ask ourselves, "What does God want us to do?  What is our purpose?  How can we be faithful?" In our gospel reading, we learned how, when John the Baptist was in prison and awaiting execution, he sent his disciples to Jesus to ask if he was the Messiah.  Jesus didn't send John a yes-or-no answer.  Instead, he told them to tell John what they'd seen and heard: the blind could see, the lame walked, the lepers were cleansed, the deaf could hear, the dead were raised and the poor heard Good News.[8]  Jesus' mission during his earthly ministry was to meet the needs of those around him.  Where there are needs, the church is called to be present and to make a difference as we work for the fulfillment of God's Kingdom. Until that day, when the Kingdom comes, we have our marching orders: to make disciples and to serve others, as Christ has served us. Skidaway Island Presbyterian Church is at a time of transition.  We're like Israel, there beyond the Jordan.  We're like me on the mountain, it's time to come down and get on with life. The past is behind us; the future is waiting.  We're to move forward and in order to do this, we need a vision.  In this passage, the Hebrew people were given a vision larger than they would achieve, but that vision moved them forward with anticipation.  This vision moved them into action.[9]  What is our vision?  That's a question I've been asking people I've met over the past two weeks and will continue to ask as we move forward.  What is our vision?  How can we be more Christ-like, serving others and making disciples?  Think about it and share your thoughts with me.  Don't be afraid to dream!  You know what?  When we have dreams, when we have an exciting vision, we'll draw people to join us on our journey.  Life lived out in faith is exciting! This congregation has been blessed in the past, just as Israel was blessed, and we're to be a blessing to others just as Israel was called to be a blessing.  Jesus said: "To whom much is given, much is expected."[10]  What's expected of us?  Amen.
©2014
---