Jeff Garrison
Skidaway Island Presbyterian Church 
August 14, 2016
Acts 16:10-15, (Revelation 22:1-7)
Last week, we looked at how Paul and his companions (Silas, Timothy and maybe even Luke) experienced road blocks in their plans to preach the gospel in Asia.  Then, during the night, Paul had a vision in which he saw a Macedonian man pleading for them to come and help.  With the doors closing on them in Asia, the group decides the Spirit is calling them onto European soil.  Read Acts 16:10-15.
###
Before the sermon began (after Scripture) the choir sang "Let's Go Down to the River to Pray" as these slides were s
hown.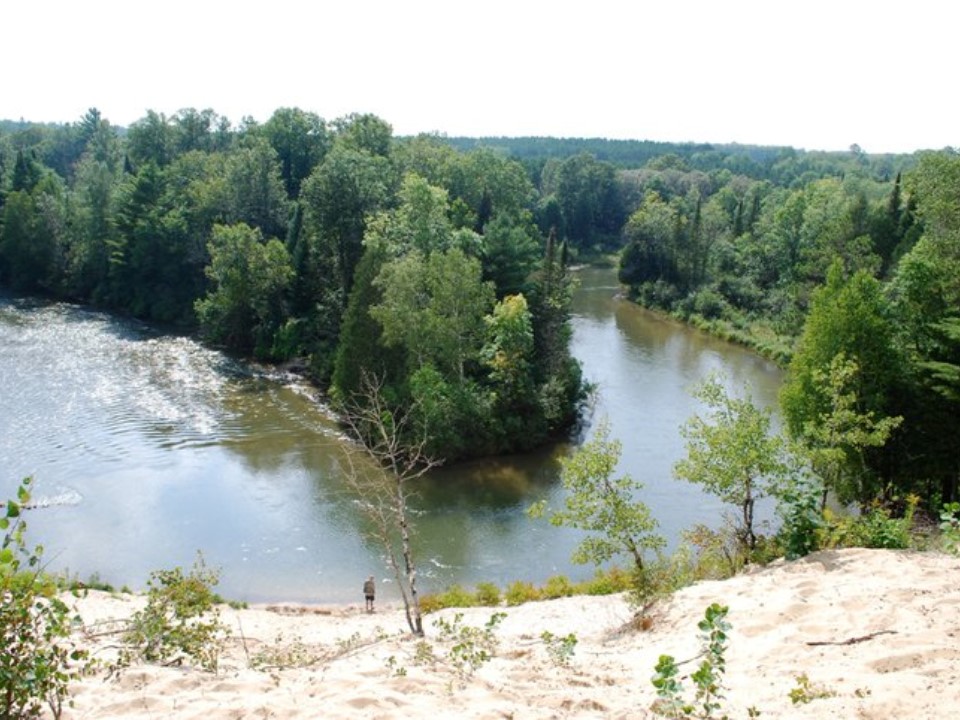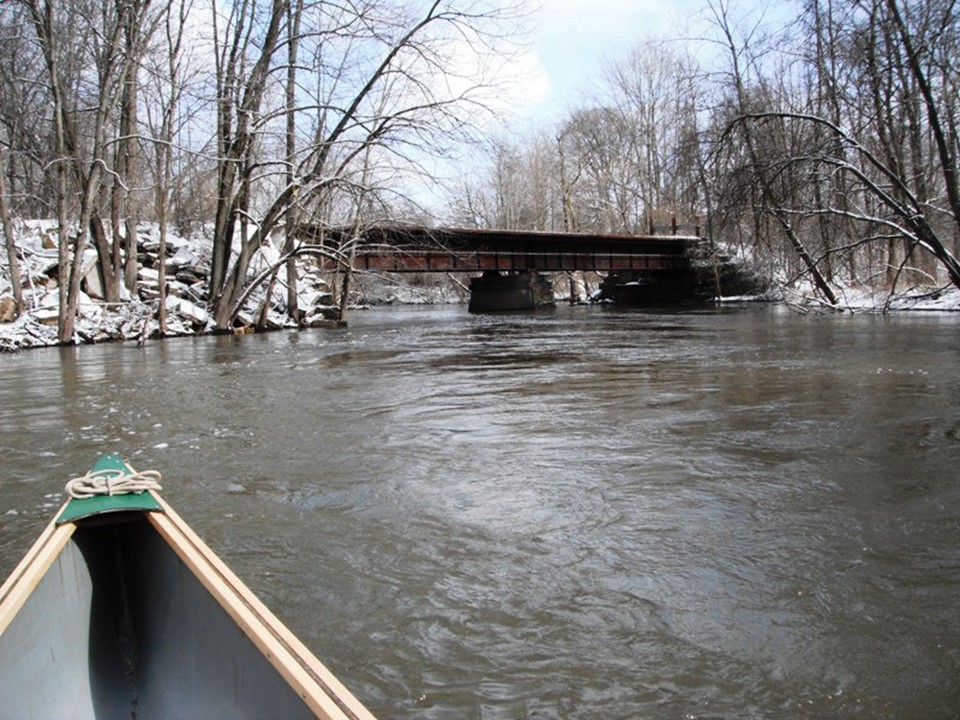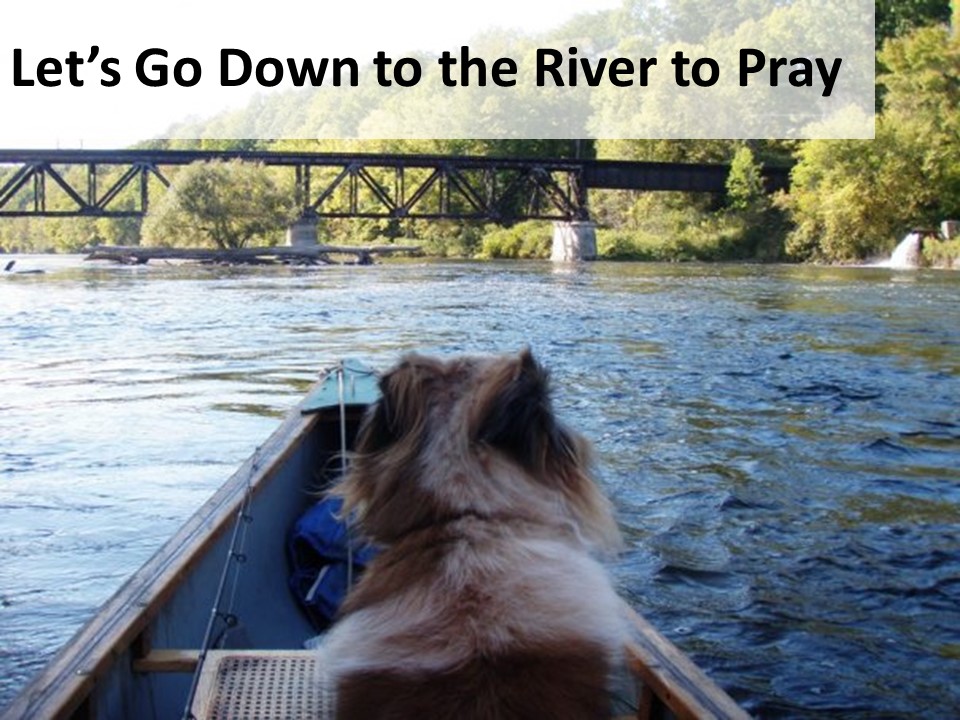 Let's go down to the river to pray…  It's a cry heard throughout scripture where rivers are often used as metaphors for God's constant care and providence.  Eden was watered by four rivers and the Nile saved Moses' life.[1]  The sheep's thirst in the 23rd Psalm is quenched by the still waters. In Psalm 46 the river makes the city of God glad.  It was by the Jordan, a river prominent throughout Israel's history, that John the Baptist set up shop and where our Lord was baptized.  And both of our scripture readings this morning occur on the bank of a river.  In the New Jerusalem, we're told of a river that flows through the city, bringing life as represented by year-around fruit and healing to the nations.  In our reading from Acts, women gather to pray by the river.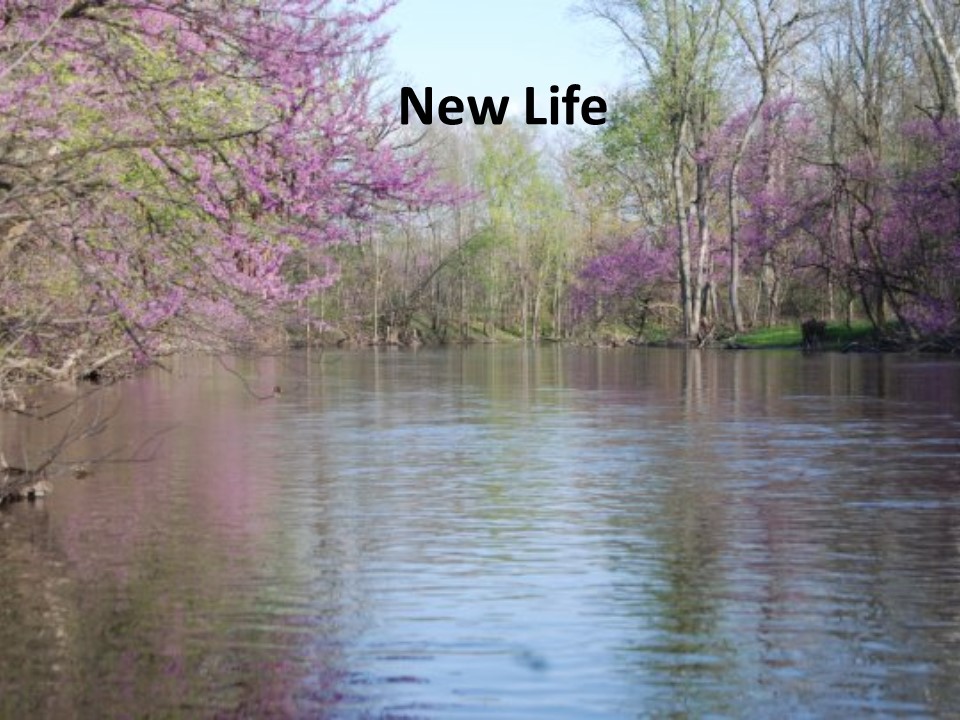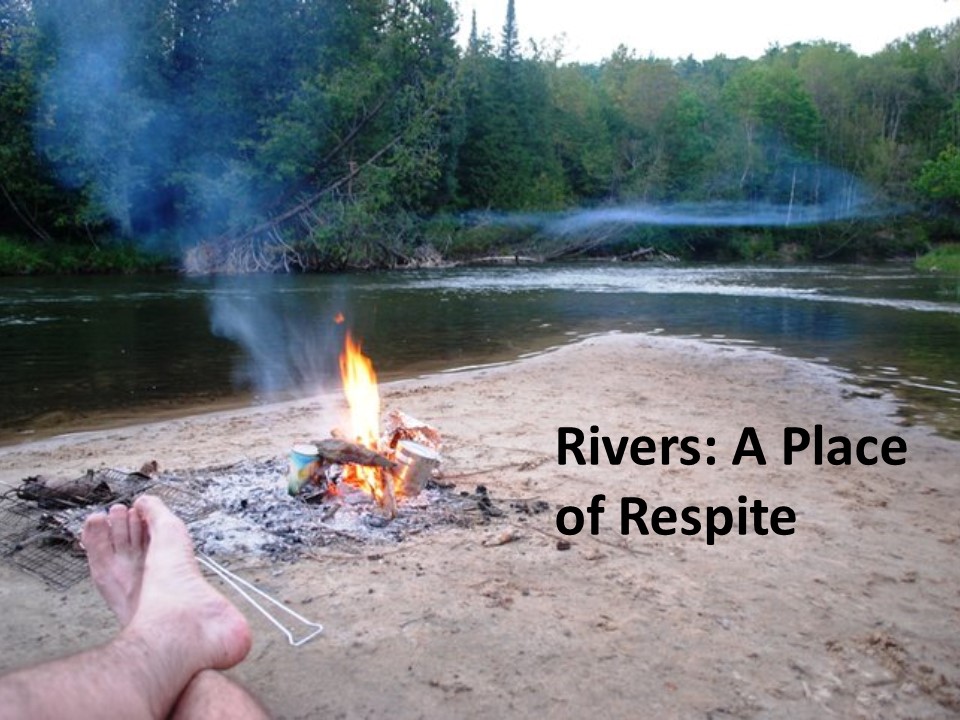 Rivers are a place of respite, where the air is cooled by the waters.  Artist know this and paint idyllic pictures of men and boys sitting on the banks of rivers, chewing on straw, with fishing lines out into the depths.  It doesn't matter if they catch anything, it's still good.  We have images of Huck Finn and Jim rafting down the river, enjoying life.  And then there is this memorable sentence written by the literary artist, Norman Maclean:
[I]n the Arctic half-light of the canyon, all existence fades to a being with my soul and memories and the sounds of the Big Blackfoot River and a four-count rhythm and the hope that a fish will rise.[2]
Can there be a more perfect setting for prayer than on the banks of a river?[3]  Think of our sunset services at Delegal Creek. On the banks of a river, I can't help but to give thanks to the one who provides the water.  It's restful watching the current as if they are taking my troubles away.   I image God, on the seventh day when He rested, setting up camp on one of those rivers watering Eden.[4]  The river can be a mystical place.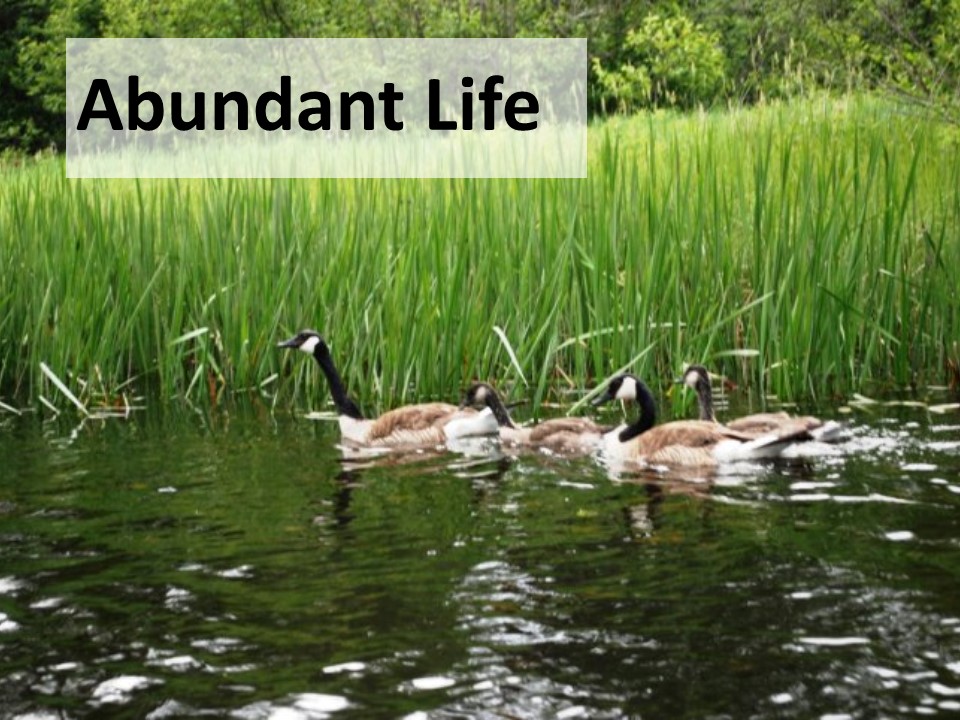 Rivers are places of abundant life.  The water nourishes.  Although they did not know it at the time, maybe that's why Lydia and her friends came to the river to pray.  As we learned in our Scripture this morning, it was the perfect setting for hearing the gospel.  In Philippi, by the river, Lydia and her family are able to be baptized on the spot.  Certainly, by the river they experienced abundant life.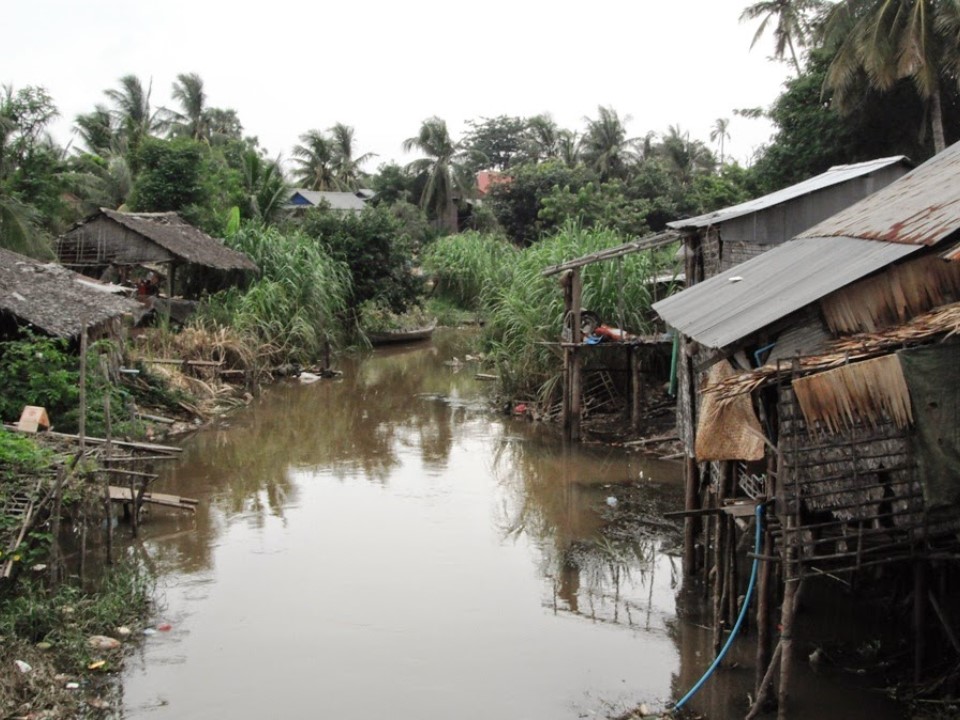 Now let's think about those gathered there by the river.  It has often been assumed the early church mostly consisted of the poor and those down and out.  Luke, the author of the gospel that bears his name as well as the Book of Acts, has been singled out for his concern of the poor. [5]  It is in Luke's gospel in which we have Mary's song, the Magnificent, which lifts up the plight of the poor.[6]  We also find the story of the Rich Young Ruler, who loved his possessions more than Jesus and just couldn't make the commitment to follow our Savior.[7]  It is also in Luke that we have the story of the Rich Man and Lazarus in the afterlife, in which the man who had ignored the poor Lazarus in this life is tormented while Lazarus is comforted by Abraham.[8]  The "Woos" that follow Luke's Beatitudes are against the rich and well fed.[9]  And, with Matthew and Mark, Luke quotes Jesus saying it's easier for a camel to get through an eye of a needle than for the rich to get into heaven.[10]
However, Luke also provides a number of counter-examples. He never slips into the thinking that being poor is good and rich is bad.  There is no on-going class struggle.[11]  Early on in his gospel is the story of the woman who pours out an expensive bottle of perfume to anoint Jesus' feet.[12]  And then there is the story of Zacchaeus.  The rich tax collector entertains Jesus and his heart is melted. [13]  Luke also tells us two stories of Roman centurions.[14]  The beloved slave of the first is healed by Jesus.  The second encounter, between Peter and Cornelius, leads to the conversion of an entire Gentile household.  Cornelius, after his conversion, invites Peter to stay at his home and the Apostle takes him up on his offer and stays there for several days.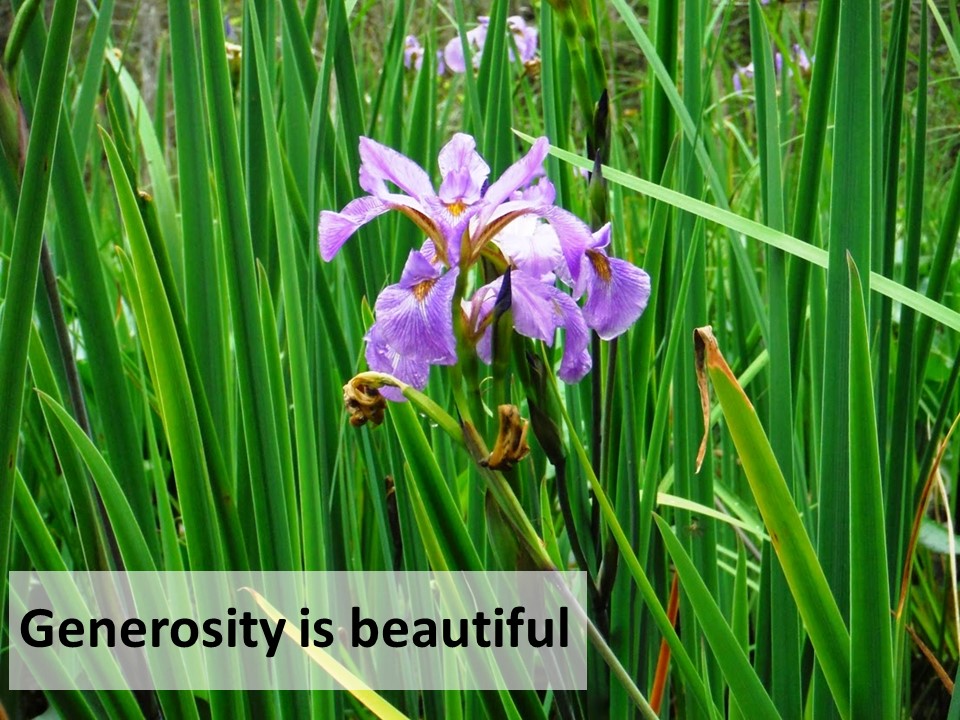 The one thing that most of these stories have in common is the generous response of the one with wealth, who uses their resources to share with others.  Consider the woman who pours out her perfume on Jesus' feet.  And then Zacchaeus, who hosts Jesus for dinner and then makes right those he'd wronged.   Cornelius had been generous to the Jewish community before his conversion, hosts Peter at his home.  Even in the story of the rich man and Lazarus in the after-life, the rich man is condemned for failing to share, or show hospitality, to Lazarus.  And now we have the story of Lydia and what does she do?  She invites Paul and company into her home.  She shows hospitality. Having wealth isn't condemned.  What is condemned is selfishness.
Now, I should say something about wealth and Lydia.  It has been debated if she was really wealthy.  Often, because she dealt in purple cloth (a product of her hometown, Thyatira), it's assumed she's wealthy.  We don't know for sure, but she certainly had enough resources to care for her household and her guests.[15]
There are a number of other interesting things about the passage we're exploring this morning.  Take out your Bibles and let's work through it.  We begin with Paul's team crossing over the Aegean Sea, from Troas to Samothrace in a day.  The winds were obviously in their favor as they made good time.  Paul would later travel in the return direction and it took him many days to make the journey.[16]  Samothrace is a small island with a tall mountain which makes it prominent in the middle of the sea.  From there, after a night's rest, they continue on to the mainland, to Neapolois (which means "New City"), but instead of sticking around they head inland to the city of Philippi.  Luke calls this the leading city of the district, which has raised questions as it was not the capital.[17]  Although it was a large city by ancient standards, there doesn't appear to have been a synagogue there.  Paul finds a group of women by the river where they've gathered for prayer.  We're not told if there were men present, but many commentators on this passage assume that the reason there were no synagogue was that there were no men and, at least in later Judaism, a synagogue required ten male members.[18]
There is an interesting disconnect between the Paul's vision and this passage that a few commentators, going back to John Calvin, have pointed out.[19]  Paul sees a Macedonian man in his vision, but when he gets to Macedonia, his encounters a group of women.  Furthermore, the woman who seems to be in charge, the one who accepts the Good News, Lydia, isn't even a Macedonian.  She's from Thytaria, an ancient city in what we know today as Turkey.  In other words, the first recorded convert on European soil is an Asian.  Paul may have thought he would be converting Macedonian men, but he shares the Word with those God sends his way.

        The message is getting out.  Look what happens by the river.  A family is converted.  People often speak of this passage as Paul converting Lydia, but the text doesn't support that.  Conversion is an act of God.  Paul, like us, is only God's vessel for sharing the good news.  Paul brings knowledge of Jesus to Lydia and her household, but it's the Lord that works within their hearts as we see in verse 14.  Both knowledge and faith are needed.  As Christ's ambassadors we can only tell the story of the gospel—God must supply the faith.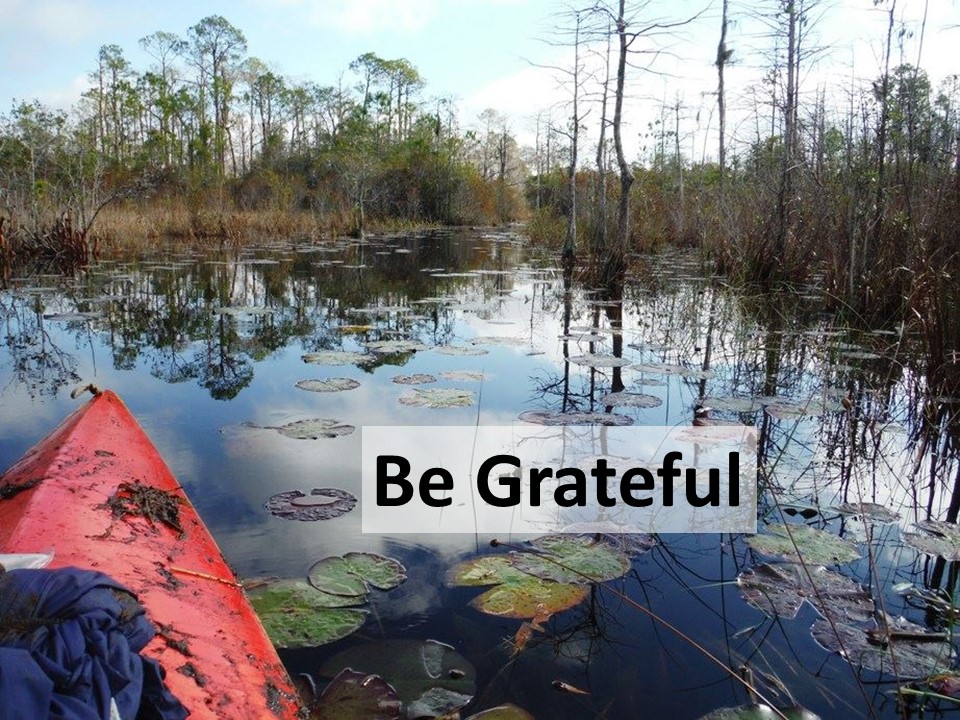 Next week, we're going to learn about the power of gospel as it encounters another woman in Philippi.  And, as happens so often in Acts, we'll see how success if quickly challenged.  Nothing about our faith is easy.  But until then, think about Lydia and her family and how content they must have been.  And think about a shady spot on your favorite the river, where you can pray and give thanks for Lydia and for others who heard the good news and started something new.  If it wasn't for them, where would we be?  We should be grateful. We should offer thanks for our spiritual ancestors, and to God.  Amen.
©2016
[1] Genesis 2:10-14, Exodus 2:1-10
[2] Norman Maclean A River Runs Through It and Other Stories (Chicago: University of Chicago Press, 1976), 104.
[3] Although some will say that "more perfect" isn't correct, Maclean (who was an English professor at the University of Chicago) makes the case that sometimes it is the only way to describe that in which we're in awe.  Ibid, 88.
[4] I don't think this idea is so far-fetched for in Genesis 3:8, we're told that God enjoyed walking through the garden during the time of evening breezes.
[5] For example see Walter Pilgrim, Good News to the Poor: Wealth and Poverty in Luke-Acts (reprinted 2011).
[6] Luke 1:51-53
[7] Luke 18:18f.
[8] Luke 16:19f.
[9] Luke 6:24-25.
[10] Luke 18:25  (See also Matthew 19:24 and Mark 10:25)
[11] William H. Willimon, Acts: Interpretation, A Biblical Commentary for Teaching and Preaching (1988, Louisville: John Knox Press, 2010), 137.
[12] Luke 7:36f
[13] Luke 19:11f.
[14] Luke 7:1f and Acts 10.
[15] F. F. Bruce, The Book of Acts: NICNT (Grand Rapids: Eerdman,  ), 331.  For a different take, see Beverly Roberts Gaventa, Acts (Nashville: Abingdon, 2013), 237.
[16] Acts 20:6.  See Bruce, 329.
[17] Gaventa, 236.
[18] For comparison see Bruce, 331 and Gaventa, 237.
[19] Gaventa, 236.