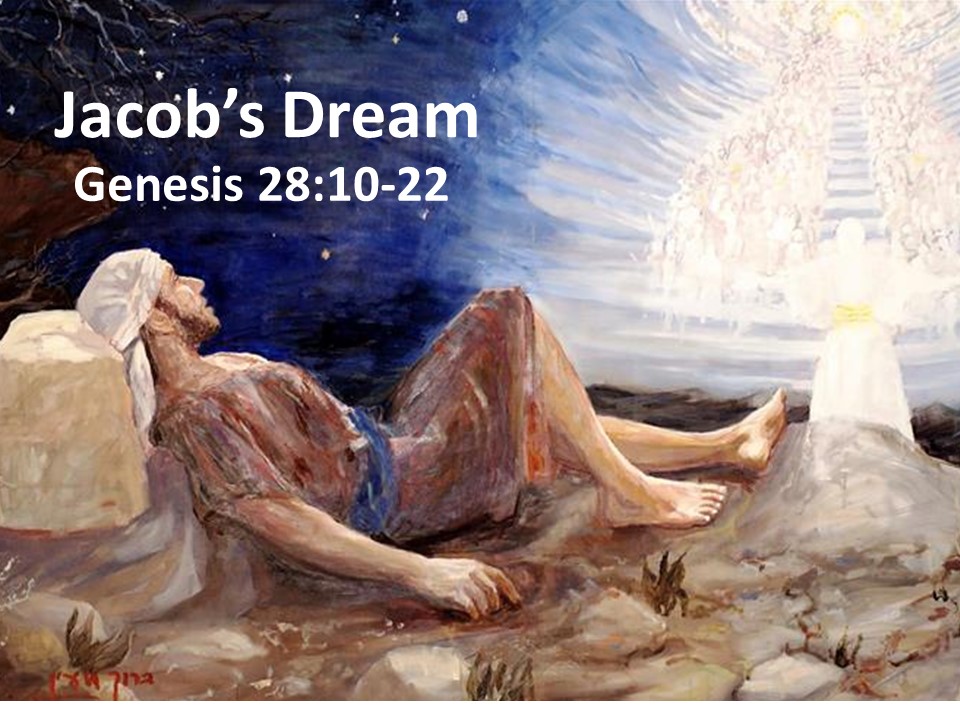 Jeff Garrison
Skidaway Island Presbyterian Church
July 30, 2017
Genesis 28:10-22
Some people have the idea that all the guys and gals on the Lord's side are holy, but when you read the Bible you find that's not the case. God isn't just God for the good guys.  For God so loved the world, we're told.[1] God's grace is wonderful. Yet, we're still surprised when one known for shady dealings and crooked ways experiences grace. Although there are many such stories in Scripture—remember Zacchaeus and the Prodigal Son?[2]—we think it's unfair.  They don't deserve a second or forty-ninth chance.[3] But do we?
One such shady character in Scripture is Jacob.  Remember him?  One of the patriarchs in the Old Testament? We're going to spend some time with Jacob, starting with his dream of the ladder to heaven.  This occurred right after he'd cheated his brother, Esau, out of a blessing from their father Isaac. Jacob had already cheated Esau out of his birthright, selling his brother an expensive bowl of soup. Now he's taken even the blessing designed for his brother. Esau is out for blood. It would have been Cain and Abel[4] all over again, except that Jacob, on his mom's advice, skips town.  [5]This is where our story begins…  READ GENESIS 28:10-22
###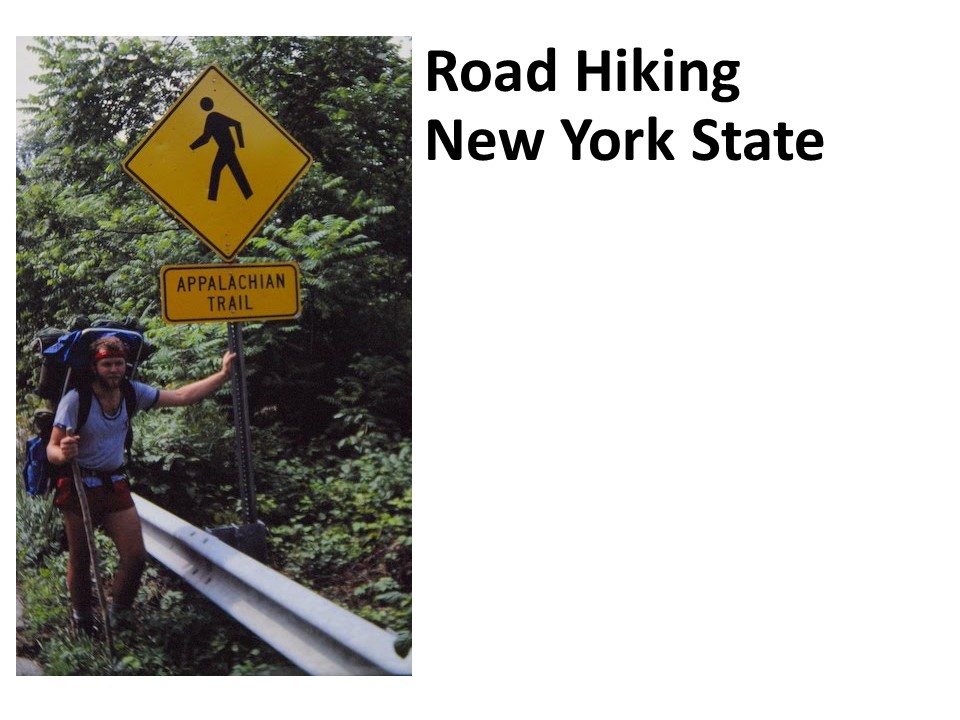 The day had started out rainy.  I was hiking through the New York section of the Appalachian Trail, on my way to Maine.  There was a lot of road walking this day.  After the rain stopped and the clouds parted, walking along the side of a road without any shade was torture.  Hot and humid.  I couldn't wait for the trail to turn back into the woods. Then, in the early evening, I came upon a restaurant.  I decided instead of a bowl of rice or noodles, I'd have a nice sit-down meal in Air Conditioning.  I longed for a crisp salad and a cold beer.  I had only about half of mile of road walking before the trail turned back in the woods so I stopped. The air conditioning was heavenly.  It was about an hour before dark when I left the establishment.
When I got to where the trail headed out into the woods, I was shocked to find that I was entering Pawling Nature Preserve and for the next 3 or 4 miles, camping wasn't allowed. This information wasn't in the guide book. I couldn't go back, unless I wanted to sleep along the shoulder of the road, so I headed into the woods as light drained from the sky. I decided that, for my own conscience, I wouldn't "camp." I'd just sleep. There was no need for a fire or even for my stove, as I'd just eaten. So I went a mile or so into the forest, found a level spot, well off the trail, and rolled out my bivy sack. I put my sleeping bag in it, tied my pack up in the trees, and tried to camouflage my bed roll as much as possible. I brushed my teeth and crawled into my sleeping bag…  Although tired, I did not sleep like a baby. I had all kinds of weird dreams—mostly about rangers waking me up.
I was up well before the sun the next morning, stuffed everything into my pack and headed on. When I got through the preserve, there was another road-walk and just a short bit down the trail, I found a place to stop and fix breakfast. Under a set of oaks was a small creek with a mossy spot to sit. I dropped my pack and then noticed across the street was a cemetery. "The Gate of Heaven" was its name.
"How awesome is this place!" Jacob says.  "This is none other than the house of God, this is the gate of heaven." And I, too, awoke to find the Gate of Heaven… God is closer to us than we think, whether in Judean Hill Country, the mountains of New York State, or the marsh around Skidaway Island. This world is God's altar.[6] And yes, I, too, believe that God sometimes speaks to us in dreams as he did with Jacob, although I don't remember any dreams of angels that night.
Let's look at Jacob for a minute. As I've tried to emphasize, he's really a jerk.  After ripping off his brother twice, he decides he'd better skip town… He's in such a hurry that he either forgets or doesn't have time to pack a bedroll. You'd think that as Jacob fled, his conscience would have bothered him a bit. Furthermore, the place he stops is coincidental.[7] He's between major episodes in his life, the taking of his brother's blessing and finding a wife (or wives, as in his case[8]). He only stops because it's dark.  In this site, between events, when nothing is expected to happen unless Esau catches up with him, God intervenes.
As he flees, Jacob makes his meager bed, probably thinking he'd sleep and be quickly on his way at dawn. We'd think he'd lay awake and worry about the brother he hurt, or at least worry about what would happen to him if his older brother got his hands around his neck… But it's not that way for Jacob. Instead of tossing and turning all night, he lays down, using a rock for a pillow, and sleeps like a baby.
But he dreams.  Again, we might think that Jacob's conscience would have been bothering him such that his dream would have been a nightmare, but it wasn't.  He dreams of a ladder or a stairway which reaches from the earth to the heavens and upon which angels travel up and down.  However, the significance isn't in the dream. The dream is to grab Jacob's attention. What's significant is the Lord's appearance, giving him the same promise that had been given to his father and grandfather.
In verse 15, Jacob receives a three-fold promise from God.  First of all, the Lord promises to be with him. This is much like the promise that Jesus gives the church (I will be with you always, wherever two or more are gathered[9]). Jacob now knows God is with him. Secondly, the Lord promises to protect Jacob. "I will keep you," he says.  For a wanted and marked man, such a promise gives hope. Finally, the Lord tells Jacob he will provide a homecoming. For a lost man, on the run, this sounds like good news![10]
Jacob awakes and is afraid. But it's not because of Esau that he's sacred.  He knows that One more powerful than him has been present. He knows something astonishing has happened.
That morning (perhaps over coffee), Jacob thinks about the promises God has made to him and reacts by building an altar using the stone which had been his pillow.  Then he vows to God, saying that if God is going to do all this for him, the Lord will be his God and he'll give a tenth of his income to the Lord.
There are two important lessons from this passage which I hope you take away. God's love and grace are given freely, without merit; and God's love demands a response…
          First, God's love and grace are given freely…  Jacob is a jerk.  What right does he have to claim God's promise?  None! He wasn't righteous. When we look at the way he acted toward his brother, we can imagine how he treated others. Yet, even though Jacob is an egocentric pain-in-the-butt, God reaches out in love to him. God gives him a vision of heaven, of angels and of a ladder where angels ascend and descend. In his dream, Jacob sees that heaven is connected to and is concerned for the earth. He now knows that God is going to take care of him.
It may be that way with some of you. At times, we should admit, myself included, that we act like jerks. We hurt people with our actions and words. But that makes God's offer of forgiveness through Jesus Christ all the more wonderful. Our salvation is not compromised by our past mistakes and dishonesty. Praise be to God for his love is given freely and is not tied to our actions.[11]
Let me say this another way.  If you feel you are not worthy of God's love, you are right… You're not.  None of us are…  Jacob certainly wasn't…  I'm not and, if honest, neither are you.  Yet God reached out to Jacob and, through Jesus Christ, God reaches out to us in love and mercy.  Paul wrote, "All have sinned and come short of God's glory" and at another time he said: "I am the chief of sinners."[12] God reached out to Paul and he became a great missionary. God reached out to Jacob and he became a father of a nation.  How is God reaching out to us?
         The second important lesson from this passage is that God's love demands our response.  After experiencing this wonderful sign of God's grace, Jacob immediately builds an altar and promises to give God a tenth of his income.  Jacob shows his gratitude by worship and commitment. By the way, notice that he gave back to God only after he experiences God's grace.  It is only after God told him what he's going to do that Jacob responds. We don't give to buy God's love, for that would be idolatry. We give in response to God's love, which is shown to us at Bethlehem and even more fully on the cross. How could we ever buy God's love?  Do we really think we are important enough that God couldn't get along without us?
Like Jacob, we give to God out of thanksgiving. We give because God gave to us first… Jacob gave a tenth of his income to God because he was thankful. We should tithe, not because we need all the help we can get, but because we are grateful that even in our rebellion, God loves us and sees value in us. You know, Jacob promises to tithe even though his blessing will not be fully realized for many, many generations.  Like Jacob, we, too, must step out in faith, giving God thanks for what we've experienced in the past and what grace and mercy we'll experience in the future.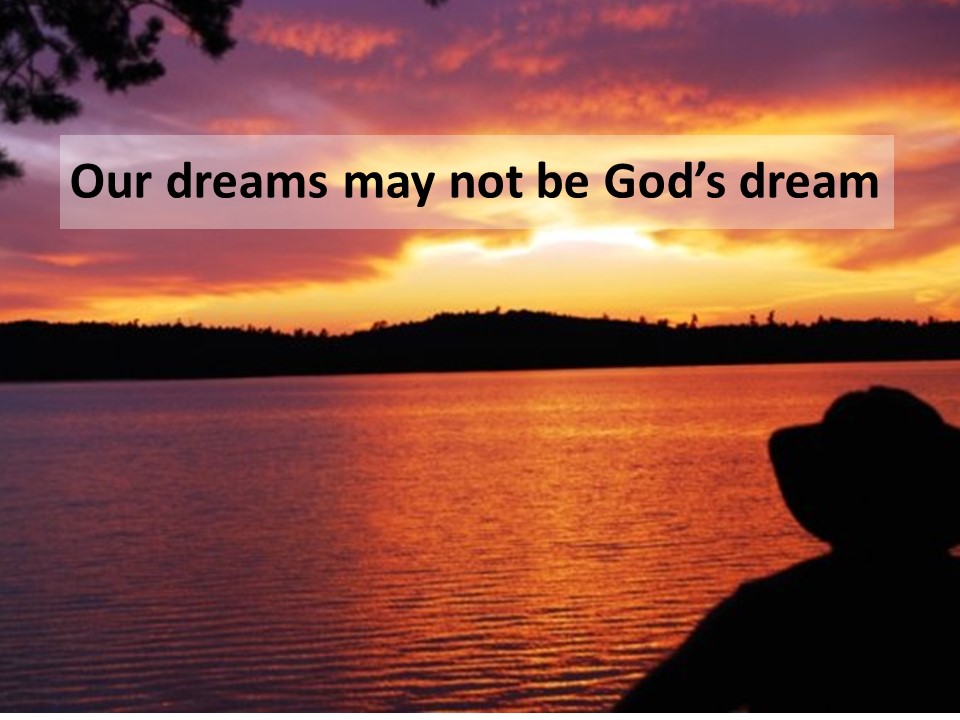 When Jacob fled from his brother, he had a dream.  His dream was to inherit all that was his dad's.  He wanted flocks of sheep, the goats, the tent, the camels and the cooking pots…  But God had another dream for him, one that included a vision of heaven and that, in time, would make him a father of nations. Too often we sell God short. Our dreams aren't really God's dreams. Instead of reaching for the sky, we're satisfied with a bit more stuff. Jacob wanted a larger herd; in the story I began with, I just wanted to get out of that nature preserve without being caught camping. We want, but our dreams and wants are nothing compared to the plans God may have for us. We need to trust God and be surprised by the blessings.
Let me send you out with a question. Do you sometimes settle for your small dreams when God's dream for you is much larger?   Amen.
©2017
[1] John 3:16.
[2] Luke 15:11-32, Luke 19:1-10.
[3] Matthew 18:21-22.
[4] Genesis 4.
[5] Genesis 27:41-45.
[6] See Barbara Brown Taylor, An Altar in the World: A Geography of Faith (New York: HarperOne, 2009).
[7] Gerhard Von Rad, Genesis, revised edition (Philadelphia: Westminster, 1972), 283.
[8] Jacob the tricksters, is tricked by his father-in-law into marrying the "ugly daughter" and then must work another seven years for him to marry the one he really loved.  Genesis 29:15-30.
[9] Matthew 18:20; 28:20.
[10] Walter Brueggmann, Genesis: Interpretation, A Biblical Commentary for Teaching and Preaching (Atlanta: John Knox Press, 1982), 244-246
[11] Ephesians 2:8-10.
[12] Romans 3:23; 1 Timothy 1:15