Jeff Garrison
Skidaway Island Presbyterian Church
Ecclesiastes 11:1-6
November 5, 2017
We spent last month looking at the foundational themes of the Protestant Reformation. Can you remember them? (Grace Alone, Faith Alone, Christ Alone, Scripture Alone and To God be the Glory). It's important to remember that grace comes first. God loves us before we can respond. God's love is not something we buy or earn. It's a gift. It's up to us to accept it and respond. This month, we'll look at how we respond as we lead up to our Consecration Sunday on November 19. That's when we'll make a faith promise, through an estimate of giving card, concerning our giving for the coming year. It takes money, helping hands and a willing heart to make a successful church. And you are very generous!
I am going to start this series in the wisdom literature found in the Old Testament, specifically the book of Ecclesiastes. Outside the third chapter, this is not an overly popular book. The third chapter is where we read about there being a time for this, that and the other, words that were arranged into a popular hit sung by the Byrds in the 1960s. But there's more to this book than the third chapter, as we are going to see today.
Many see this book as sad and gloomy. After all, the book begins with "vanity of vanities." Others translate this opening as "Smoke, nothing but smoke," "it is useless, useless," or "everything is meaningless, completely meaningless." In our mind, the book doesn't start off on the right foot! But there's treasure here!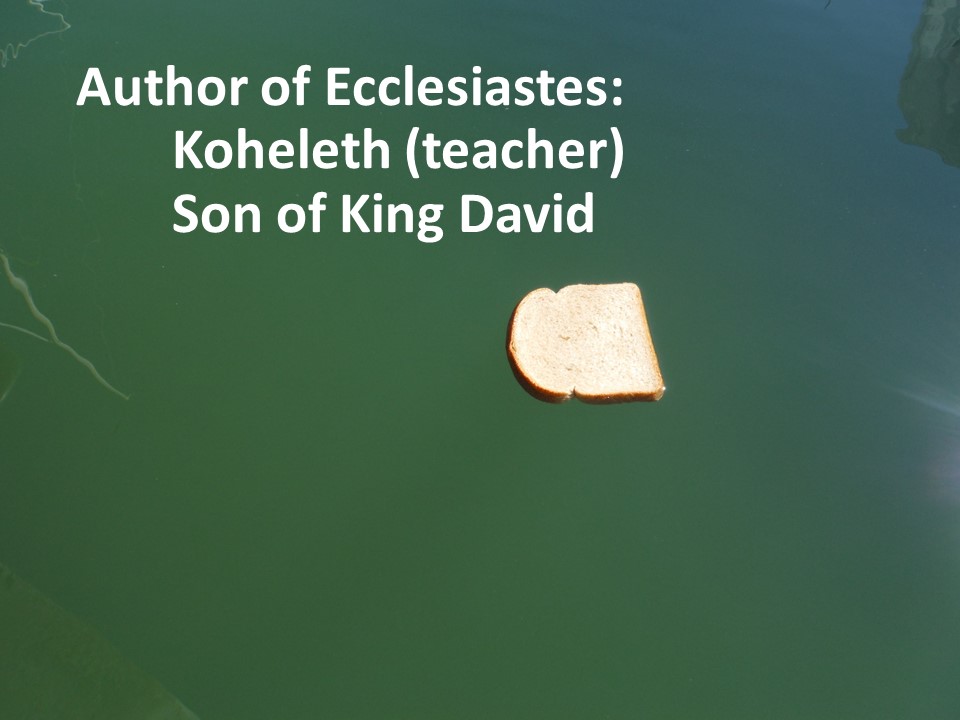 "Some scholars suggest Solomon wrote this late his in life and was depressed and looking back in regret. But no name is given for the author, except the Hebrew word Koheleth, which isn't a name, but a title. It can be translated as "the Teacher." I'll use that term throughout this sermon. Solomon is also cited as the author because he was known to be wise and because "the Teacher" was a son of David. But David had a number of sons, it's just that Solomon is the one known for his wisdom. However, the authorship doesn't matter as much as the message.
The Teacher wants to instill a sense of urgency in the lives of the young so that when they are old, they will have made the most out of their time and not look back with regret. Our reading begins in the 11th Chapter. Read Ecclesiastes 11:1-6: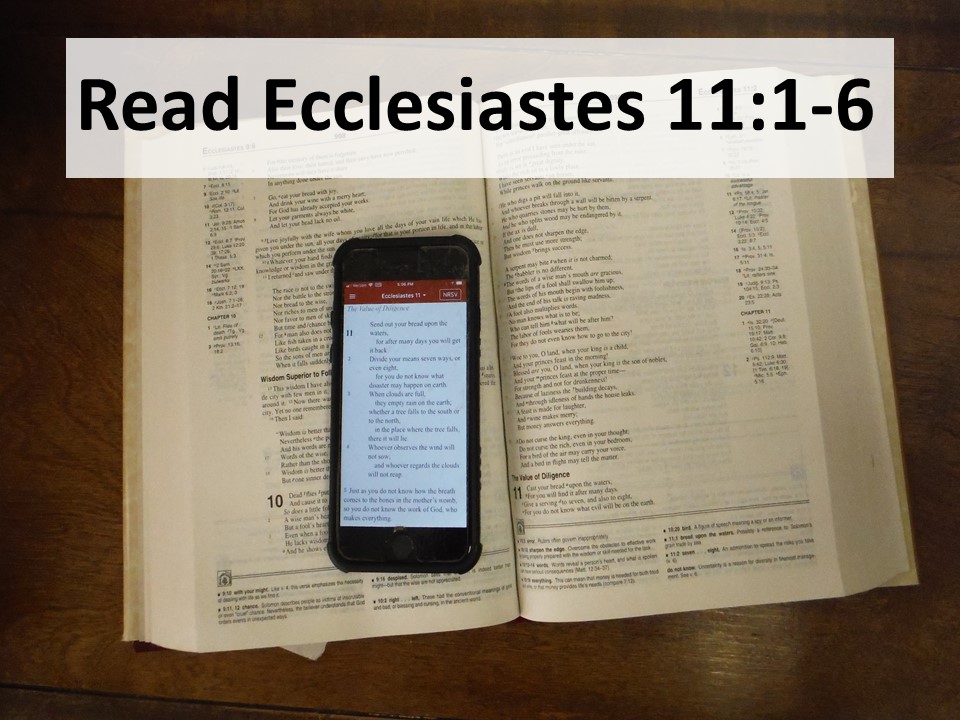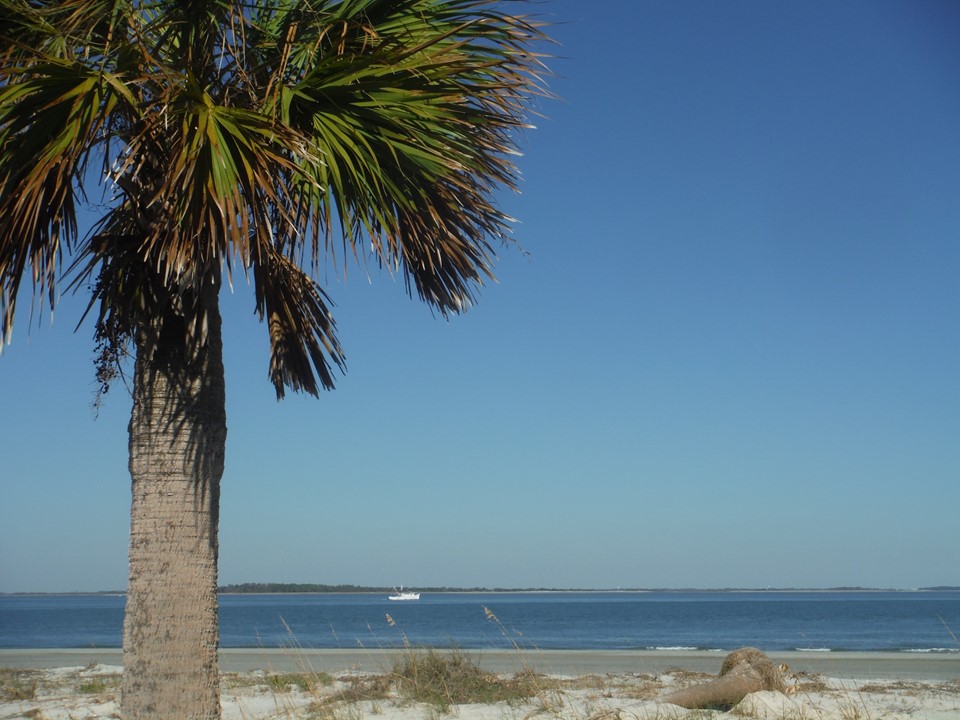 "Cast your bread upon the waters," our reading begins, "and after many days you'll get back a soggy mess." In case you didn't understand, the ending was my twist to this parable. What does it mean to cast bread upon the water? If it's not eaten by the gulls or fish, what good would it be? Even burnt toast and hardtack, after a short time, would come back a soggy! Vanity of vanities describes tossing our bread on the waters. So what could this passage possibly mean?

There's been much debate over its meaning. Imagine that! Some scholars think the Teacher is referring to trade, the sending of grain off to a foreign port where it can be sold for a profit. This goes with the second verse which suggests that the prudent farmer will diversify. Raise a variety of crops, send them to markets at different ports on different ships in order to hedge his bet against disaster. Don't put all your eggs in one basket, or as is known in the investment world, diversify! Make sure your portfolio has both stocks and bonds, domestic and international, and a variety of segments such as technology, medical, transportation and consumer discretionary. Certainly, there is some profound truth in such an interpretation, but there's another way to look at this passage.

The Message translation paraphrases this verse. "Be generous: invest in acts of charity," it advises. "Charity yields a high return." This interpretation fits with the historical interpretation of the parable as well as with many ancient proverbs. There was an ancient Egyptian saying that went, "Do a good deed and throw it in the water, when it dries up it you will find it." An old Arabic proverb went, "Do good, throw your bread on the waters, and one day you will find it."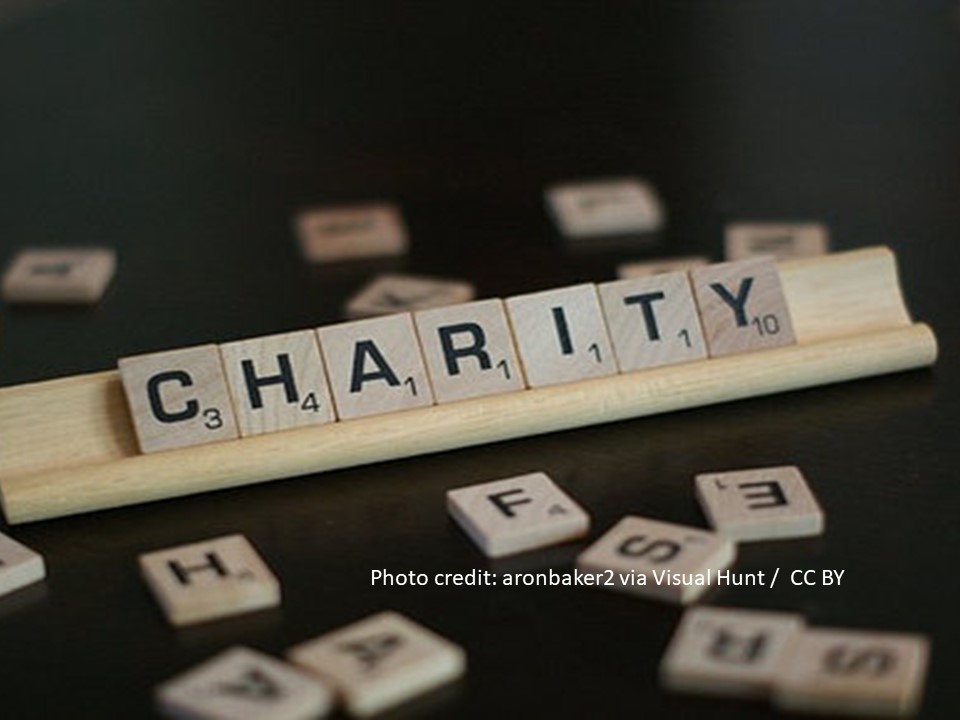 I'm in this latter camp, suggesting that charity (or good deeds) is the focus on this passage; however, even here there is a problem. If we do good only because we expect something in return, are we really charitable? If my only reason to do good is in the hopes that someday someone will do good to me, such as a father being generous to his kids knowing they'll be picking out his nursing home, are we charitable?
You know, as a congregation, we were incredibly generous in our giving to the Presbyterian Disaster Assistance for hurricane relief, giving nearly $8,000. If we give just because we expect such a gift after we are hit by a storm, would we be generous? Or would we be buying insurance? The act of giving implies that we are no longer in control of whatever it was that we gave to someone else. It's like casting bread upon the waters. Maybe it will and maybe it won't come back, but we do it anyway because generosity is about as godly as we can be.
We're to be generous when we're able. There may come a time that we can't volunteer to build houses for Habitat (although President Carter is still doing it at the age of 93).  We do what we can do knowing that sooner or later, thanks to aging and health issues, most of us will be in a position where we must depend on the generosity of others.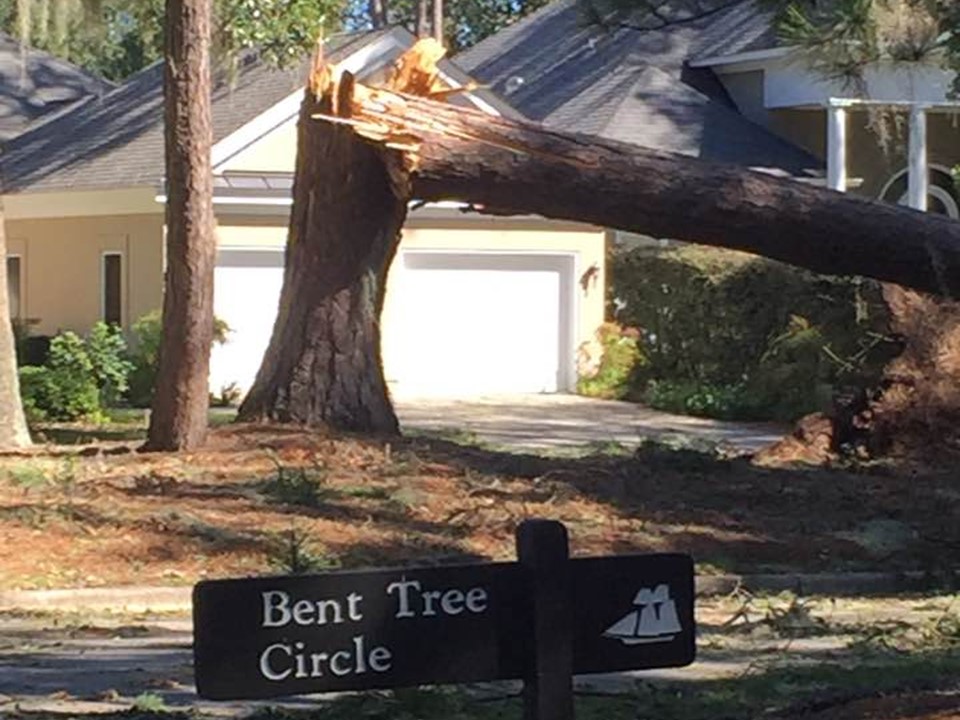 In the third verse, our text turns to a familiar theme in Ecclesiastes. We're not in control. We can't make it rain nor can we, as many sadly learned during Hurricane Matthew, cause a tree to fall in the right direction (away from our homes). But just because these things are out of our control, we are not to use them as excuses for a lack of activity. God is in control, and as we learn in verse 5, is working behind the scenes such as forming a life in a mother's womb. The miracle of life. It's a miracle because there is a lot we don't know about it.  But od is there, working behind the scenes, and we must trust in him.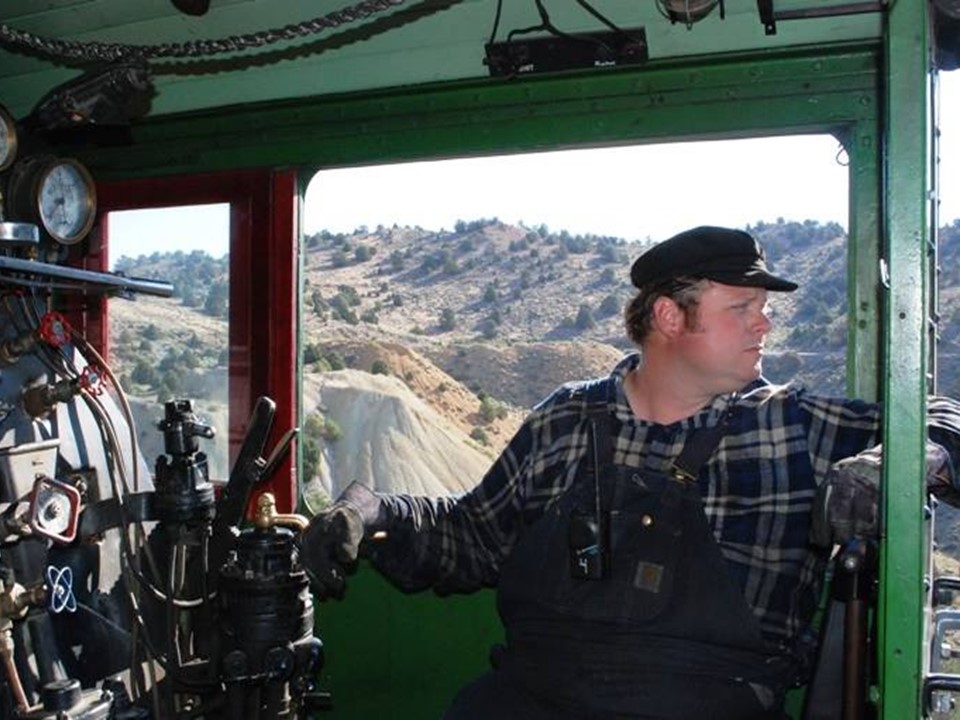 Our reading concludes with a call to action. Go ahead and sow your seed in the morning (don't use the wind or the lack of rain as an excuse). Keep working, for we don't know how things will turn out in the end. God has created us to work. You may remember I talked about this last winter in my sermons on the opening chapters of Genesis. Work is good. The Teacher understands this and encourages his students and us, his readers, to stay busy and not to look for excuses.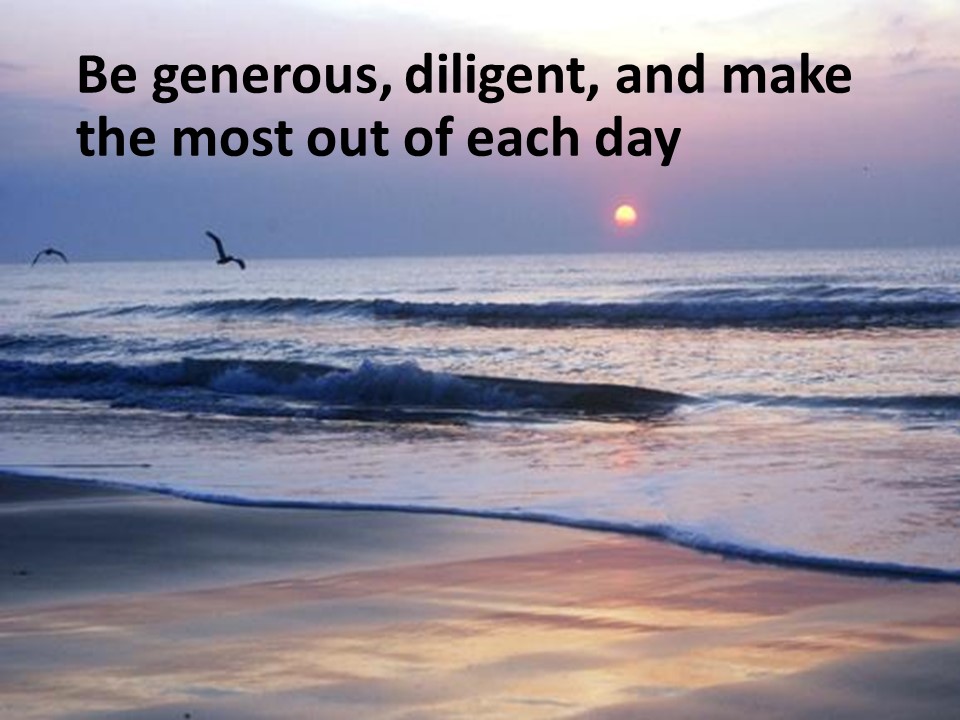 So what might we take from this passage? Let me suggest three things. Be generous. Be diligent. And make the most out of each day as we trust the future to God's sovereignty. Be generous because we belong to a gracious and giving God. Be generous, remembering Jesus' words that we are to store up our treasure in heaven. Be generous, for we know what Christ has done for us as we've been cleansed of our sin and called to a new life. Be generous, while we can, because we know that sooner or later, we too will depend on someone else for help. Be diligent means hedging our bets as a way to prepare for the future. It's the advice of every good investment manager. We are diligent and hedge our bets, but we know that ultimately the future is not in our hands. Our futures are in God's hands. Our comfort comes not from making a profit by sending our grain to foreign markets or even upon the sprouting of a bountiful crop in the field. Our comfort comes from knowing that we are in the hands of a loving God, a God whom we trust and whom, in thanksgiving, we share what we have for the building of his kingdom.
On November 19th, Consecration Sunday, we'll ask you to make a faith commitment to the church for 2018. I encourage you to take time and to ask God in prayer, over the next two weeks, how he might use you to further the mission of Jesus Christ. Let us pray together.
Heavenly Father, you give us the breath of life and all that we have. How would you use us to further the mission of Jesus Christ? Amen.
©2017