This past Sunday I was asked if there was a story behind the silver cross I normally wear in worship over my robe.  Well, yes, there is.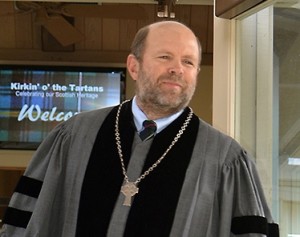 As I was preparing to head to seminary in Pittsburgh, I accepted a part time job at Covenant Presbyterian Church in Butler, Pennsylvania.  I was hired for this position over the phone, after being interviewed by the Pastor, Steve Hamilton, and an Elder.  Jean Henderson, who was the placement and field education director at the seminary (and who had also been interim at Covenant) had given them my name.  We had a pleasant chat.  Not having a map close by, I had no idea where Butler was at so I asked.  I will never forget Steve's response.  "It's just a nice 30 minute drive through the country up Route 8."  (The second time I drove it, I counted, in the 32 miles from the seminary to the church, 48 stoplights.  Obviously, we had different views of country drives).   Despite the drive, it was a wonderful experience.  Steve was a good mentor and the congregation was encouraging.
In a way, the members of Covenant are the reason I decided to go into pastoral ministry.  When I entered seminary, I had no idea what I was doing except that I was answering a call from God to go to seminary.  I assumed I would graduate and continue in similar work to what I had been doing, perhaps becoming a church capital campaign fundraiser.  From the beginning, people in the congregation at Covenant would say, "you need to go into the pastoral ministry."  But I thought I would never have enough to say to sustain a lifetime of preaching.  Through their encouragement, I began to think about pastoral ministry and during the summer between my first and second year of seminary, when I set out to complete the Appalachian Trail, I found myself thinking more and more about the pastoral ministry.  When I decided to take an internship year, I accepted a position in Virginia City where, as student pastor, where I had full responsibility for the congregation's preaching and pastoral care.  That became my trial by fire.
I have many good memories of working at Covenant, especially with the youth.  We did ski trips at Seven Springs as well as cross-country skiing closer to home, camped out in a cabin in Cook Forest, toured the Pittsburgh Zoo, held Superbowl parties, baked bread overnight on a Saturday and sold it to the congregation as a mission fundraiser, held a congregational "Valentine's Day Dance," exploring the "Underground Railroad" room under the building, and celebrated the congregation's 175th Anniversary.  At the end of my first year, the congregation gave me a robe which I wore for over ten years, only replacing it when I earned a doctorate and the congregation I served at the time gave me a new robe with chevrons.  But it was my last year at Covenant that they really surprised me.
One June 4, 1988, after my semester was over, we took the youth to Cedar Point, a large amusement park on Lake Erie in Northwestern Ohio.  We left the church before dawn, all huddled into a rented van that Steve and I took turns driving.   After a day of riding roller coasters and enjoying one other's company, we drove home, arriving well after midnight.  I think I got six hours of sleep before crawling out of bed and preaching.  During that worship service, I was surprised by the gift from the congregation.  The Andersons, members of the church, had a son who own a jewelry store and was a silversmith.  They had him design a one-of-a-kind Celtic cross.  I wore the cross that Sunday and have worn it almost every time since then that I have been in the pulpit.
I was showered with many gifts that day including two others that I remember and still cherish.  Steve gave me the journal that I wrote in during my year in Nevada as a student pastor.  And the Johnston family, who had two children in the youth program, gave me a teddy bear that I would name Nevada Jack.  Nevada Jack has made many appearances at children sermons over the years.  Around his neck is a neckerchief that reads:  "Jeff 'Y'all' Garrison, May the Lord be with you, Love, David, Jody, Heather and Noah Johnston."
When I look at the cross or scan through my journal notes or see Nevada Jack sitting on the bookcase, I am reminded of what wonderful people that have helped guide me along the way.