Eric Goodman, In the Days of Awe (New York: Washington Square Press, 1991), 288 pages.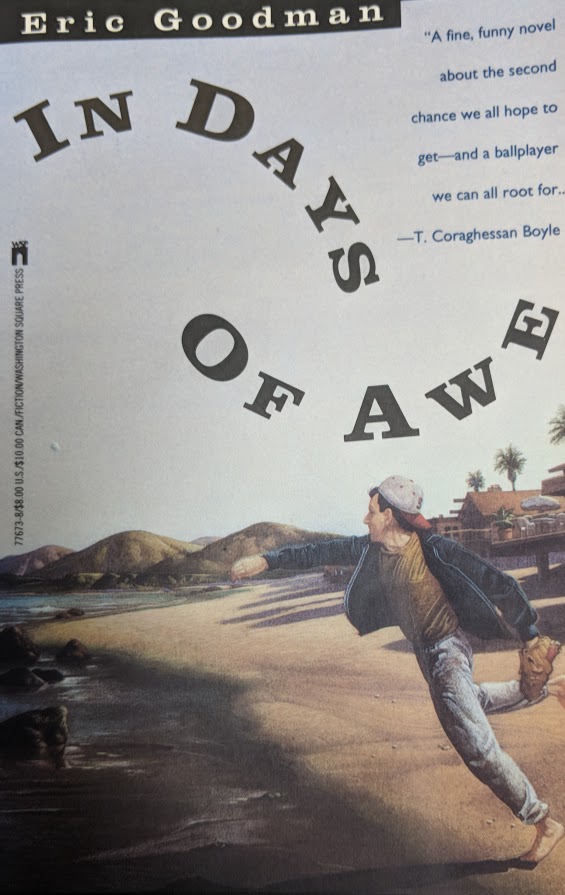 It appears that Jewish Joe Singer has hit rock bottom. A talented pitcher is, at the end of one season, divorced and banned from baseball. He's like Shoeless Joe, the famous ballplayer who was banned from baseball in the early years of the 20th Century. In this novel, a kid came up to Joe in a restaurant, saying "Say it ain't so, Joe," just as it supposedly happened to Shoeless Joe (as shown in the movie, 8 Men Out). There are several references to Shoeless Joe in the novel.
Joe lives in Hermosa Beach, California, where he continues to care for his body by running and exercising daily. He still believes one truth taught to him by his con-artist father: "Take care of your body and it will take care of you." His primary social contacts are meals at the same restaurant, a couple of married women with whom he's having affairs, and an occasional beach volleyball game. But Joe isn't yet at the bottom. One of the married women is shot by her husband and dies in Joe's arms. And now the killer has Joe in his sights. All this sets up a series of events that causes his life to spiral downward.
But at the bottom, in his first summer without baseball, Joe is ridden with Jewish guilt and begins to atone for his sins with acts of kindness. He volunteers at a runaway center and becomes a spokesperson for California ballot initiative that would require a wait period before buying guns, and he falls in love with Fannie. There are many twists and turns in this novel. Joe is shot by the other husband of the former married lover. He is reunited to his flim-flam father who seems to be turning his life around as he marries a rich widow. The future looks better. But will he and Fannie also marry? Will he be reinstated to baseball and, if so, can he recover from his wounds and play again?  Goodman's writings keeps the reader engaged.
Much of this book takes places in the Jewish "Days of Awe," the seven days between Rosh Hashanah (the Jewish New Year) and Yom Kippur (the Day of Atonement). On Rosh Hashanah, names of those who have gravely sinned are recorded and a week later, on Yom Kippur, the book is sealed. During this period, Joe seeks forgiveness from those he has wrong and strives to atone for his sin.
There are a lot of things I related to in this book. One of Joe's good memories of his father was his gift of a baseball glove with Don Drysdale signature. His father said he would have purchased one with Sandy Koufax's signature since he was "one of the tribe (i.e., Jewish), but that Koufax was left handed. As a kid, I would pitch sidearm, like Drysdale.  Also, one of the characters in the book, Des, is a minister. He wears a collar so that Joe thinks he's Catholic, but is corrected and told he's a "high church Episcopalian."
The Days of Awe reminds me of the structure of Michael Malone's Handling Sin, which take place during the Christian season of Lent. In that book, the protagonist also has issues with his father that need to be worked out.  In both stories, things fall apart and then turn around for the beleaguered protagonists.
Eric Goodman, the author of this book, teaches at Miami University in Oxford, Ohio and was my instructor this summer at the Iowa Summer Writing Conference.
I enjoyed this book and feels it has much to offer about what it means to do the right thing and how we all have baggage from our childhood with which we must deal. This is not just true for Joe, for several of the other characters such as Des and Fannie are also dealing with issues from their past. However, it is a book for a mature audience. With all of Joe's sexual partners, there is a fair amount of description of sex within these pages. I wouldn't' recommend this book for your fifth grader who's interested in baseball.