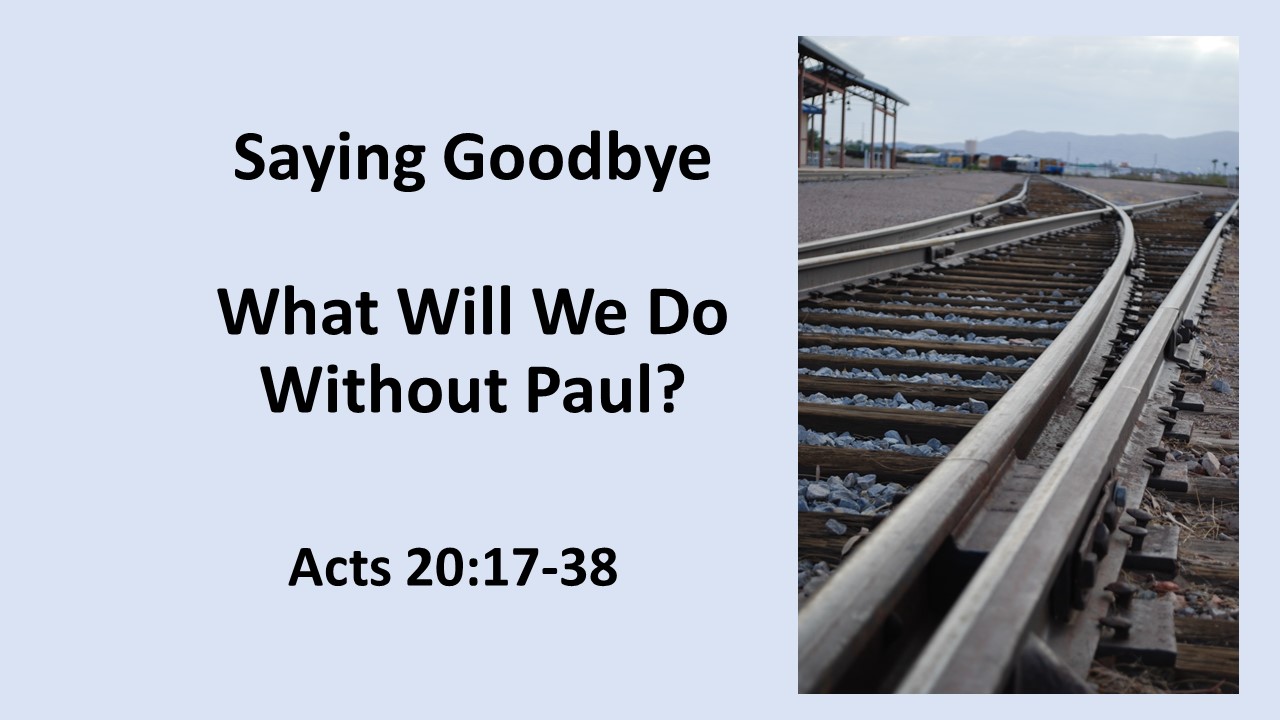 Jeff Garrison
Skidaway Island Presbyterian Church
Acts 20:17-38
July 8, 2018
We're back to Acts this week, the book in the Bible that informs us of the amazing feats of God. God took a measly group of disciples and built a world-wide church. Three weeks ago, in my last sermon from Acts, we were in Troas. There, Paul preached so long that poor Eutychus nodded off. The boy then fell out the window and had to be revived. It's a colorful story with a deeper meaning that has to do with the church bringing people back into the fellowship, back into the light.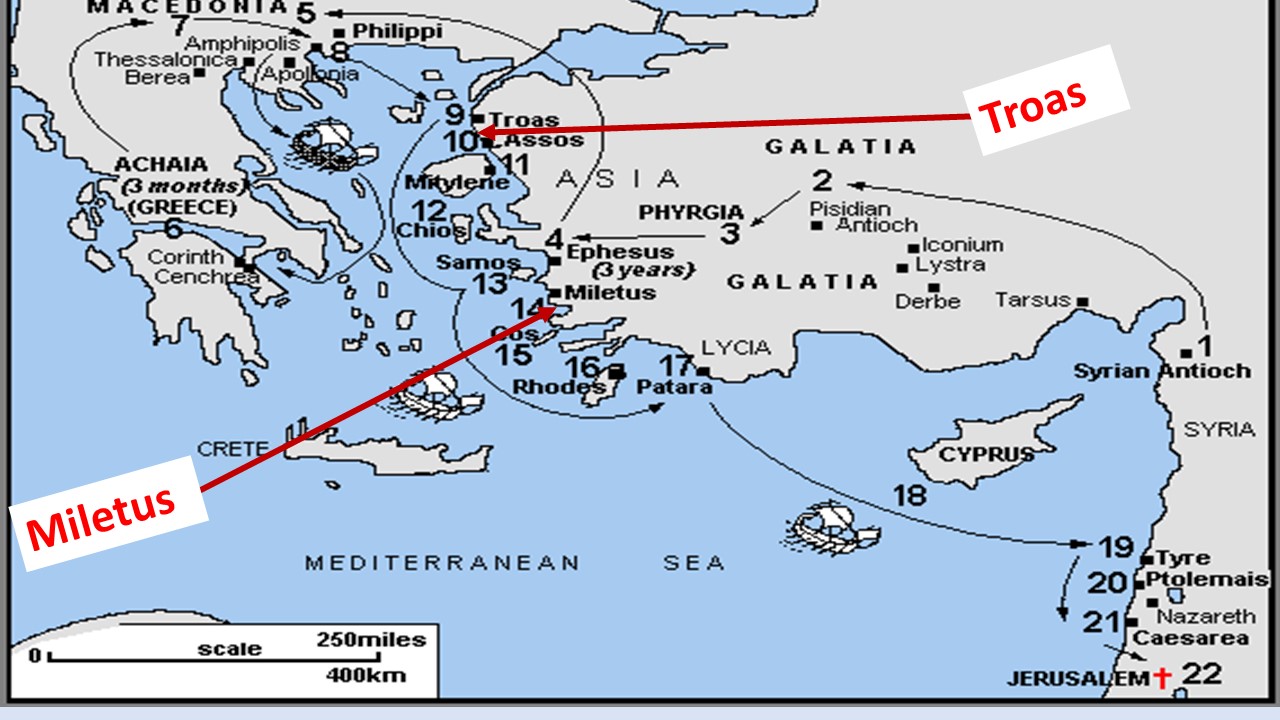 Paul's on his way to Jerusalem. Since the last passage Paul's sailed across the western side of modern day Turkey. Someone recently asked me to describe the places I am talking about better, so you now have a map that shows the places we're discussing. Paul started this journey in Troas (which is highlighted in red). He then sails past Ephesus, where he had preach for three years. The boat stops at the port town of Miletus (also highlighted in red). Paul spends a considerable amount of time here, enough time to invite the Ephesian elders to meet him. It would have taken several days to send the invitation to Ephesus and then to have the elders travel down to meet Paul.
Some have raised questions about why Paul and his boat sailed passed Ephesus. Is it that after the silversmiths riot that he no longer felt safe there? Or maybe he thought his presence would be too disturbing to all the believers and wants to just meet with the leaders who have the responsibility for the flock?  Or maybe it was a faster route.[1] We don't know the real reason. But what we're given at the end of chapter 20 is a farewell address from Paul to the Ephesians.
Luke, the author of Acts, is fond of sermons and speeches even though this one is unique. It's the only sermon we have of Paul addressing a Christian audience. Generally Paul is the evangelists, speaking to non-believers. It's also the last recorded sermon that Paul preaches as a free man, the next recorded speech he is a prisoner.[2] In this particular address, Paul prepares the elders for life without him. Some scholars have noted the similarity of Paul's message to Jesus' farewell discourse with his disciples as found in the Gospel of John.[3] Let's listen and learn from God's word to us.  Read Acts 20:17-38.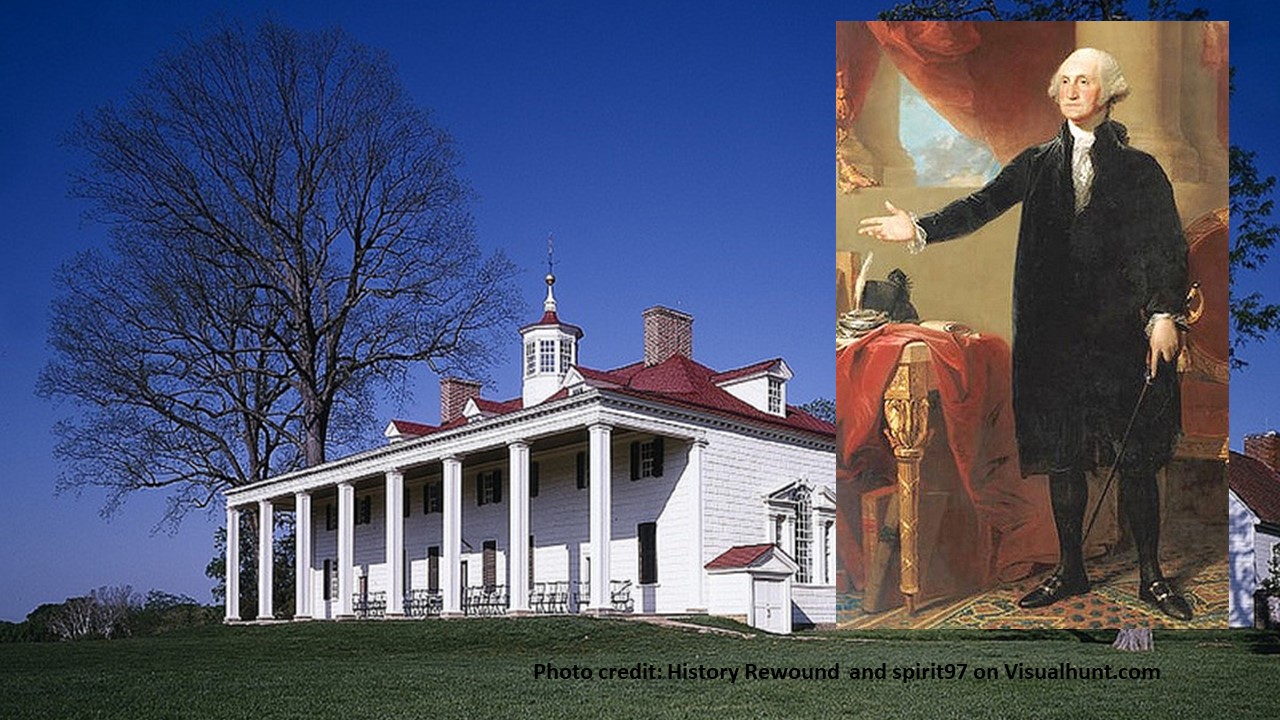 Today, we're also remembering our national Independence Day, which occurred this past Wednesday. Independence Day is a time to look back at what was done by the Colonists who fought for freedom, as well as a time to look forward to where we as a nation might be heading. Perhaps the best known "Farewell Discourse" of those involved with the Revolution was given by George Washington's." It was presented shortly before the 1798 election. Washington wasn't going to run again for the Presidency, but before he returned to his beloved Mount Vernon and resumed the life of a private citizen, he had some advice to depart.
Washington was concerned and raised alarm on the dangers he saw in the future. He highlighted the dangers of sectionalism, as parts of the nation focus on themselves. 62 years, our nation would endure a Civil War. He was concerned over partisan politics, seeing political parties as distractions to the overall good of the Republic. Today such hopes seem to have fallen on death ears. And he was concerned with the United States become involved in the wars of other nations.[4] In some ways, his warnings seem prophetic. If you look at these three areas, it appears that we, as a nation, have struck out. Thankfully, God has watched over us.
George Washington was addressing our country at a time of transition. Many people may have been asking, "What are we going to do without George?" The same is true for the early church during our reading. They, too, were probably asking, "What are we going to do without Paul?" It's a common question. We worry about changes in leadership. What's going to happen when so-and-so is no longer with us?  Are we going to be lost without him? Without her, who's going to take us forward? Transitions are difficult and troubling.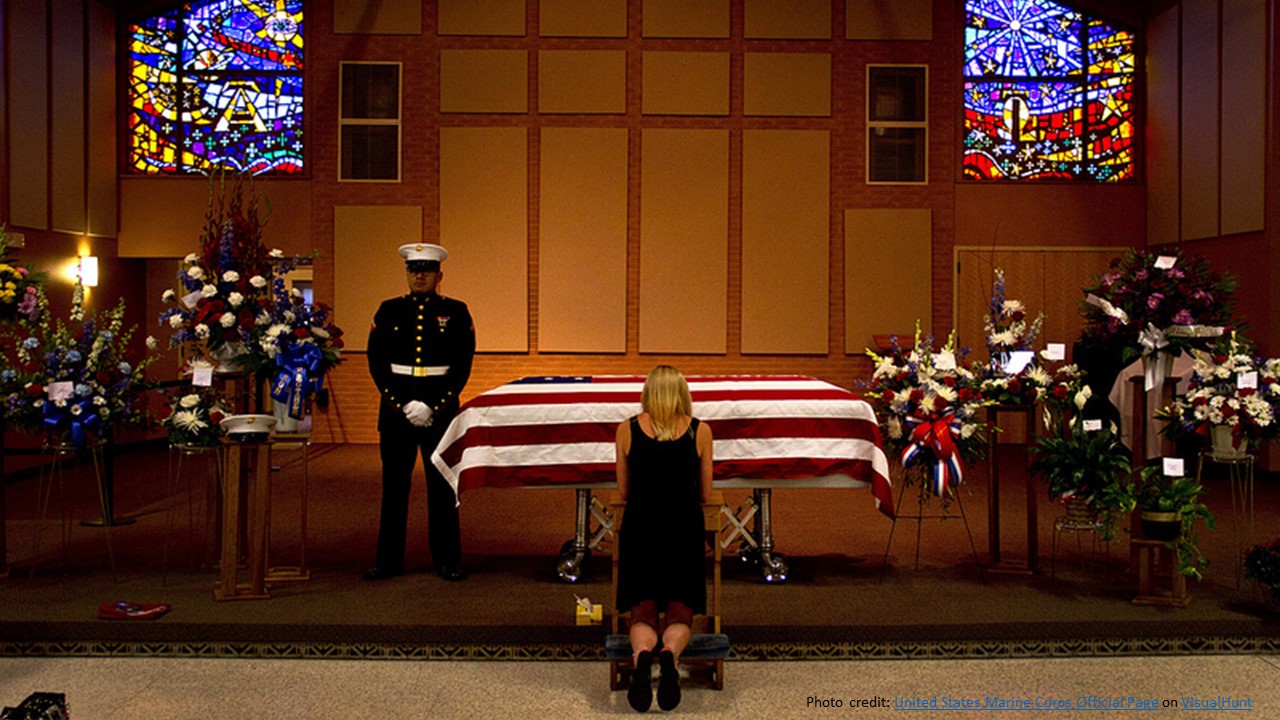 Paul knows he has come to the end of his ministry, or at least this phase of his ministry. Up to this point, Paul has been free to decide, with the Spirit's guidance, where to go and what to do.  But God's Spirit has impressed upon him that the future will be gloomy. He's going to be arrested. He's going to be in chains. But Paul isn't regretful for what has passed or what is to come ahead. Paul has grounded his hope in the Lord Jesus Christ. He just wants to finish the work to which he was called, telling people of the good news of Jesus Christ. And even though he is in chains, Paul will continue to do this until his death. He will be arrested in Jerusalem, but he will take the gospel into the halls of power in Rome.
Paul begins this farewell address by recalling how he lived and worked among those in Ephesus. He had worked hard. He was faithful to his message even though he encountered opposition. There was those who didn't like his message, who saw him as a challenge and sought to undermine his ministry. For Paul (and this applies to us, too), what's important isn't success but faithfulness. Am I doing what God has called me to do? Is my primarily allegiance not to personal satisfaction or the approval of others, but to God? To we live lives that, as the Doxology goes, "Praise God from whom all things flow." When we focus first on God, we are able to endure the challenges and even persecution that might arise.  When our focus is on God, we are aligned with a movement much larger than ourselves or any human effort.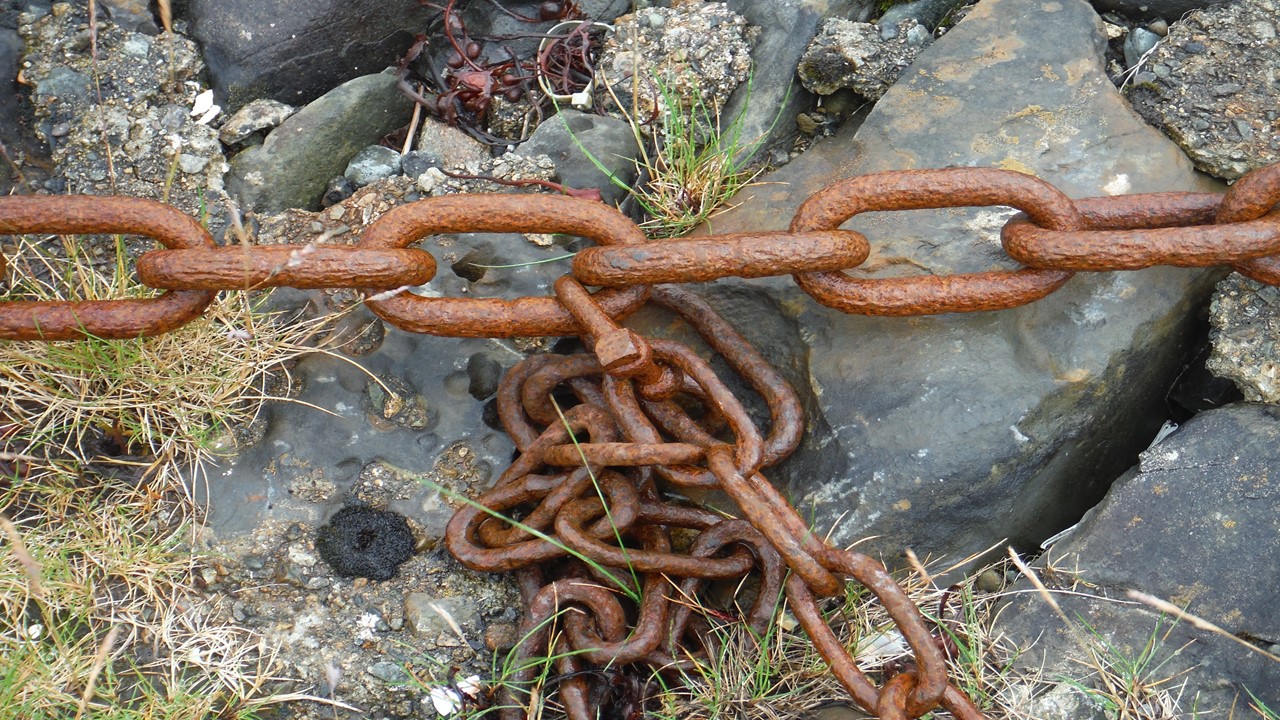 In verse 22, Paul shifts to talking about what's ahead, acknowledging that he has a bad feeling that things aren't going to go well. Imprisonment and persecutions are to come. Yet, because Paul's life is centered on God in Jesus Christ, he's not worried. In verse 25, Paul informs the elders that he won't be seeing them again, but looking back he feels good about his work. Despite opposition, he has continued to be faithful to the proclamation of the gospel.
Paul continues in verse 28, as he shifts to the topic of what they need to do without Paul to guide them. They are responsible for their own actions and for watching over the Christians in Ephesus. The elect are precious people, brought with the blood of Jesus Christ. Therefore, these elders need to be diligent. But it won't be easy; it's going to be hard. There will be those who'll try their best to disturb the peace and unity of the church. There will be those who'll spread a false gospel, who say to draw people away from the true message of hope. Some of this, as Paul notes in verse 30, will come from those within the church. So the elders must be careful and focused on the larger picture of building God's kingdom.         Paul then turns back to his own example and on the work he did with those in Ephesus, concluding with a quote he attributes to the Lord Jesus, "It is more blessed to give than to receive."[5] Paul is driving home a leadership style Jesus made popular. A leader is a servant, the one who does the work of the Kingdom.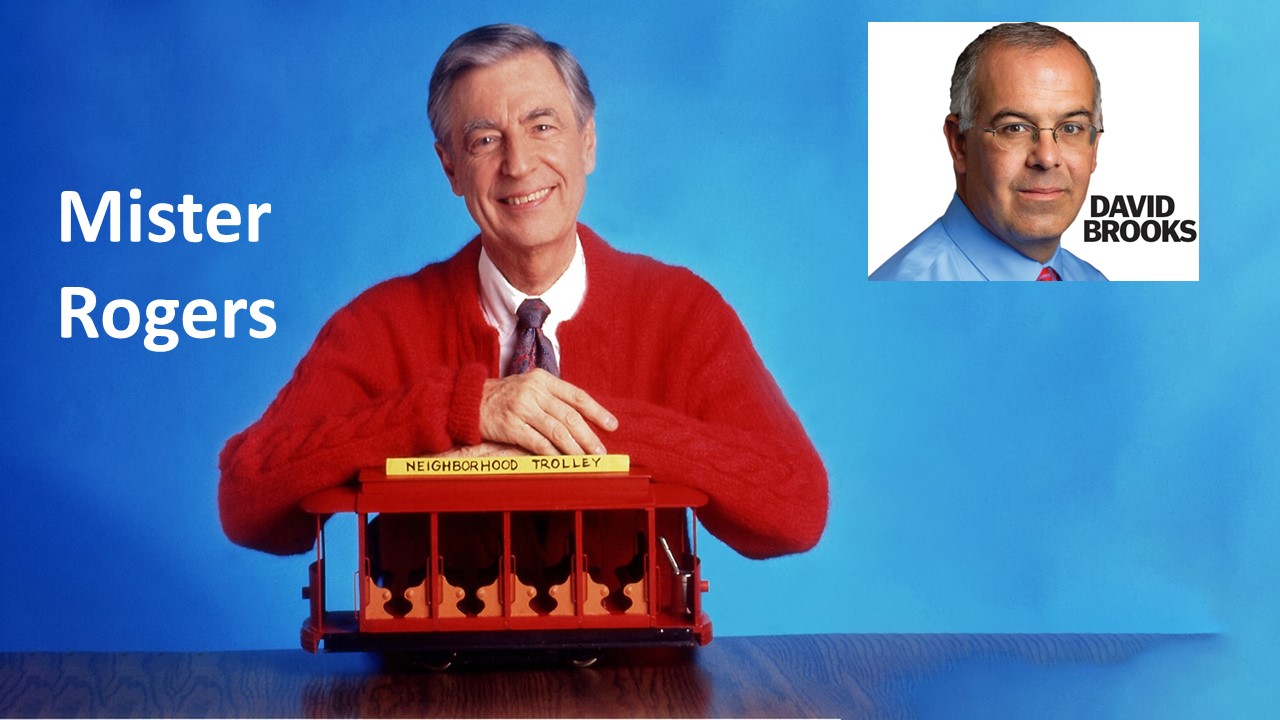 There was a wonderful column in the New York Times this week about Mister Rogers. It's by David Brooks. I hope you know that Fred Rogers was one of us. He was a Presbyterian minister who sought to teach children through television. Brooks was commenting on Rogers' teachings, as a new documentary is being released about Rogers' life. In his column, he reminded his readers how Rogers' lifted up the vulnerable as those who are closest to God, which ties into Jesus' teaching about the last being first and those who want to rule over others must first become a servant.[6] Paul's saying the same thing.
Once Paul's farewell address ends, he humbly kneels and the elders gathered around in prayer. They grieved. Everyone understands they'll not see other again, but life must go on. They then walk Paul down to his ship and we can image them watching as it sails over the horizon.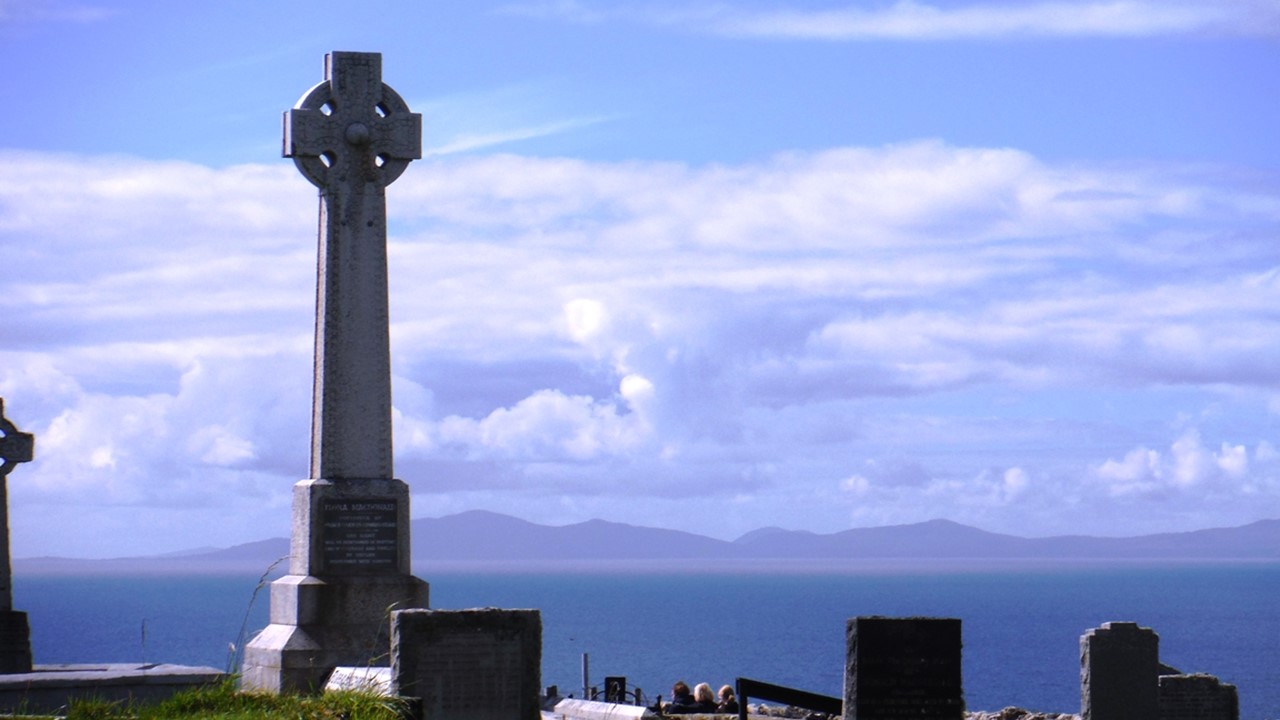 What are we to do when our mentor, when our teacher, when our parents, or when someone we've depended on, departs? This is the time we need to step up to the plate, Paul suggests. We can't sit back and feel sorry for ourselves and what we've lost or what might have been. We can't make it about us. We must continue forward, with our hope placed firmly in Jesus Christ.
If we focus on God and God's work, and are faithful, we can have the clean conscience. Notice that Paul didn't worry about those he was leaving behind. He was concerned for them, but as he wrote in verse 26, I've done my best, I've given my all,[7] I didn't hold back. It may sound harsh when Paul says, "Your blood is not on my hands, but what he essentially saying is that you're now on your own. I can no longer be responsible, you must take responsibility, but remember, God is with you.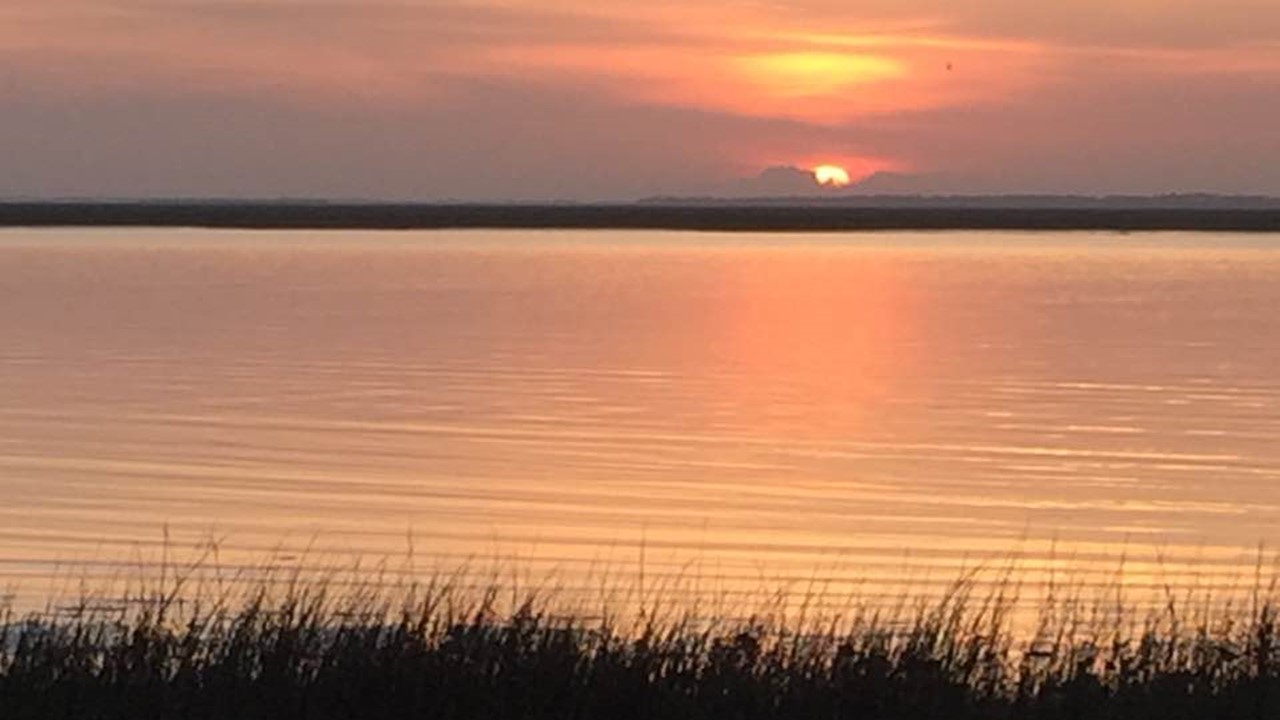 For those of us who are leaders in the church, our responsibility is to prepare others to continue the work after we're done. That's the only way the church has continued throughout 20 Centuries. Paul saw himself as a servant of God and realized that the future is not in his hands, but in God's. Let's face it, if the future is in our hands, things are scary. But when the future is in God's hands, we can relax. Paul gave his best and turned it over to God. We should do the same. Anything worthwhile, such as Paul's work at furthering God's kingdom or even George Washington's parting words as our first president, acknowledge that we only play a small role in human history.  For us to be successful in an eternal way, the focus can't be on ourselves, but on something larger—on God!
So what do we do when Paul leaves? What do we do when our teacher, mentor, or parent dies? Yes, we cherish them. We learn from their example. And we continue on, doing what they taught and trusting in God. Amen.
©2018
[1]F. F. Bruce, The Book of the Acts (Grand Rapids, MI: Eerdmans, 1986) 410.
[2] Beverly Roberts Gaventa, Acts (Nashville: Abingdon, 2003), 287.
[3] William H. Willimon, Acts (1988, Louisville, KY, John Knox Press, 2010), 156-157.
[4] For a copy of the address see: http://avalon.law.yale.edu/18th_century/washing.asp
[5] This quote from Jesus does not appear in any of the gospels, so Paul must have had another source. A similar quote is found in the Apocryphal. See Sirach 4:31
[6] David Brooks, "Fred Rogers and the Loveliness of the Little Good," New York Times (July 5, 2018).  See https://www.nytimes.com/2018/07/05/opinion/mister-fred-rogers-wont-you-be-my-neighbor.html
[7] Words from The Message translation.  Acts 20:25-27.