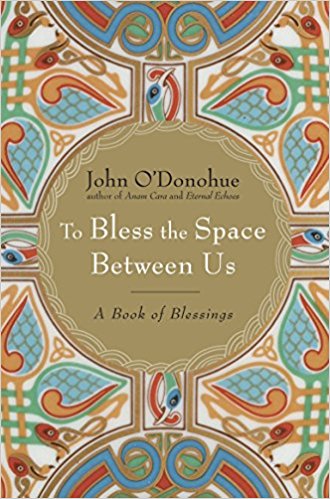 John O'Donohue, To Bless the Space Between Us: A Book of Blessings (New York: Doubleday, 2008), 223 pages
In the winter of 2000, I bumped into a Buddhist monk at a temple outside of Sunch'on, South Korea.  He immediately stepped back, put his hands together in a prayerful fashion, and bowed in the most reverent way. Even though he didn't speak English nor did I speak Korean, and that we were of two different religious traditions, I felt blessed. Our world needs more blessings and I am glad to have been lent a copy of this book to read.
John O'Donohue was an Irish priest who devoted much of his life to understanding Celtic history and spirituality. In this book, he draws upon Celtic thought as he offers up numerous blessings as well as brief insights into various types of blessings. "It would be infinitely lonely to live in a world without blessing," O'Donohue writes in his introduction. "The word blessing evokes a sense of warmth and protection."  Blessings are an invocation, he suggests, that call us to image the "fulfillment of our desires."
The chapters in this book follow a cycle, from "Beginnings" to "Beyond Endings." Each chapter begins with an explanation, followed by a number of blessings. Chapter 1, "Beginnings," imagines the start of something new—a new day, a new year, a new home or position. Between the beginning and ending, chapters focus on "desires," "Thresholds," Homecomings, "States of the Heart" and "Callings."  I especially enjoyed the chapter on "Thresholds." Each stage in life, we cross a threshold and have an opportunity to pause and receive a blessing for what we've experienced and what lies ahead.
This book would be a wonderful companion for those wanting to come alongside of others during significant times in their lives. Three are blessings for those going through hardships such as illness, imprisonment, and parenting children through difficult circumstances. At such times, when we don't know what to say, a blessing can be encouraging.
The final chapter of the book encourages us to reclaim the "lost art of blessings." As the Celtic world was steeped in the oral tradition, blessings were learned and handed down from one generation to the next. Each blessing marked occurence of an event or a time in life that was significant. Reading this book, I would hope that the reader would be encouraged to create his or her own blessings to offer to others.
Although the book is not overly religious, it does end with a lovely poem titled, "The Eyes of Jesus."  The late O'Donohue, a former priest, acknowledges that for him, the presentation of a blessing was a part of his ministry with followers of Christ. Anyone who is a follower of Christ would benefit from this book, but the book is not so overly religious so that that those from other traditions wouldn't benefit. There is a gentle earthliness in this book which calls us all to be kind and to hold out for the best for others.
Below are parts of three blessings from the book that provides an insight into his style:
In Praise of Water
Let us bless the grace of water:
The imagination of the primeval ocean
Where the first forms of life stirred
And emerged to dress the vacant earth
With warm quilts of color.
The well whose liquid root worked
Through the long night of clay,
Trusting ahead of itself openings
That would yet yield to its hearing
Until at last it arises in the desire of light
To discover the pure quiver of itself
Flowing crystal clear and free
Through delighted emptiness.
The courage of a river to continue believe
In the slow fall of ground,
Always falling farther
Toward the unseen ocean….
Blessed be water,
Our first mother…
For the Prisoner
Caged in a cold, functional cell,
Far from the comfort of home
With none of your own things,
In a place that is gray and grim,
Where sounds are seldom gentle,
Amidst the shuffle of dumbed feet,
The crossword of lost voices,
The one constant note
Is the dead, trap-shut sound
Of unrelenting doors that
Make walls absolute.
Though you. Have lost the outside world,
May you discover the untold journey
That awaits you in the inner world. …
May your eyes look up and find
The bright line of an inner horizon
That will ground and encourage you
For that distant day when your new feet
Will step out onto the pastures of freedom.
For Loneliness
When the light lessens,
Causing colors to lose their courage,
And your eyes fix on the empty distance
That can open on either side
Of the surest line
To make all that is
Familiar and near
Seem suddenly foreign,
When the music of talk
Breaks apart into noise
And you hear your heart louden
While the voices around you
Slow down to leaden echoes…
Turning the silence
Into something stony and cold,
When the old ghost come back
To feed on everywhere you felt sure….
…Cradle yourself like a child
Learning to trust what emerges,
So that gradually
You may come to know
that deep in that black hole
You will find that blue flower
That holds the mystical light
Which will illuminate in you
The glimmer of springtime.