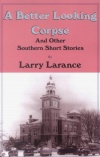 Larry Larance, A Better Looking Corpse: and other Southern Short Stories (Savannah, GA: Windchimes Press, 2007) 203 pages
I haven't meet Larance, but we live on the same island (Skidaway).  I was lent a copy of his book by one of his friends. They're both part of the same writing group. These are thirteen enjoyable short stories set across the rural South. Many are from Arkansas, but there are some from Georgia and from Louisiana. Laramie provides an interesting header for each story that includes the town's name and population. I would have suggested he also provide a year, as the stories are set over a 50 year or so period. However, it doesn't take long in a reading one of these stories to know what decade they're set. The author acknowledges his desire to capture the southern speech patterns. Not only does he do this, he does a good job with it so that you have a sense you're sitting inside the story.
Larance's stories generally leave the reader feeling good, through there are a few exceptions. In one, someone trying to take an easy way out by running drugs and stashing them in an old couch. He receives his "just reward" when his grandmother surprises him with a new couch and sends the old one to the dump. But most of these stories are about those who struggle and find hope. There's the man who was going to kill himself who befriends a hobo who saves him. I couldn't help but to think of George Bailey meeting Clarence in the movie, It's a Wonderful Life. There's a story about a bunch of old-aged good-ole-boys ready to set a younger man straight over his drinking and the way they perceive him treating his wife, only to discover there's more to the story than they knew and they end up offering their help as he tries to get his life back on track. These stories take place in all kinds of settings: a barber shop, the Plantation Club of the Landings on Skidaway Island, a church recreation room, a "boarding house, a class reunion, and upon the waters of Wassaw Sound.
While most of the stories end with the reader feeling good about what's happened, there are a few that leaves the reader pondering the future. In "No Forwarding Address," a successful businessman who, on a rebound after his wife's death, marries a woman who is cleaning him out financially. He plans and executes an escape as he disappears in South Florida. While it seems his new wife might receive her due, we are left to wonder about him. But, as in all the stories, hope is possible. And sometimes that's what we need, a little hope. These stories may be simple and straight forth, but the reading is good.