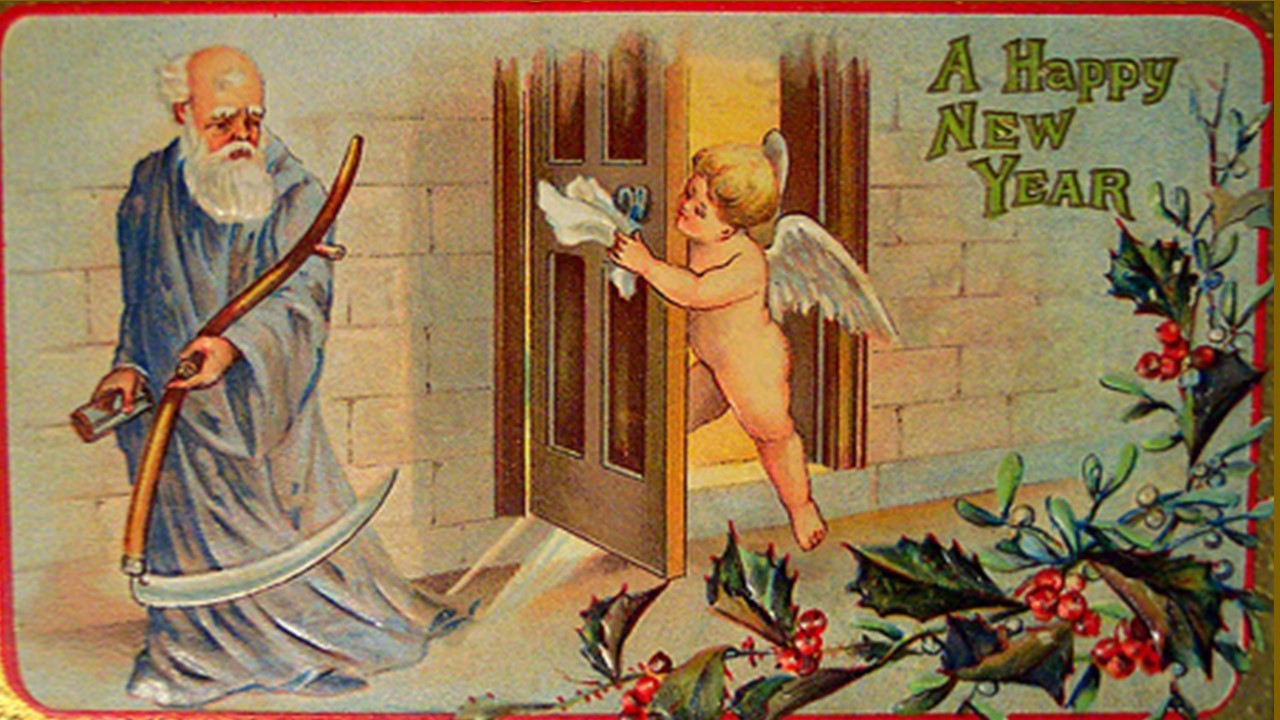 Jeff Garrison 
Skidaway Island Presbyterian Church
Psalm 90
December 30, 2018
INTRODUCTION
          This is an in-between time. We're still in the Christmas season, but all the present have been open. And we're just a day and a half away from the beginning of another year. Should we sing carols or hymns like God of the Ages? So today, we're going to try to catch it all as we sing a few carols and then reflect on our time on earth at the changing of the calendars.
This season is a time of looking back and all that happened in 2018, as so many of the news shows have been doing this week. But it's also a time to look forward into 2019. I am always amused at the comic depictions of the New Year which show and old man on the 31st and a young baby on the 1st. I don't know about you, but that's not exactly how I find time marching on. But, I suppose, the humorous strips indicate this is a time to reflect back and forward.
In case you're wondering what happened to the streams of tradition in which we encounter and respond to God, let me give you a heads up. Next week, which is the second and last Sunday of Christmastide in the Christian calendar, I will end with my sixth and final sermon on the streams of the Christian tradition as we discuss the wisemen and the evangelical tradition. Since there are only six "streams" and seven sermon opportunities between the Advent and Christmas tradition, I thought I would take today to reflect on the end of one year as we begin a new one.
Another change for today… Instead of doing a traditional sermon, I am going to offer three short reflections on Psalm 90, as a way for us to ponder a life of faith in the presence of an almighty and all-loving God.  I will also offer you some time to ponder the meaning of this Psalm for your life. Psalm 90 will be divide it into three parts: God's eternal nature, human fragility, and our need for God's compassion. In this Psalm, we are reminded of our limits, but also of God's eternal nature in whom we find meaning and hope. In addition to a unique way of approaching this text today, we will also sing a variety of hymns and carols. Let us now greet one another with the peace of Christ. May the peace of Christ be with you.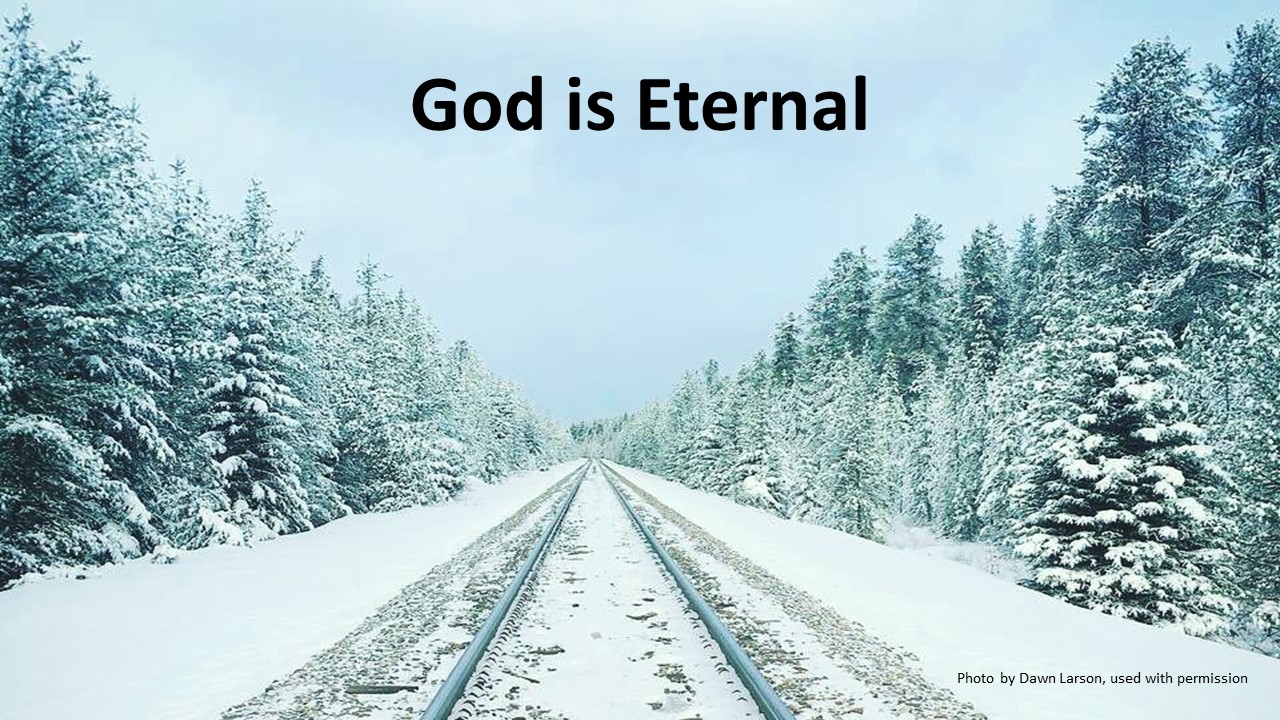 GOD IS ETERNAL  (Exodus 15:1-2, 11-13; Deuteronomy 32:3-4, 39, 43)
Verses 1 and 2 are a praise chorus that we'll repeat over and over this morning as they set the context for the Psalm. "Lord, you have been our dwelling place throughout all generations. Before the mountains were born or you brought forth the earth and the world from everlasting to everlasting, you are God." In repeating this chorus, we're reminded that our lives may be fleeting, just a speck of time in the history of the world, but we live our lives in God's presence, which makes all the difference in the world.
The 90th Psalm is attributed to Moses, which is why we begin with readings from Moses' songs as found in Exodus and Deuteronomy. Moses was God's chosen leader for the Hebrew people, who led them out of Egyptian slavery and during the period of the Exodus. But it wasn't Moses who freed them the Hebrews. God is the liberator, who gave Moses the ability to do things he never imagined he could do. Moses was a mere man (a wanted man, no less) who probably stuttered. At the very least, he wasn't an eloquent speaker. But God called him to a task which he performed and which marked a significant step in the history of human salvation. Yet, in the eyes of God, Moses' life was just a speck, as are our lives. God is eternal, we're not.
As the Psalm begins, we find our dwelling place in God. Other translations say that God is our refugee. The eternal God, who existed before even the mountains, even before the earth, is where we find solace and peace. Take a moment and ponder this for a moment: "We worship a God that is so much more than us…" You might even share it quietly with someone sitting beside you…
Prayers of Confession and Petition
Almighty God, as we stand at the end of the year, we look back at the
troubles of 2018 and pray for guidance. We know our world is in trouble. We don't get along with one another and it is easy to categorize people into groups that we quickly dismiss. Forgive us. Many people in this world live without opportunities, face daily violence, corrupt or brutal leaders, or struggle with natural disasters. Help them and help us to be compassionate. Others have done wrong and now find themselves in painful situations with broken relationships and lives behind bars. Forgive them and help us to be compassionate. Others have suffered from the crippling effects of illness and accidents. Heal them and help us to be compassionate. Some are grieving over the deaths of loved ones. Give them peace and help us to be compassionate.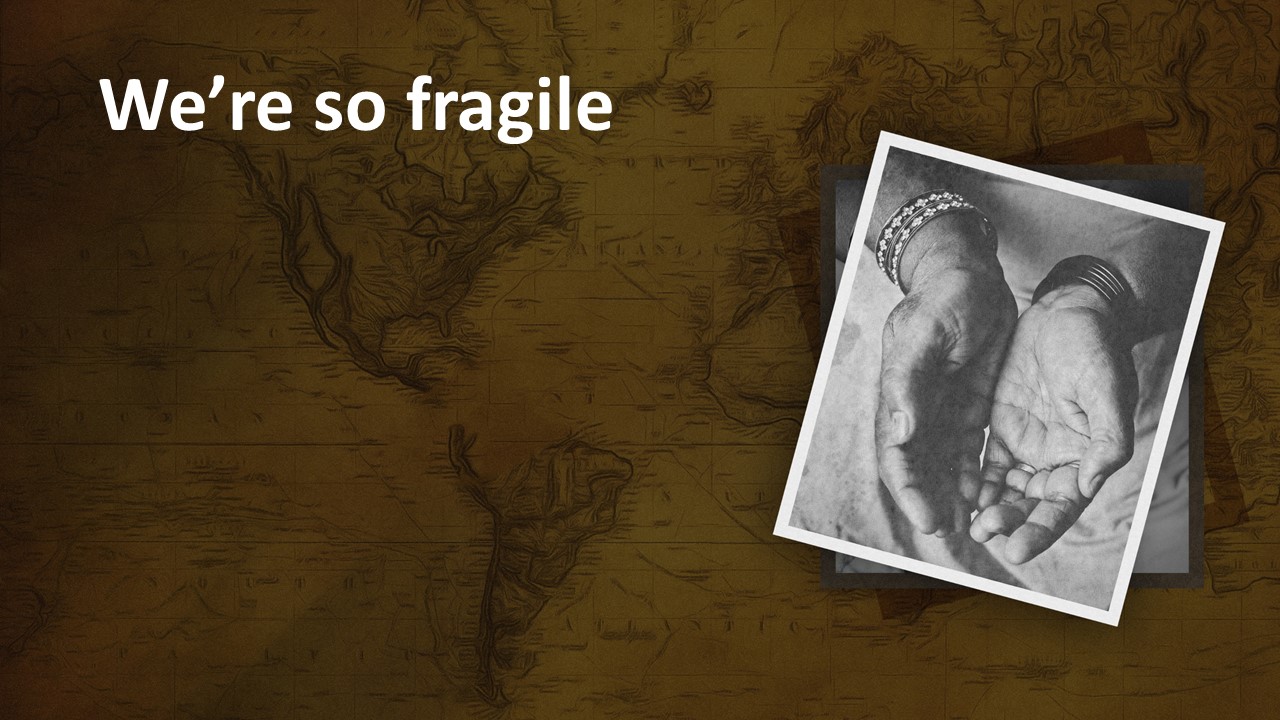 BUT WE'RE SO FRAGILE (Psalm 90:3-12)
          When we think of God's powerful sovereignty, it is easy for us to realize our limitations. The second part of this Psalm, which is addressed to God, reminds us of our position in the created world. Are we special? Not really. We've made of dust. We're like a grass that perks up in the morning and is scorched by the sun's heat by evening. Life is transient.
The Psalmist understands our fallen nature. We live out our lives before God who is angered by our sinfulness. We must accept and deal with God's wrath. We must deal with toil and trouble, sadness and heartbreak; yet, before we know it the whistle blows and life is over. This middle section of the Psalm draws us into a reality that we don't want to accept. We are fragile and we are limited. One day, it's all going to be over, so the Psalm asks that God teach us to count our days, to give our hearts wisdom, so that we might make the most of our lives.
Come tomorrow night, 2018 will be over. We can't go back and relive or redo any part of it. But having a wise heart means that we can learn from our mistakes and more forward. Perhaps this is a place where resolutions, which are often made and joked about during this season, can play a role in strengthening our faith. What did you learn from 2018? What would like to do differently in 2019?  Take a minute and think about this. Make notes for yourself or silently share your ideas with a neighbor.
SO WE NEED GOD'S COMPASSION (Psalm 90:13-17)
While our Psalm has been realistic on the human condition, it ends by turning back to God and asking for compassion. There's a bargaining going on with God. While the Psalm pleads for God to turn back, to show compassion and love, it gives reasons for God to fulfill this request. Those singing this Psalm promise that they'll praise God and be joyous servants of the Almighty. They also promise that God's deeds will be remembered by their children for generations to come. So instead of leaving us under the wrath of God, the Psalmist leaves us with the hope of a God who intervenes in history, as was done in Jesus Christ. Jesus removes the stain of our sin and offers us new life. Although this Psalm was written down generations, centuries before Jesus, those of us who live on this side of resurrection knows that God has shown his favor to us. God has answered the pleas of the Psalm. God's wrath isn't the final answer. Jesus came to show divine love to us. So as we make this Psalm our prayer, we should include a thanksgiving for the work of Jesus that wasn't just limited to 2000 years ago, but continues on today and to the end of history.  As we move into 2019, let us thank God for his compassion and love.  Let us pray:
Prayer of Thanksgiving
Almighty God, as we stand at the beginning of a new year, we look forward with anticipation, for we know you are a God of hope and surprises. We thank you for all you have done for us in the past and we trust you as we move into the future, knowing that you'll be with us regardless of what happens. Your creation provides for all our needs. Your love as shown in your Son, our Savior and Lord Jesus Christ, provides us with opportunities to be forgiven and to begin again as well as to enjoy life everlasting. And your ever-present Spirit encourages us when we struggle. O Great Triune God, we are humbled by your gifts of grace and eternally thankful.
©2018