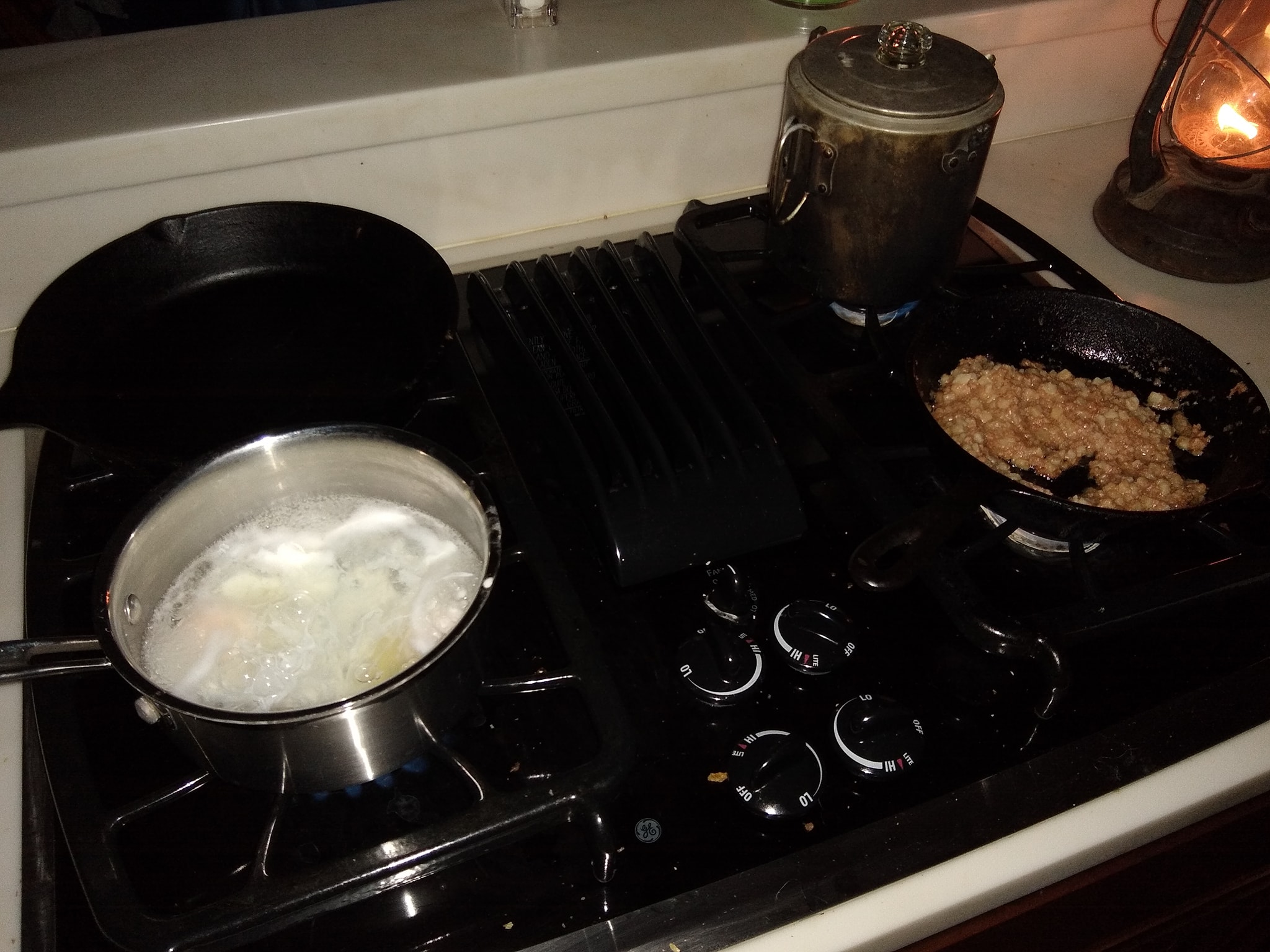 Dorian is gone. It was more a "non-event" here. I ended up not evacuating even though I continued to watch the Weather Channel to see if things might change. But the storm stayed well off the Georgia coast. We received only a little wind and rain. I actually thought we had received very little rain, barely over an inch. Then I looked at the gauge again, 30 minutes later, and it was empty! The bottom of the gauge had sprung a leak. So I have no idea who much water we received. Our neighborhood also maintained power until we were on the backside of the storm. We lost it yesterday morning about 7:30 AM. I had to go out and dig into my camping equipment to fetch a coffee peculator. Since Hurricane Matthew (where I cooked on a camp stove on the front porch), we had replaced the electric stove top with gas. So, yesterday morning, I fixed corned beef hash, poached eggs, and coffee for breakfast, as you can see in the photo.
I got sick of the Weather Channel after three days of it being constantly on. At first, they seemed to be sponsored by hair growth and coloring folks. I wonder if they think the storm was going to either cause people to prematurely gray (Dorian Gray?) or to pull out their hair. I also noticed how, whenever a governor wanted to speak, they cut in live to their press conferences. We heard the governors of Florida, Georgia, South and North Carolina. They all spoke from the same script (be careful, follow directions, etc). When the Gov. was done, they would call up the person in charge of disaster operations for the state (ie, those who know really going on) and that's when the Weather Channel would cut away to Jim Cantore (who must not receive any free product samples of the hair growth product that pays his salary). I would have liked to heard from the state expert and not the politician, but… By day three, I was searching for old World War II movies.
After eating breakfast yesterday morning, I spent some time on the front porch reading. As the rain stopped and the winds began to die, I set out to clean up the yard. By 12:30 AM, it was all picked up and even the back deck blown off. The picture to the right is of the yard debris, the gifts of Dorian. We were blessed. My family up in SE North Carolina also came through the storm unscathed. I wish we could say the same for the people in the Bahamas.