Jeff Garrison
Skidaway Island Presbyterian Church
Romans 6:2-11
February 26, 2017
My intention for this Sunday is to focus on the Christian Funeral and to use worship as a way to help us be mindful of our actions surrounding death.  Funeral rites are ancient and predate Christianity and even Judaism.  These rites developed because there's a lifeless body and we have to do something with it.  We can't just leave it.  That body represents someone who lived, loved and laughed, someone whom we loved and cared for, which is why there is a human need to show dignity.  So rites began to develop as to how the body was to be handled and taken to a place where it could be received back into the earth, and so that the living could then go back to their lives.
These rites are often described as the final journey of the deceased.  Such rites are not limited to those of us in the Christian Faith.  The Egyptian "Books of the Dead" were written to guide the deceased into the place of the dead.  There is a wonderful Chinese film, titled "The Road Home," which is about a beloved teacher who dies in modern China and the importance his wife placed on having the men of the village bring his body to the burial.  The film shows the rites of a funeral in the Confucius tradition.
In our Old Testament reading earlier, we learn that the Hebrew people not only took care to bury their leaders, but as they left Egypt and wandered for forty years in the wilderness, they carried with them the bones of Joseph.  It was important that his wishes to be buried in the Promised Land be fulfilled.[1]
Christian theology around death also centers on a journey as we take the body to its final resting place.  This journey uniquely ties our baptism to the death and resurrection of Jesus Christ.  Accompany Them with Singing is the title of what may be the best study on the Christian funeral.  And that's what we're to do, for our songs often best express our theology.  And funeral hymns don't have to be downers. "Oh When the Saints Go Marching In," which we'll sing in closing, have been sung at many funerals as it expresses the joy of our ultimate hope.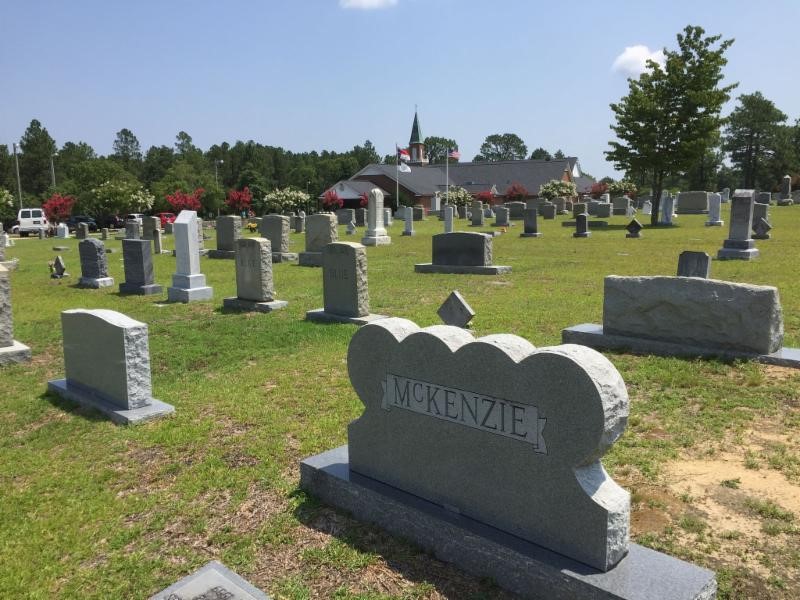 I've spoken before of my Great-Grandma McKenzie's death when I just a kid.  She died the summer between my first and second year in school.  On the day of her funeral, we gathered in church with the casket front and center.  When the service concluded, the pall bearers gathered around the casket and took it out into the graveyard adjacent to the church.  The preacher led the way.  We all followed.  There, at the graveside, the preacher concluded the service, commending my great grandma to God, as the casket was placed into the ground.   Afterwards, we gathered in the hall for fried chicken, potato salad and deviled eggs, as people offered the condolences.  There is a movement that occurred in this service that sadly is often lost.  However, such rites remind us of the importance of the person who embodied the corpse.  We honor them, and then we place them in God's hands as we gather as a community to grieve and to get on with life, knowing our own are also numbered.
Recently, it seems, we have had too much experience with death here at Skidaway Island Presbyterian Church.  I know I am weary of conducting funerals and memorial services, which makes this a more difficult sermon than I was thinking it would be.  In a manner, I don't want to talk any more on the topic, yet death is something we will all face unless Christ comes while we are still living.  So death, how we die, and how we care for the deceased are important topics.  As Paul writes, "If we live, we live to the Lord, and if we die, we die to the Lord; so then, whether we live or whether we die, we are the Lord's."[2]  Following in this vein is one of the standard prayers used in services at the time of death:
Help us to live as those prepared to die.
And when our days here are ended,
Enable us to die as those who go forth to live,
So that living or dying,
Our life may be in Jesus Christ our risen Lord.  Amen. [3]
I am going to change my passage from what you find in the bulletin today.  I want us to look at the sixth chapter of Paul's letter to the Romans, verses 1 to 11 (page 156 in your pew Bibles).  Here, Paul is speaking of sanctification as he addresses an objection to justification by faith which he introduced in the fifth chapter. Read Romans 6:2-11.
###
Paul is afraid that some who are reading his letter might misunderstand by what he means by justification by faith and believe that the more they sin the greater the grace they'll receive from God.  Certainly, such thinking doesn't demonstrate a new life in Christ, a life reflecting Jesus' face to the world and bringing glory to the Father.  Paul wants his readers to understand that they are now to live a new life, one that is bound up in the life, death and resurrection of Jesus Christ.  The first sentence is a rhetorical question: "shall we continue to sin so that grace may abound?"  "No, absolutely not," Paul insists using his strongest language.  For we have been baptized into Christ, into his death, so that we might live a new life with him.
Parts of this passage is often read at funerals and memorial services.  There, instead of focusing on how Paul refutes those who mistakenly believe they can now do anything they want, at the time of death we center in on the promises Paul lifts up.  Our sin, our sinful self, having died with Christ in baptism, frees us to enjoy everlasting life with Christ in whose resurrection we too will share.  This is a hopeful passage for believers.  We're not saved by our doing, but by what Jesus—through his death and resurrection—has done for us.
Think for a minute of the similarities of baptism and death as seen best in a baptism by immersion. One is submerged under water, in a place void of air.  We can't live there.  If the preacher holds you down too long, you'd be in trouble.  The symbolism is powerful, for we are reminded of Jesus' atoning death and how, at some point in the future, we too will die.  But having already publically linked our death with Christ's, in baptism, Paul promises that we will also be linked to his resurrection and will inherit eternal life.   Paul goes on to talk about how, in this transformation, our old life, the sinful life, has passed.  Now this does not mean that once someone is baptized they are automatically sinless.  After all, Paul begins this chapter encouraging people not to continue with their sinful ways.  Paul's not encouraging us to achieve the impossible-a sinless life.  Karl Barth, the great theologian of the mid-20th Century, joked about how he'd hoped to drown the old self in the waters of baptism, but how he discovered the rascal is good at swimming.[4]
Although we are to strive to do be good and to avoid sin, we are ultimately saved not because of our actions, but of God's action in Jesus Christ.  That's the good news, that's where our hope lies.  And when we experience this good news, we should want to do what we can to learn about who we are to be in Christ Jesus.  Accepting Christ isn't the end of the matter, it's the beginning as you strive to grow in Christ.  This process of sanctification, which Paul is writing about, is life-long.  We don't get to retire.  We continue on till our death.
And now I want to return to the topic of death.  It is a topic we don't like to deal with.  Today, things are designed to shield us from it.  A few generations ago, most people died in their homes.  That still happens, as we don't know the day or the hour, BUT most people die in hospitals or skilled nursing care facilities.  We are shielded from death.  A few generations ago, relatives or friends would build the casket.  Today, we pick out store brought ones. The medical profession and the funeral industry have placed a veil over death, to keep its distance from us.  Where it used to be up to the family or neighbors to "do something about the body," we now have professionals to do that work.  And that's okay as long as we remember that we will all experience death.  We can't escape it. Death will come to friends and family and sooner or later to ourselves. Knowing this, we should be willing to walk by others who are approaching death as well as to plan for our own.
Now let me say a bit about the funeral or a memorial service.  Are they important?  Yes! I believe they are very important for at the time of death, we realize things have changed.  Those who remain, do so without a loved one.  The same goes for the church family.  Our lives are diminished and we need to acknowledge that.  The funeral or memorial service is to do three things, and all are important.  First, the service is to honor and give God thanks for the life of the deceased.  Next, the service gives us time to be with the grieving and to comfort them in their struggles.  And finally, the service is a place in which we are reminded that our hope in life and death is in our faithful Savior Jesus Christ.  In a few minutes, we'll be reminded of this as we repeat the first question of the Heidelberg Catechism.   With that in mind, what kind of testimony would you want at your service?  Having faith in Christ allows us to live with a lot more freedom that those without such faith, for we know, as Paul proclaims, that whether we live or die, we belong to the Lord.
In case you didn't know, our church maintains an Omega file.  Omega isn't just a fancy wristwatch, it's the last letter in the Greek Alphabet, which is why in Revelation Jesus says three times: "I am the Alpha and the Omega."[5]  In English, that's "I'm the A and the Z" or "I'm the whole alphabet."  The Omega file is a place for your last desires related to a funeral or memorial service are kept on file. There is a two sided sheet of paper (and you can attach more, if needed) that you fill out.  This paper can be of a great help to the church and to your family at the time of death.  It lets us know who needs to be contacted and your wishes for a service.  Think of it this way, your funeral service might be your last chance to share what's important about your faith to your family and friends.  I hope you will take one of these sheets.  Focusing on this now can be a great benefit to your family later.  I would be glad to be of help, if needed.  Just call or email me.
One final story.  A few weeks ago I received a letter from First Presbyterian Church of Hickory, North Carolina.  I had been a member of that church before seminary and they'd tracked me down and included within the letter was something from my "confidential file." It was my equivalent of an "Omega file" entry I provided the church when I joined there in 1984.  Looking over it, I realized it's about time to update my file.  Things have changed in my life, as I'm sure they have in yours.  So even if you have an Omega file on hand, you might want to update yours.  Amen.
©2017
[1] Genesis 50:24-26, Joshua, 24:32.
[2] Romans 14:8
[3] Presbyterian Church USA, Book of Common Worship, (Louisville, KY: Westminster/John Knox Press: 1993), 916.
[4] This quote is often attributed to Martin Luther, but no sources.  Karl Barth, Church Dogmatics: The Doctrine of Reconciliation, Vol. 4, Part 1:3, Jesus is Victor.  See http://beggarsallreformation.blogspot.com/2012/02/luther-or-barth-on-old-adam-swimming.html
[5] Revelation 1:8, 21:6 and 22:13.