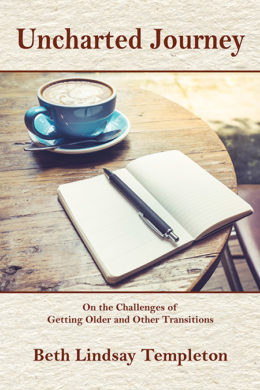 Beth Lindsay Templeton, Uncharted Journey: On the Challenges of Getting Older and Other Transitions (Greenville SC: FPS Press, 2018), 169 pages.
This book consists of 42 letters written by a secret admirer to the reader. The letters vary in size, from one to six pages. Each begins with a quote that comes from a variety of sources. A number of the quotes are from the Psalms. Other quotes are from those familiar to me such as Anne Morrow Lindbergh, Henri Nouwen, Scott Peck, Reynolds Price, Richard Rohr and Barbara Brown Taylor. But there are many other tidbits of wisdom quoted by those I did not know. Following the quote, Templeton encourages readers as they deal with issues such as retirement, moving, children being distant, broken relationships, downsizing, divorce, and death.  Her voice is gentle. Instead of giving definite answers, she opens up a number of new possibilities for the reader. Throughout these letters, the reader is encouraged to go easy on his or herself, to embrace limitations while maintaining a curiosity about the future. The past is to be cherished as a preparation for the future. Although I won't spoil it, at the end of the book, readers learns the identity of their own secret admirer.
I met Templeton recently at a conference held by the Presbyterian Church USA Board of Pensions. In introducing this recent book of hers, she told about how the final proofs came just days after her own husband had died unexpectedly from pneumonia. Reading the proofs, she said she appreciated the advice that she didn't remember writing. The book is published in memory of her husband who helped with editing and the cover photography.
While I am still six or eight years away from retirement, this book has given me a lot to consider. I can also think of many people who might find her words encouraging, especially  retired persons who are moving into continuing care facilities or who have to make difficult decisions about loved ones or unhealthy relationships. While much of the book is tied to aging, there are lessons for everyone in transition. I recommend you check it out.